C-Mount Laser Mount with Temperature Stabilization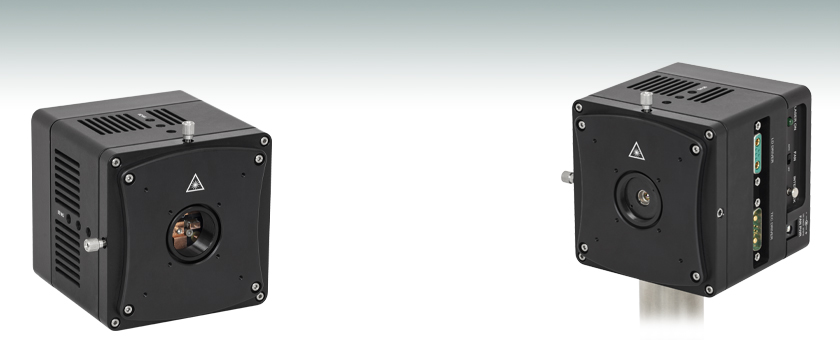 Laser Mount for C-Mount Semiconductor Lasers
TEC Cooled with Temperature Stabilization for >20 W of Heat Dissipation
SM1, 30 mm & 60 mm Cage System, and 1/4"-20 (M6) Post Compatible
LDMC20
Application Idea
LDMC20 with C-Mount Laser and C037TME-E Lens in a S1TM09 Adapter

Please Wait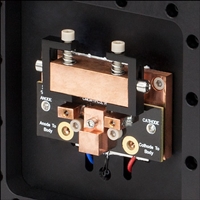 Click to Enlarge
Figure 1:
LDMC20's Mounting Platform and Copper Heat Sink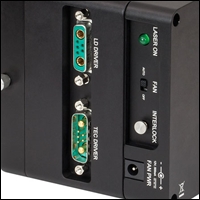 Click to Enlarge
Figure 2:
Side View of the LDMC20
Features
Laser Mount for C-Mount Semiconductor Lasers
Integrated TEC Element for Active Temperature Control when Used with Our QCL Controllers
Provides >20 W of Heat Dissipation at 25 °C
Supports Single-Tab and Dual-Tab C-Mount Laser Configurations (See the Specs Tab for Details)
SM1 Threaded for Aspheric Lens Adapters, Fiber Adapters, and Ø1" Lens Tubes
Nine 1/4"-20 (M6) Tapped Holes for Easy Post Mounting
Includes Current and TEC Cables for QCL Controllers and External Power Supply for Fan
Thorlabs' LDMC20(/M) C-Mount Laser Mount is designed to work with our line of Fabry-Perot (FP) and Distributed Feedback (DFB) C-mount semiconductor lasers. Internal electronics provide active temperature stabilization capable of dissipating heat loads of at least 20 W at 25 °C, making this mount ideal for temperature-controlled operation of C-mount lasers. The C-mount laser is mounted against a copper heat sink and held in place by a cap screw included with the mount (see the Installation tab for assembly instructions). The LDMC20(/M) is compatible with select single-tab and dual-tab laser configurations; please refer to the Specs tab for diagrams of compatible C-mount devices.
A TEC control circuit provides a stable temperature environment for the laser and the mount is air cooled, utilizing an automatic fan speed control to actively cool the heat sink. The fan is vibrationally isolated and designed to run only as needed for temperature stabilization so as to minimize vibrational coupling. When combined with proper current control, the mount can be used to stabilize or tune the laser's wavelength. The fan can be run via an external power supply (included with the mount) if the TEC driver being utilized cannot supply power to the fan.
The laser is held in the mount such that the emission facet is nominally centered in the SM1-threaded (1.035"-40) port. This port is intended for mounting aspheric lenses for collimation purposes, using the proper adapter and lens. Z translation is achieved by rotating the adapter in the SM1 port with a spanner wrench. A pair of knurled knobs provides fine X-Y translation of this port so that the emitted laser beam can be precisely centered within it. This makes centering the laser beam onto collimating optics quick and easy. The translation is accomplished through the utilization of a flexure design. The front cover plate of the LDMC20 is equipped with eight 4-40 tapped holes for our 30 mm or 60 mm cage systems.
Laser protection features include optional grounding configurations, and the TEC Lockout circuit* that prevents enabling the laser unless the TEC controller is active. The built-in thermoelectric cooler enables temperature-controlled operation of the laser diode.
*TEC Lockout only functions with Thorlabs' current and temperature controllers and can be easily bypassed if not required.
Recommended Current and Temperature Controllers
For temperature and current control, we recommend using this mount with the ITC4002QCL or ITC4005QCL dual current and temperature controllers. These controllers are designed with high compliance voltages of 17 V or 20 V, respectively, and maximum operating currents of 2 A or 5 A, respectively, to support our MIR C-mount lasers.
The LDMC20 mount ships with current and TEC cables that are compatible with all of our LDC current controllers and ITC dual current and temperature controllers, including the ITC4002QCL and ITC4005QCL.
Handling C-Mount Lasers
Proper precautions must be taken when handling and using C-mount lasers. Since these lasers are sensitive to electrostatic shock, they should always be handled using standard static-avoidance practices. Additionally, these lasers do not have a built-in monitor photodiode and should be used with a high-quality, constant current driver specifically designed for use with laser diodes.
Unlike TO can and butterfly packages, the laser chip of a C-mount laser is exposed to air; hence, there is no protection for the delicate laser chip. Contamination of the laser facets must be avoided. Do not blow on the laser or expose it to smoke, dust, oils, thermal grease, or adhesive films. The laser facet is particularly sensitive to dust accumulation. Do not use thermal grease with this package, as it can creep, eventually contaminating the laser facet. Acceptable alternatives to thermal grease include pyrolytic graphite and solder.
LDMC20 Specifications
Supported Laser Diode Packagesa
Single-Tab C-Mount
Dual-Tab C-Mount
Laser Current (Max)
20 A
TEC Current (Max)b
11.1 A
TEC Voltage (Max)
14.5 V
Heat Dissipation Capacityc
>20 W at 25° C
X-Y Translation Range
±1.0 mm
X-Y Translation Resolution
250 µm/rev
Center Threads
SM1 (1.035"-40) Threads
0.535" (13.5 mm) Deep
Temperature Sensorsd
10 kΩ ± 2.2% Thermistor @ 25 °C
β = 3984
Operating Temperature

10 to 40 °C (Non-Condensing)
Electrical and Physical Specifications
Laser Interface
7W2 Mixed Female D-Sub Jack
TEC Interface
7W2 Mixed Male D-Sub Jack
Fan Input
12 VDC, 500 mA
Power Supply Connector
2.1 mm Power Jack
Interlock Connector
2.5 mm Phono Jack
Indicators
Green LED when Laser Enabled
Size (L × W × D)
4.00" × 4.00" × 4.05"
(101.6 mm × 101.6 mm × 102.9 mm)
Weight
1543 g (3.4 lbs)
Only select configurations of single-tab or dual-tab C-mount lasers are supported. Please refer to the diagrams below to determine if your laser is supported.
When using the LDMC20 with the ITC4005QCL controller, the mount will typically draw 8 A.
See the Graphs tab for sample measurements of the heat dissipation at other temperatures.
We recommend setting the temperature sensor to "Thermistor (low)" when operating with Thorlabs ITC series controllers.

Click to Enlarge

LDMC20 Mechanical Drawing
Supported C-Mount Laser Configurations


Click to Enlarge
Incompatible C-Mount Laser Configurations


Click to Enlarge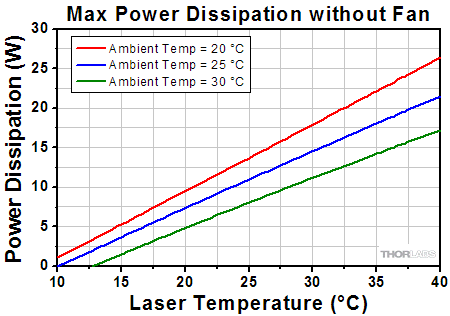 Click to Enlarge
The graph above shows the heat dissipation of the LDMC20 with the fan turned off. Data was taken at three different ambient temperatures.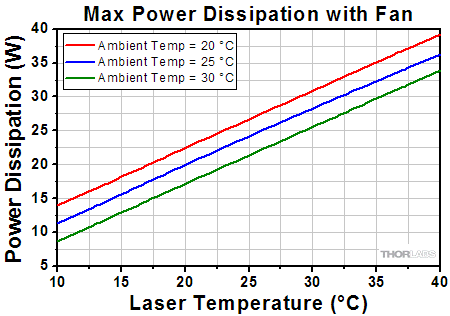 Click to Enlarge
The graph above shows the heat dissipation of the LDMC20 with the fan turned on. Data was taken at three different ambient temperatures.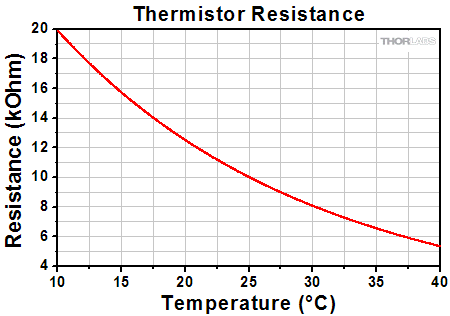 Click to Enlarge
The graph above shows the resistance value of the LDMC20's thermistor as a function of temperature. For this thermistor, β = 3984.
Laser Pin Connections
7W2 Mixed Female D-Sub Jack

Pin
Connection
Pin
Connection
A1
Laser Cathode
3
Not Connected
A2
Laser Anode
4
Laser Voltage (Anode)
1
Interlock and Status Return
5
Laser Voltage (Cathode)
2
Interlock and Status Pin
TEC Pin Connections
7W2 Mixed Male D-Sub Jack

Pin
Connection
Pin
Connection
A1
TEC (+)
3
Fan Power
A2
TEC (-)
4
TEC Lockout (+)
1
Thermistor (+)
5
Ground
2
Thermistor (-)