Gimbal Mirror Mounts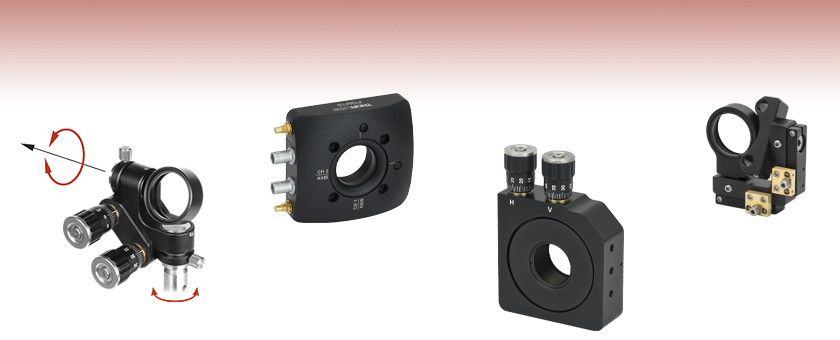 Pure Rotational Motion About Center of Mirror Face
Minimal Crosstalk Between Axes
Compatible with Ø1/2" Posts or 30 mm Cage Systems
GMB1
Full Gimbal Mount for Ø1" Optics
(Post Not Included)
GM100
Gimbal Mount for Ø1" Optics
KC45D1
Gimbal Mount for Ø1" Optics
30 mm Cage Compatible
PGM1SE
Piezoelectric Gimbal Mount (Includes Controller)

Please Wait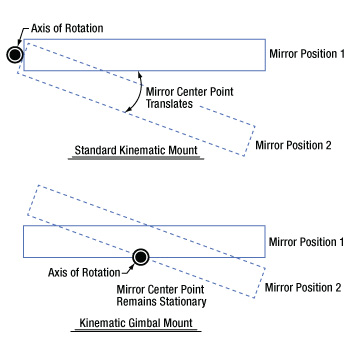 Click to Enlarge
Comparison of Standard Kinematic Mount and Gimbal Mirror Mount
Features
Manual Gimbal Mirror Mounts with Hardened Steel Inserts
True Gimbal Rotation About Mirror Center without Translation
Durable and Stable Design
Fabricated from Black Anodized Aluminum
Thorlabs offers a series of gimbal mirror mounts that provide rotation without translation; in each case, rotation occurs about the center of the mounted optic's front surface. All of these gimbal mounts are designed to eliminate angular or positional crosstalk when steering a beam of light.
The GMB1(/M) gimbal mirror mount offers coarse 360° adjustment in both axes and fine ±15° adjustment, also in both axes. For those working in tight spaces, the GM100(/M) Ø1" gimbal mount and GM200(/M) Ø2" gimbal mount have two adjuster knobs located on the top of the mount for easy access. The final manual option, the KC45D1 gimbal mirror mount, can be integrated into a 30 mm cage system.
For applications requiring the use of motorized gimbal mirror mounts, the PGM1SE(/M) Ø1" gimbal mount has two axes of rotation. Each axis has a piezoelectric angular range of 30 mrad with a resolution of 0.05 µrad in open-loop mode. Built-in strain gauge feedback allows for closed-loop operation, which provides a 20 mrad angular range and 0.14 µrad resolution. The gimbal mount is shipped with a factory-calibrated controller that supports Kinesis® and APT™ motion control software.
These gimbal mirror mounts utilize hardened steel inserts to reinforce all key wear points.