Right-Angle Kinematic Mount for Off-Axis Parabolic Mirrors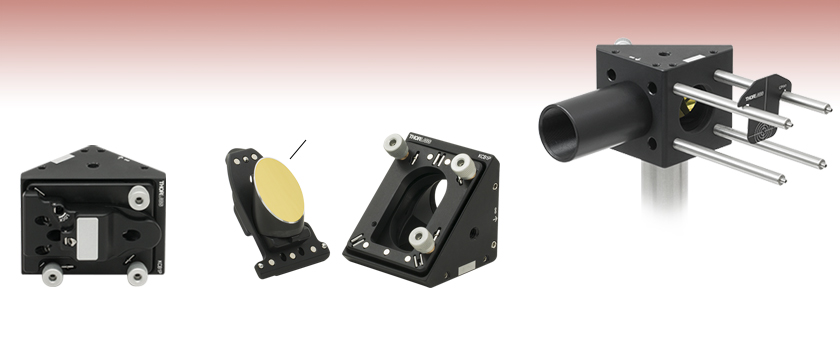 Kinematic Mount for Ø1" Off-Axis Parabolic Mirrors
±4° of Kinematic Pitch/Yaw Adjustment
Cage System and Lens Tube Compatible
1/4"-20 (M6) Taps for Post Mounting
KCB1P
Kinematic Mount for
Ø1" Off-Axis Parabolic Mirrors
Mounting Plate
Off-Axis Parabolic Mirror
(Sold Separately)
Housing Body
Application Idea
The KCB1P Mount is 30 mm Cage System
and SM1 Lens Tube Compatible.
(Shown with CPA1 Alignment Cage Plate and
Off-Axis Parabolic Mirror, Each Sold Separately)

Please Wait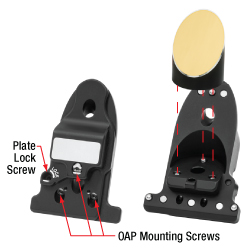 Click to Enlarge
Three 4-40 screws on the back of the mounting plate hold the mirror in place, while the lock screw secures the mounting plate to the housing body.

Click to Enlarge
Beam Path Inside KCB1P Mount
(OAP Mirror Sold Separately)
Features
The KCB1P(/M) right-angle mount provides pitch and yaw adjustment for a Ø1" (Ø25.4 mm) off-axis parabolic (OAP) mirror mounted on a plate that positions the surface of the mirror at a 45° angle. The ports are equipped with SM1-threaded (1.035"-40) bores and four 0.25" (6.35 mm) deep smooth bore holes spaced to mate with our 30 mm cage system. The cage rods are secured by eight setscrews using a 5/64" (2.0 mm) hex key or balldriver. This design allows multiple 30 mm cage components to be directly interfaced without the need for ERSCB ER Rod Adapters. The kinematic pitch and yaw adjustment plate is actuated with 100 TPI (Threads Per Inch) adjustment screws that provide an angular resolution of 7.6 mrad/rev. The knob on each adjuster is removable. While the optic face is nominally centered within the mount, the third adjuster can be used for fine tuning the position along the optical axis.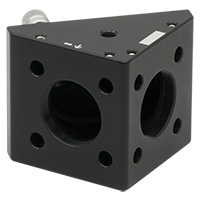 Click to Enlarge
The ports on the front of the mount are SM1-threaded. The collimated beam port is labeled with the '∞' symbol.
Three captive 4-40 cap screws in the optic mounting plate are used to secure the Ø1" (Ø25.4 mm) off-axis parabolic mirror using a 5/64" (2.0 mm) hex key or balldriver. The rear-loading, removable mounting plate features our ball and V-groove design that allows it to be precisely kinematically positioned on the body of the mount. The plate and mount are held together using pairs of rare-earth magnets. Once mounted, the plate can be firmly secured in place using the captive locking screw with 5/64" (2.0 mm) hex on the back. The rear-loading design ensures that the optic remains accessible even after the mount is fitted with cage rods or lens tubes. The back of the mounting plate offers an engraved label for marking details about the installed mirror such as the focal length or part number. The mounting plate also features through bores for OAP mirrors with holes for the focused or collimated beams, though we do not currently stock these mirrors in a Ø1" form factor. To request a quote for custom Ø1" OAP mirrors with holes, please contact Tech Support.
Other Mounting Options
Our off-axis parabolic mirrors can also be mounted directly in our smooth bore kinematic mirror mounts for round optics, such as the KM100 Ø1" Optic Mount or POLARIS-K1S5 Ultra-Stable Ø1" Optic Mount.