The K6XS allows for the adjustment of an optic's position along 6 axes, each with a locking screw for stability. The mounting cell has an SM1 (1.035"-40) threaded bore for mounting Ø1" optics, along with four 4-40-tapped holes for the K6A1(/M) prism mount. The K6A1 attachment is designed to provide a 0.5" x 1.68" (12.7 mm x 42.7 mm) platform mounted to the rotation dial of the K6XS. The mounts are fabricated from black anodized aluminum. More details for each product are given below.
| Item # | % Weight Reduction | % CO2 Reduction |
| --- | --- | --- |
| K6XS | 64% | 75% |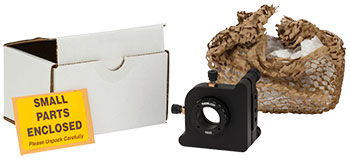 Click to Enlarge
K6XS Packaging
Smart Pack
Minimize CO2 Footprint
Reduce Non-Recyclable Packing Materials
Improve Packaging Integrity
Saves on Shipping Costs
Thorlabs' Green Initiative is aimed at reducing waste. To that end, we have begun to re-engineer our product packaging. The K6XS is shipped in re-engineered packaging that minimizes the use of non-recyclable materials.
Over the course of a year, the re-engineered packaging across our product line is projected to reduce our CO2 footprint by more than 16,184 kg and reduce packaging by over 13,893 pounds! As we move through our product line, we will label re-engineered packages with our green Smart Pack sticker (above).
Rotation Mount and Stage Selection Guide
Thorlabs offers a wide variety of manual and motorized rotation mounts and stages. Rotation mounts are designed with an inner bore to mount a Ø1/2", Ø1", or Ø2" optic, while rotation stages are designed with mounting taps to attach a variety of components or systems. Motorized options are powered by a DC Servo motor, 2 phase stepper motor, or an Elliptec™ resonant piezo motor. Each offers 360° of continuous rotation.
Manual Rotation Mounts
Rotation Drive Mechanism and Adjustment Range
Manual, 360° Continuous
Coarse: Manual, 360° Continuous;
Fine: Micrometer, ±7°
Manual, 360° Continuous
Optic Mounting
Internally SM05-Threaded Carriage
Maximum Accepted Optic Thickness
0.23" (5.8 mm)
0.23" (5.8 mm)
0.26" (6.5 mm)
0.23" (5.9 mm)
0.24" (6.0 mm)
0.41" (10.4 mm)
0.29" (7.3 mm)
Post Mounting
4-40 (M3) Stud
8-32 (M4) Tap
None
8-32 (M4) Tap
None
Two Counterbores for
8-32 (M4) Cap Screws
Two Counterbores for
4-40 (M3) Cap Screws
Cage System Compatibility
N/A
Four Bores for ∅4 mm Cage Rods with 16 mm Spacing
N/A
N/Ac
Rotation Mounts for Ø1" Optics
Item #
RSP1(/M)
LRM1
RSP1D(/M)
DLM1(/M)
CLR1(/M)
RSP1X15(/M)
RSP1X225(/M)
PRM1(/M)a
Click Photo
to Enlarge
Features
Standard
External SM1
(1.035"-40) Threads
Adjustable Zero
Two Independently Rotating Carriages
Rotates Optic Within
Fixed Lens Tube System
Continuous 360° Rotation
or 15° Increments
Continuous 360° Rotation
or 22.5° Increments
Micrometer
Additional Details
Rotation Drive Mechanism and Adjustment Range
Manual, 360° Continuous
Manual,
Continuous: 360°;
Discrete: 15°
Manual,
Continuous: 360°;
Discrete: 22.5°
Coarse: Manual, 360° Continuous;
Fine: Micrometer, ±7°
Optic Mounting
Internally SM1-Threaded Carriage
Maximum Accepted Optic Thickness
0.47" (11.9 mm)
0.34" (8.6 mm)
0.51" (12.9 mm)
0.25" (6.4 mm)
0.27" (6.8 mm)
0.50" (12.7 mm)
0.50" (12.7 mm)
0.50" (12.7 mm)
Post Mounting
8-32 (M4) Tap
N/A
8-32 (M4) Tap
Cage System Compatibility
N/A
Four 4-40 (M3) Taps on Rotation Dial with 30 mm Spacing
Rotation Mounts for Ø1" Optics
Item #
LM1-A &
LM1-B(/M)
CRM1(/M)
CRM1L(/M)
CRM1P
KS1RS
K6XS
Click Photo
to Enlarge
Features
Optic Carriage Rotates Within Mounting Ring
30 mm Cage-Compatiblea
30 mm Cage-Compatible
for Thick Opticsa
30 mm Cage-Compatible
with Micrometera
±4° Kinematic Tip/Tilt Adjustment Plus Rotation
Six-Axis
Kinematic Mounta
Additional Details
Rotation Drive Mechanism and Adjustment Range
Manual, 360° Continuous
Coarse: Manual, 360° Continuous;
Fine: Micrometer, ±7°
Manual, 360° Continuous
Optic Mounting
Internal SM1 Threads in LM1-A
Internally SM1-Threaded Carriage
Double-Bore with Setscrew
Internally SM1-Threaded Carriage
Accepted Optic Thickness
Max: 0.37" (9.4 mm)
Max: 0.37" (9.4 mm)
Min: 0.31" (7.9 mm)
Max: 0.37" (9.4 mm)
Max: 0.47" (11.9 mm)
Max: 0.55" (14 mm)
Post Mounting
8-32 (M4) Tap in LM1-B
8-32 (M4) Tap
Six Counterbores for 8-32 (M4) Cap Screws
Cage System Compatibility
N/A
Four Bores for ∅6 mm Cage Rods with 30 mm Spacing
N/A
Rotation Mounts for Ø2" Optics
Item #
RSP2(/M)
RSP2D(/M)
PRM2(/M)
LM2-A &
LM2-B(/M)
LCRM2(/M)
KS2RS
Click Photo to Enlarge
Features
Standard
Adjustable
Zero
Micrometer
Optic Carriage Rotates Within Mounting Ring
60 mm Cage-Compatible
±4° Kinematic Tip/Tilt Adjustment Plus Rotation
Additional Details
Rotation Drive Mechanism and Adjustment Range
Manual, 360° Continuous
Coarse: Manual, 360° Continuous;
Fine: ±7° Micrometer
Manual, 360° Continuous
Optic Mounting
Internally SM2-Threaded Carriage
Internal SM2 Threads
in LM2-A
Internally SM2-Threaded Carriage
Maximum Accepted Optic Thickness
0.51" (13 mm)
0.54" (13.7 mm)
0.48" (12.2 mm)
0.46" (11.7 mm)
0.51" (13 mm)
0.47" (12 mm)
Post Mounting
8-32 (M4) Tap
8-32 (M4) Tap in LM2-B
8-32 (M4) Tap
Four Counterbores for
8-32 (M4) Cap Screws
Cage System Compatibility
N/A
Four 4-40 (M3) Taps on Rotation Dial
with 60 mm Spacing
N/A
Four Bores for
Ø6 mm Cage Rods
with 60 mm Spacing
N/A
Manual Rotation Stages
Rotation Drive Mechanism and Adjustment Range
Manual, 360° Continuous
Mounting Platform
Diameter
Ø1.00"
(Ø25.4 mm)
Ø1.40"
(Ø35.6 mm)
Ø2.07"
(Ø52.8 mm)
Ø4.29"
(Ø109.0 mm)
Ø2.00"
(Ø50.8 mm)
Height
0.67" (17.0 mm)
0.51" (13.1 mm)
0.63" (16.1 mm)
0.70" (17.8 mm)
1.00" (25.4 mm)
Taps
Six 4-40 (M3)
One 1/4"-20 (M6)
Four 4-40 (M3)
One 8-32 (M4)
Four 8-32 (M4)
One 1/4"-20 (M6)
Eight 6-32 (M4)
Sixteen 8-32 (M4)
Thirteen 1/4"-20 (M6)
Four 6-32 (M4)
Four 8-32 (M4)
Five 1/4"-20 (M6)
Additional Holes
Two Ø0.13" (Ø3.2 mm) Holes for FiberBench Accessories
Four Clearance Holes for
4-40 (M3) Cap Screws
-
-
-
Platform
Adapter Plate(s)
-
-
-
-
-
Base
Dimensions
1.50" x 1.50"
(38.1 x 38.1 mm)
1.78" x 1.40"
(45.2 x 35.6 mm)
2.45" x 2.45"
(62.2 x 62.2 mm)
4.65" x 4.65"
(118.1 x 118.1 mm)
2.55" x 2.55"
(64.8 x 64.8 mm)
Mounting Holes
Four Clearance Holes for 1/4"-20 (M6) Cap Screws
Four Clearance Holes for 4-40 (M3) Cap Screws
Four Clearance Holes for 1/4"-20 (M6) Cap Screws
Four Clearance Holes for 1/4"-20 (M6) Cap Screws
Four Counterbores for 1/4"-20 (M6) Cap Screws
Side Taps for Vertical Mounting
-
One 4-40 (M3)
One 8-32 (M4)
Three 8-32 (M4)
-
Cage System Compatibility
N/A
Manual Rotation Stages
Item #
XRR1(/M)
PR01(/M)
CR1(/M)
XYR1(/M)
OCT-XYR1(/M)
Click Photo
to Enlarge
Features
Fine Rotation Adjuster and
3" Wide Dovetail Quick Connect
Fine Rotation Adjuster and
SM1-Threaded Central Aperture
Fine Pitch Worm Gear
Rotation and 1/2" Linear XY Translation
Additional Details
Rotation Drive Mechanism and Adjustment Range
Manual: 360° Continuous;
Fine: Adjuster Screw, ±5°
Manual: 360° Continuous;
Fine: Micrometer, ±5°
Worm Gear, 360° Continuous
Manual, 360° Continuous with 1/2" (13 mm) Linear Travel Along X and Y Axes with Micrometer
Mounting Platform
Diameter
Ø3.19" (Ø81.0 mm)
Ø2.70" (Ø68.6 mm)
Ø1.70" (Ø43.2 mm)
Ø4.18" (Ø106.0 mm)
Ø4.04" (Ø102.5 mm)
Height
On Breadboard:
0.91" (23.0 mm)a
Dovetail Stacked:
0.83" (21.1 mm)
1.00" (25.3 mm)
1.00" (25.4 mm)
1.00" (25.4 mm)
1.65" (41.8 mm)
Taps
Thirteen 1/4"-20 (M6)
Four 8-32 (M4)
Four 6-32 (M4)
Four 4-40 (M3)
Ten 6-32 (M4)
Six 1/4"-20 (M6)
Four 4-40 (M3)
Eight 6-32 (M4)
Four 8-32 (M4)
Eight 4-40 (M3)
Twelve 8-32 (M4)
Sixteen 1/4"-20 (M6)
-b
Additional Holes
-
Ø0.94" (Ø23.9 mm)
Clear Aperture with SM1 Threading
-
Ø0.90" (Ø22.9 mm)
Clear Aperture with SM1 Threading
-b
Platform
Adapter Plate(s)
-
PR01A(/M)
CRA30(/M)
CR1A(/M)
XYR1A
-b
Base
Dimensions
4.33" x 3.58"
(110.0 mm x 91.0 mm)
2.75" x 3.50"
(69.9 x 88.9 mm)
2.76" x 2.10"
(70.1 x 53.4 mm)
5.50" x 4.42" (139.7 x 112.3 mm)
(Not Including Micrometers)
Mounting Holes
Four Mounting Slots for
1/4"-20 (M6) Cap Screws
Four Mounting Slots for
1/4"-20 (M6) Cap Screws
Two Mounting Slots for
1/4"-20 (M6) Cap Screws
Four Mounting Slots for
1/4"-20 (M6) Cap Screws
Side Taps for
Vertical Mounting
-
Two 1/4"-20 (M6)
-
-
Cage System
Compatibility
N/A
Four 4-40 Taps on Top Surface for 30 mm Cage System
N/A
Four 4-40 Taps on Top Surface for 30 mm Cage System
Four 4-40 Taps on Top Surface for 60 mm Cage System
Four 4-40 Taps on Bottom Surface for 60 mm Cage System
-b
Motorized Rotation Mounts and Stages
Motor Type
Brushless DC Servo
2 Phase Stepper Motor with Worm Gear
DC Servo
DC Servo
Brushless DC Servo
2 Phase Stepper Motor with Worm Gear
Piezo Resonant Motor
Rotation Adjustment
Range
360° Continuous
Mounting Platform
Diameter
Ø1.14" (Ø29.0 mm)
Ø1.81" (Ø46.0 mm)
Ø1.97" (Ø50.0 mm)
Ø2.61" (Ø66.2 mm)
Ø4.37" (111.0 mm)
Ø3.86" (Ø98.0 mm)
Ø1.97" (Ø50.0 mm)
Height
1.12" (28.5 mm)
0.84" (21.5 mm)
0.91" (23.0 mm)
0.98" (25.0 mm)
1.57" (39.9 mm)
1.73" (44.0 mm)
0.80" (20.3 mm)
Taps
-
Six 4-40 (M3)
Four 6-32 (M4)
Four 8-32 (M4)
Eight 6-32 (M4)
Sixteen 8-32 (M4)
Five 1/4"-20 (M6)
Eight 8-32 (M4)
Four 1/4"-20 (M6)
Four 8-32 (M4)
37 8-32 (M4)
Additional Holes
Clear Aperture with SM05 Threading
Clear Aperture with SM1 Threading
Clear Aperture with SM1 Threading
-
Clear Aperture with SM1 Threading
Clear Aperture with SM2 Threading
-
Speed (Max)
1800 °/s
10 °/s
25 °/s
25 °/s
1080 °/s
50 °/s
430 °/s
Platform
Adapter Plate(s)
-
K10CR1A2(/M)
PRM1SP1(/M)
-
NR360SP9(/M)
NR360SP4(/M)
NR360SP9(/M)
NR360SP8
NR360SP4(/M)
-
Base
Dimensions
2.19" x 2.19"
(55.6 mm x 55.6 mm)
4.21" x 2.60"
(107.0 mm x 66.0 mm)
5.18" x 3.26"
(131.5 mm x 82.8 mm)
5.41" x 2.88"
(137.4 mm x 73.3 mm)
4.53" x 4.53"
(115 mm x 115 mm)
7.46" x 4.55"
(189.4 mm x 115.5 mm)
3.19" x 2.36"
(81.0 mm x 60.0 mm)
Stage Adapter
Plates
-
K10CR1A1
K10CR1A3
PRM1SP2
PRM1SP3
-
-
NR360SP2(/M)
NR360SP5(/M)
Two Mounting Brackets in ELL18K(/M) Bundle
Mounting Holes
-
-
Two Counterbores for 1/4"-20 (M6) Cap Screws
One Counterbore for 1/4"-20 (M6) Cap Screw;
Two Clearance Holes for 1/4"-20 (M6) Cap Screws
Four Clearance Holes for 1/4"-20 (M6) Cap Screws
Four Counterbores for 1/4"-20 (M6) Cap Screws
Mounting Bracket in ELL18K(/M) Bundle has Two Slots for 1/4"-20 (M6) Cap Screw
Side Taps for
Vertical Mounting
Four 8-32 (M4)
Eight 4-40
Three 8-32 (M4)
Four 8-32 (M4)
-
Eight 1/4"-20 (M6)
Six 1/4"-20 (M6)
N/A
Cage System
Compatibility
Four 4-40 Taps on Rotation Dial with 16 mm Spacing,
Four 4-40 Taps on Back Side with 16 mm Spacing,
Four 4-40 Taps on Front Side with 30 mm Spacing
Four 4-40 Taps On Each Side with 30 mm Spacing
Four 4-40 Taps on Rotation Dial with 30 mm Spacing
N/A
Four 4-40 Taps on Rotation Dial with 16 mm Spacing,
Four 4-40 Taps on Rotation Dial with 30 mm Spacing,
Four 4-40 Taps on Back Side with 30 mm Spacing
N/A
N/A