Economy Front Surface Mirrors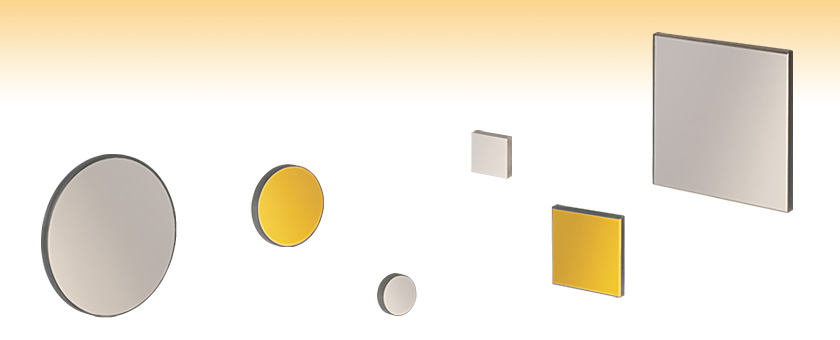 Economical Solution for Less Demanding Applications
Protected Aluminum: Ravg > 90% from 450 nm to 2 µm;
Ravg > 95% from 2 to 20 µm
Protected Silver: Ravg > 96.5% from 450 nm to 2 µm;
Ravg > 96% from 2 to 20 µm
Protected Gold: Ravg > 96% from 800 nm to 20 µm
ME2-G01
(Ø2")
ME1-M01
(Ø1")
ME05S-G01
(1/2" x 1/2")
ME05-P01
(Ø1/2")
ME1S-M01
(1" x1")
ME2S-P01
(2" x 2")

Please Wait
This variation of our protected silver coating is only found on the PFR14-P02 Rectangular Mirror.
Our protected aluminum, silver, and gold coatings exhibit exceptional broadband reflectance and are practical for many applications that are insensitive to the wavefront of a beam. Other typical uses for these mirrors include single-use applications where the experiment itself damages the mirror. A variety of diameters and square sizes are offered, including an 8" x 8" protected aluminum version. Please see the Specs tab for more details on these mirrors.
Coating
Protected Aluminum
(Item #'s Ending in -G01)
Protected Silver
(Item #'s Ending in -P01)
Protected Gold
(Item #'s Ending in -M01)
Reflectance
Ravg > 90% from 450 nm to 2 µm
Ravg > 95% from 2 to 20 µm
Ravg > 96.5% from 450 to 2 µm
Ravg > 96% from 2 to 20 µm
Ravg >96% from 800 nm to 20 µm
Diameter Tolerance (Round Mirrors)

+0.0 / -0.20 mm
Length and Width Tolerance (Square Mirrors)

+0.0 / -0.20 mm
Thickness
3.2 ± 0.20 mm
Clear Aperture
>90% of Diameter (Round Mirrors)
>90% of Length and Width (Square Mirrors)
Front Surface Flatness (Peak to Valley)
5λ @ 632.8 nm
Surface Quality
60-40 Scratch-Dig
Substrate
Float Glass
The shaded regions in the graphs denote the ranges over which we guarantee the specified reflectance. Please note that the reflectance outside of these bands is typical and can vary from lot to lot, especially in out-of-band regions where the reflectance is fluctuating or sloped.
Protected Aluminum Coating (450 nm - 20 µm)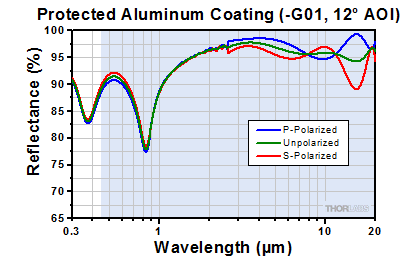 Click to Enlarge
Excel Spreadsheet
with Raw Data for Protected Aluminum

Click to Enlarge
Excel Spreadsheet
with Raw Data for Protected Aluminum
Protected Silver, -P01 Coating (450 nm - 20 µm)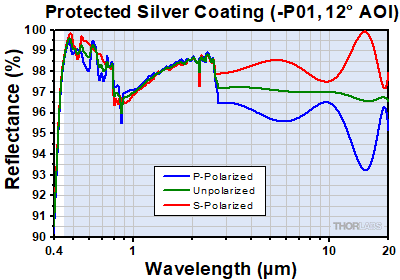 Click to Enlarge
Excel Spreadsheet
with Raw Data for Protected Silver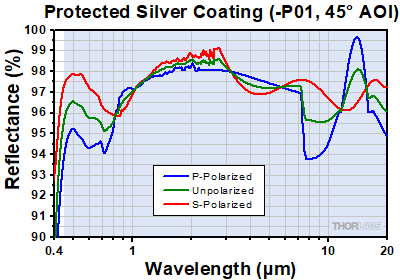 Click to Enlarge
Excel Spreadsheet
with Raw Data for Protected Silver
Protected Gold Coating (800 nm - 20 µm)

Click to Enlarge
Excel Spreadsheet
with Raw Data for Protected Gold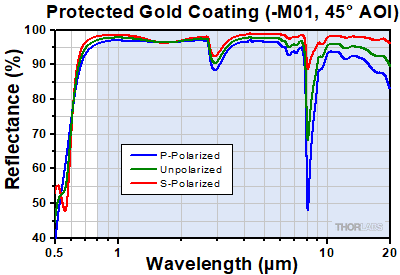 Click to Enlarge
Excel Spreadsheet
with Raw Data for Protected Gold