Kinematic Grating Mount Adapters for Ø1" Mirror Mounts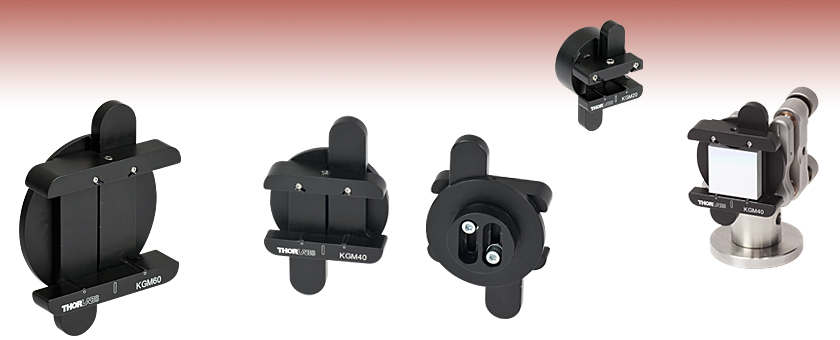 Compatible with all Ø1" Mirror Mounts
Accommodate Gratings up to 60 mm Tall
Spring-Loaded Clamping Design
Top-Located Locking Setscrew
KGM60
KGM40
Front
Back
KGM20
KGM40 Grating Adapter,
POLARIS-K1 Mount, and
GR25-030 Grating

Please Wait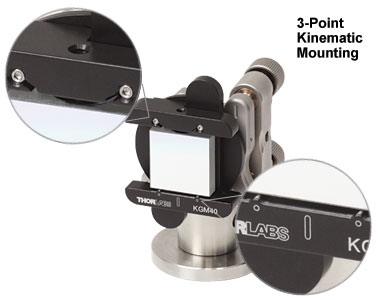 Features
Mount Gratings or Rectangular Mirrors in Ø1" Mirror Mounts
Stable 3-Point Kinematic Mounting
Three Models Accommodate Optics up to 60 mm Tall
This simple, versatile family of anodized aluminum grating adapters is compatible with Thorlabs' Ø1", front-loading, unthreaded mirror mounts, including the POLARIS-K1 ultra-stable kinematic mirror mount. Rectangular optics up to 60 mm tall may be mounted in the appropriate model (see table below; please note that for optics exactly 20 mm tall the KGM40 must be used.
Gratings and rectangular mirrors can be accommodated by simply sliding the upper and lower clamps on the adapter to match the desired optic height. These clamps slide in machined grooves and are tightened into place with two M3 screws located on the back side of the mount (see photo below). The 3-point, kinematic mounting mechanism consists of two bottom lines of contact and a top flat-spring contact as shown in the photo to the right. An additional nylon-tipped, locking setscrew located on the top clamp provides added holding force.
Grating Compatibility
Item #
Grating Height
Grating Width
Grating Thicknessa
KGM20
<20 mm
12 mm (Min)
4 - 8 mm
KGM40
20 - 40 mm
18 mm (Min)
5 - 10 mm
KGM60
40 - 60 mm
32 mm (Min)
6 - 12 mm
Maximum thickness values are recommended. Thicker optics may not have sufficient contact with the mount to remain stable.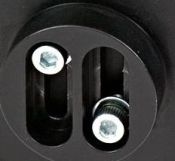 Back Side of Adapter