Metallic Zerodur® Mirrors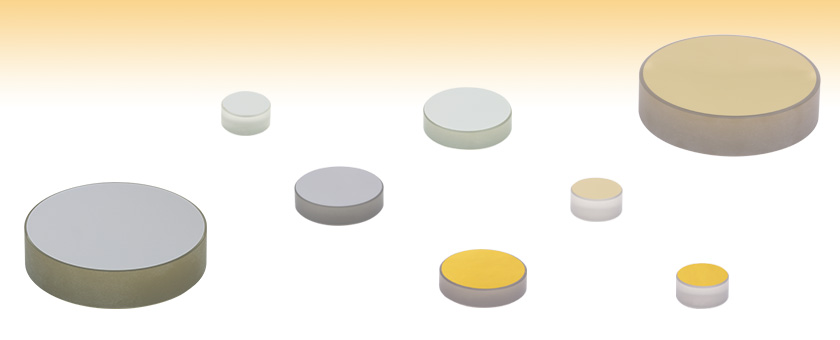 Lower Coefficient of Thermal Expansion Than Fused Silica
Broadband, High-Reflectance Aluminum, Silver, and Gold Coatings
Ø1/2", Ø1", and Ø2" Optics
PF1011-M01
Ø1" Protected Gold
PF2011-F01
Ø2" UV Enhanced Aluminum
PF1011-G01
Ø1" Protected Aluminum
PF2011-M03
Ø2" Unprotected Gold
PF0511-M01
Ø1/2" Protected Gold
PF0511-M03
Ø1/2" Unprotected Gold
PF1011-P01
Ø1" Protected Silver
PF0511-P01
Ø1/2" Protected Silver

Please Wait
Features
Extremely Low Coefficient of Thermal Expansion
High-Reflectance Metallic Coatings (See Table to the Right)
Aluminum, Silver, and Protected Gold Mirrors with Protective Overcoat
Unprotected Gold Mirrors for Polarization-Sensitive and Ultrafast Applications
Available in Ø1/2", Ø1", and Ø2" Sizes
Zerodur®* mirrors offer an extremely low coefficient of thermal expansion of 0 ± 0.100 x 10-6 /°C, which is significantly smaller than the value for fused silica, 0.55 x 10-6 /°C. This property makes these mirrors ideal for high-power systems like CO2 lasers, amplified Ti:sapphire lasers, and industrial machining lasers, as well as other applications that are sensitive to thermally-induced beam drift. These Zerodur mirrors are offered with UV enhanced aluminum, protected aluminum, protected silver, protected gold, and unprotected gold coatings. Like other mirrors with metallic coatings, these mirrors offer a high reflectance over a broadband range and are relatively insensitive to angle of incidence.
The protected gold, silver, and aluminum mirrors have a durable SiO2 overcoat, and the UV-enhanced aluminum mirrors feature >90% reflectance in the 250 - 450 nm range. Each protective overcoat helps to protect the metallic coating from tarnishing and prevents damage to the fragile metallic surface. By contrast, unprotected gold offers higher reflectance than protected gold but is more delicate. The overcoat of the protected mirrors results in polarization changes that can be difficult to quantify and sometimes induces absorption in the mid- to far-IR. The unprotected mirrors are ideal for applications where the polarization state needs to be strictly maintained or dispersion in the overcoat of the protected mirrors must be avoided. Please see the Graphs tab above for reflectance curves for each coating.
For applications which require higher reflectance over a smaller wavelength range and limited thermal expansion, Thorlabs offers a line of Zerodur broadband dielectric mirrors. For applications in which thermal expansion is not a concern, we also offer a line of standard plano metallic mirrors. In addition, fused silica broadband dielectric and other mirrors suitable for a wide variety of applications are available.
*Zerodur® is a registered trademark of Schott.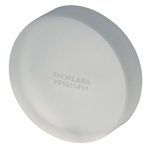 Click to Enlarge

Mirrors Ø1/2" and larger are
laser engraved with their part
number for easy identification.
This variation of our protected silver coating is only found on the PFR14-P02 Rectangular Mirror.
Metallic Mirror Specifications
Common Mirror Specifications
Item # Prefix
PF0511
PF1011
PF2011
Diameter
Ø1/2"
Ø1"
Ø2"
Diameter Tolerance
+0.0/-0.1 mm
Clear Aperture
>90% of Diameter
Thickness
6 mm
12 mm
Thickness Tolerance
±0.2 mm
Substratea
Zerodur®
Parallelism
≤3 arcmin
Front Surface Flatness (Peak to Valley)
λ/10 @ 632.8 nm
Surface Quality
40-20 Scratch-Dig
Click Link for Detailed Specifications on the Substrate


Coating Specifications
Coating Type
UV Enhanced Aluminum
Protected Aluminum
Protected Silver
Protected Gold
Unprotected Gold
Item # Suffix
-F01
-G01
-P01
-M01
-M03
Reflectance
Ravg >90% for 250 - 450 nm
Ravg > 90% for 450 nm - 2 μm
Ravg > 95% for 2 μm - 20 μm
Ravg > 97% for 450 nm - 2 µm
Ravg > 95% for 2 - 20 µm
Ravg > 96% for 800 nm -
20 μm
Ravg >97% for 800 nm - 20 μm
The shaded regions in the graphs denote the ranges over which we guarantee the specified reflectance. Please note that the reflectance outside of these bands is typical and can vary from lot to lot, especially in out-of-band regions where the reflectance is fluctuating or sloped.
UV-Enhanced Aluminum Coating (250 nm - 450 nm)
Protected Aluminum Coating (450 nm - 20 µm)
Protected Silver Coating (450 nm - 20 µm)
Protected Gold Coating (800 nm - 20 µm)
Unprotected Gold Coating (800 nm - 20 µm)
Posted Comments:
No Comments Posted