Power Strips for ScienceDesk™ Workstations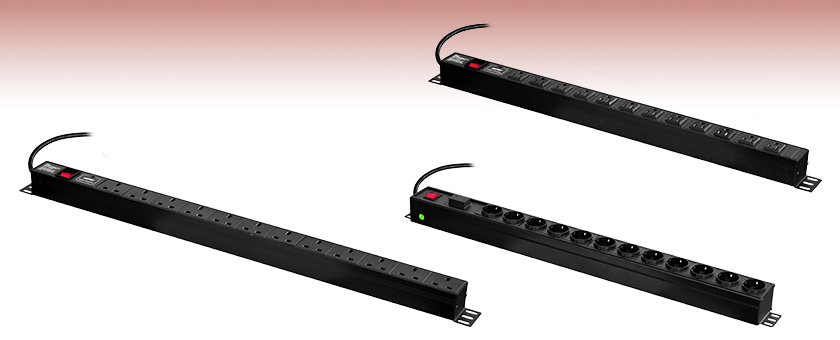 12-Outlet Power Strips
US, EU, or UK Outlets
Attach to Rear Rail or Overhead Shelves of ScienceDesk
HDPS12-UK
HDPS12-EU
HDPS12-US

Please Wait
Item #
HDPS12-US
HDPS12-EU
HDPS12-UK
Electrical
Voltage Rating
125 VAC
220 to 250 VAC
250 VAC
Current Rating
15 A
16 A
13 A
Frequency
50/60 Hz
Power Rating
1800 W
3520 W
3250 W
Full Surge Protection
3 kA for 1 µsec
5 kA for 1 µsec
3 kA for 1 µsec
EMI / RFI Filtering
Yes
CE Approved
Yes
Physical
Cord Length
3 m (9.8')
Cord Gauge
1.5 mm2
Number of Outlets
12
Body Material
Aluminum
Dimensions
(L x W x H)
27.87" x 1.77" x 1.77"
(708 x 45 x 45 mm)
31.57" x 1.83" x 2.17"
(802 x 46.5 x 55 mm)
31.61" x 1.77" x 1.77"
(803 x 45 x 45 mm)
Attention:
The power strips are designed for indoor use only. These devices should not be installed in wet or damp areas exposed to moisture. They are not recommended for use with aquariums. We do not recommend plugging one HDPS12 into another HDPS12 or similar surge-protecting device.
Features
12-Outlet, Surge-Protected Power Strip
Three Outlet Types: US, EU, or UK
Electrically Grounded Outlets
These 12-outlet power strips are available with US-, EU-, and UK-style outlets. Each is designed for indoor use and is housed within an impact-resistant, sturdy metal case. The units are turned on and off with a rocker switch.
Mounting Options
The power strips are fitted with clearance holes for standard M6 bolts (supplied) and are shipped complete with two brackets for mounting to the rear rail of our ScienceDesks. The power strips can also be mounted underneath our ScienceDesk Overhead Shelves and Overhead Storage Trays. Each end of the power strip features clearance holes for mounting bolts (supplied) and the underneath of the shelf is fitted with M6 threaded inserts.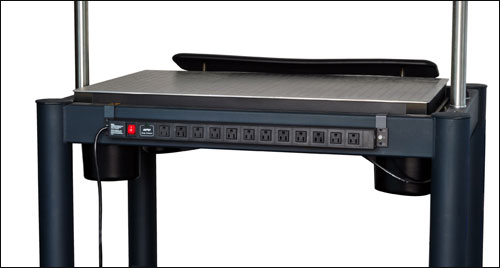 The HDPS12-US Installed on The Rear Rail of One of Our
ScienceDesks
Sample ScienceDesk Workstation Configuration
Click on the various ScienceDesk accessories or text in the photo below for more information on that item.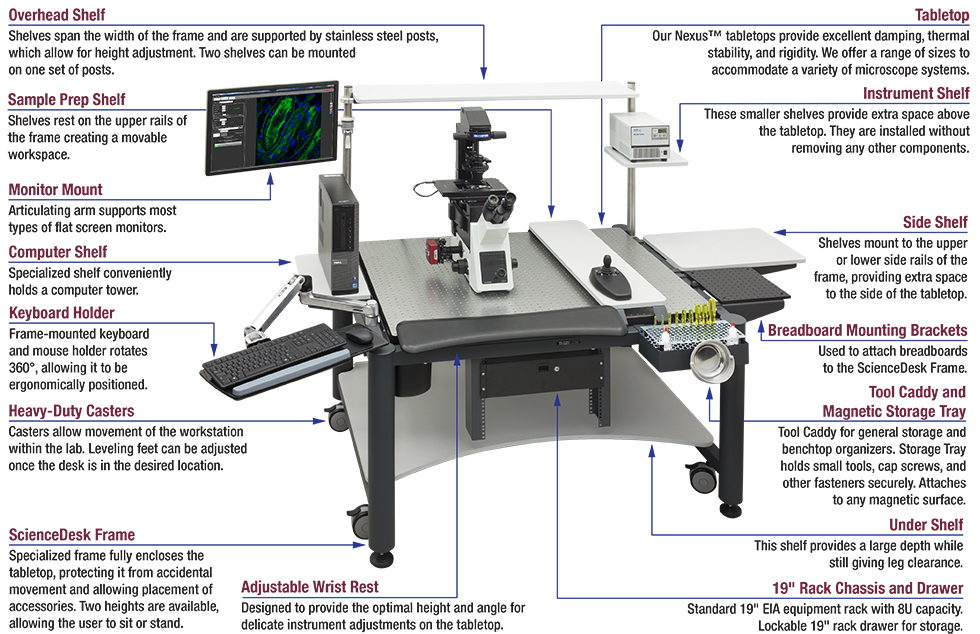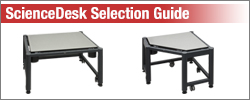 The Following Accessories are Not Shown in the Image Above
Overhead Shelves with 12° Tilt: Overhead shelves with a 12° downward tilt for easy viewing and storage of equipment in the lab.
Post-Mounted Components Tray: A 300 mm x 300 mm tray for holding small parts.
Post-Mounted Breadboard Brackets: Bracket for Attaching up to 300 mm x 300 mm or 12" x 12" breadboards to a mounting post.
Overhead Storage Tray with Rack: Steel tray for included tool caddy and a front-located steel rack for included linbins.
Frame Risers: Designed to raise the standard ScienceDesk tabletop to a heoght of 910 mm (35.80"), making it an ideal standing desk.
12-Outlet Power Strips: Available with US-, EU-, or UK-style plugs. Fits to the rear rail of the desk or underneath the overhead shelf.
LED Strip Light: Fits underneath the overhead shelf.
Cable Tray: Ideal for keeping electrical and fiber optic cables tidy.
Posted Comments:
No Comments Posted