Accessory Mounting Posts for ScienceDesk™ Workstations
Ideal for Mounting ScienceDesk Accessories
Multiple Options Provide Customization
Sturdy Steel Construction
PSY161
Post for Mounting Accessories on the ScienceDesk Frame
TA2
Attach PSY161 or PSY162 Posts to the Work Surface
DP14A
Ø1.5" Damped Post for Mounting Accessories to the Work Surface

Please Wait
Mounting Accessories to the ScienceDesk™ Frame
Many of Thorlabs' ScienceDesk™ accessories use Ø1.5" mounting posts for attachment to the ScienceDesk frame including our overhead shelves, instrument shelves, monitor mount, and overhead storage trays. They can also be used to mount our range of Ø1.5" post accessories. Each post is attached to the frame of the ScienceDesk using M16 bolts that come in through the bottom of the upper frame bars via the 32 to 40 available through holes (number of holes available depends on frame size). Mounting posts come in two sizes, 750 mm (29.5") or 1000 mm (39.4"), increasing the variety of mounting options available. Please note that many of our accessories can be purchased with posts. Of the accesories listed above, all can be purchased with 750 mm posts except for the monitor mount.
Mounting Accessories to the Work Surface (Optical Table/Breadboard)
We also offer our TA2 adapters for attaching our Ø1.5" mounting posts to a breadboard or optical table surface. However, post-mounted ScienceDesk accessories can also be attached to our standard Ø1.5" posts if need arises. If additional damping of vibrations is required for an accessory mounted on the work surface, we offer Ø1.5" damped mounting posts. These are available in 8" (203.2 mm) and 14" (355.6 mm) heights.
Please Note: These accessories are compatible with our current ScienceDesks (SD Series) and cannot be used with our former generation (PS Series) products sold before March 2009.
Sample ScienceDesk Workstation Configuration
Click on the various ScienceDesk accessories or text in the photo below for more information on that item.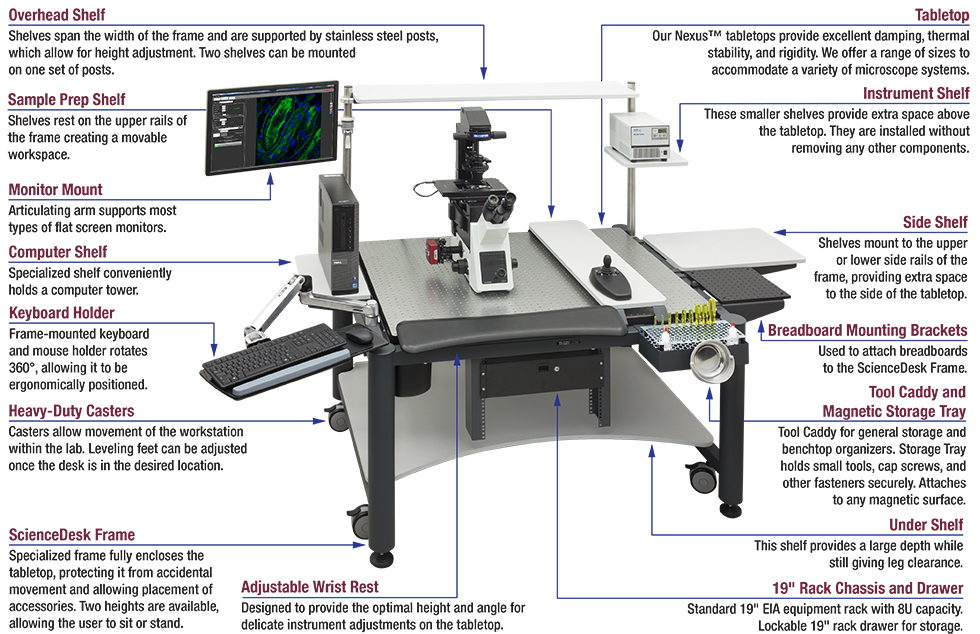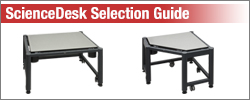 The Following Accessories are Not Shown in the Image Above
Posted Comments:
No Comments Posted