Frame Adapters for ScienceDesk™ Workstations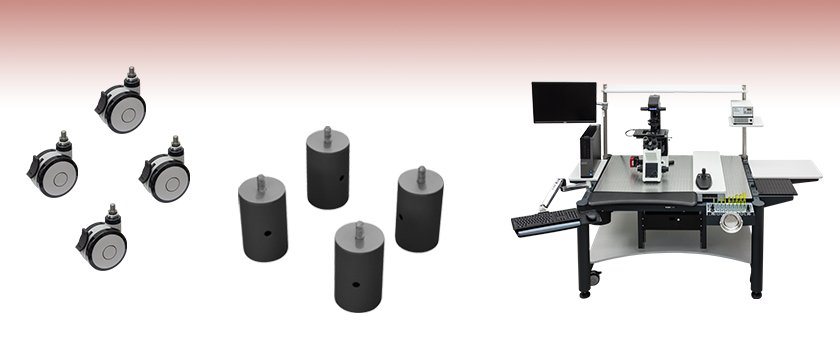 Lockable Casters Attach to Bottom Rails and Facilitate Movement in the Lab
Frame Risers Attach to ScienceDesk Legs and Increase Work Surface Height
PSY140
Casters
(Set of Four)
PSY170
Frame Risers (Set of Four)
Application Idea
ScienceDesk Equipped with Casters and Other Accessories

Please Wait
Thorlabs' ScienceDesk frame can be equipped with casters or frame risers. Casters, which facilitate movement throughout the lab, attach to the bottom rail of the frame and contain a locking mechanism to prevent unwanted movement. We also offer frame risers. These attach to the legs of the ScienceDesk and increase the height of the work surface by 145 mm (5.71"), making the desk ideal for use while standing.
Please Note: These accessories are compatible with our current ScienceDesks (SD Series) and cannot be used with our former generation (PS Series) products sold before March 2009.
Sample ScienceDesk Workstation Configuration
Click on the various ScienceDesk accessories or text in the photo below for more information on that item.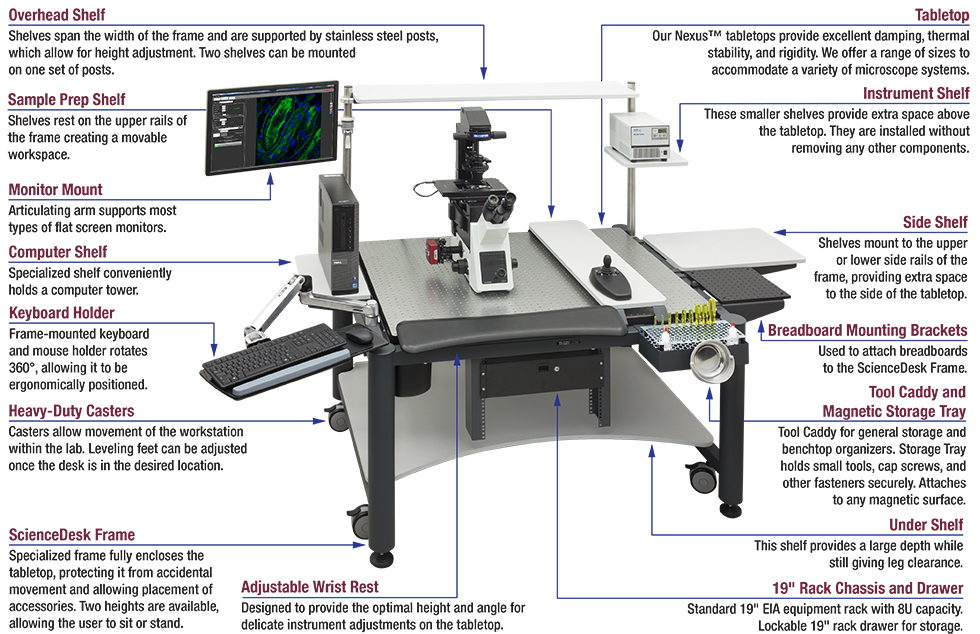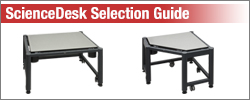 The Following Accessories are Not Shown in the Image Above
Posted Comments:
No Comments Posted

Locking Mechanism Prevents Unintentional Movement
Max Load: 320 kg (704 lbs) (Set of Four)
These Casters attach to the bottom of a ScienceDesk frame to convert it into a mobile workstation. Once the ScienceDesk is in the desired location, a foot can be lowered on each leg of the frame to provide a stable work environment. The casters also feature a locking mechanism to prevent inadvertent movement when the frame's feet are not lowered. They are sold in a Set of Four.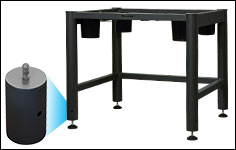 Click to Enlarge
ScienceDesk Frame Elevated with Frame Risers
(The Enlargement Shows a Detailed View of the Frame Riser and Where it is Installed on the ScienceDesk)
Set of Four Risers for Our ScienceDesk Frames
Adjusts our Standard ScienceDesks to the Height of the 910 mm Tall Standing ScienceDesks
Compatible with All Frame Types
The PSY170 set of four risers elevates Thorlabs' ScienceDesk frames to a height of 910 mm (35.8"), making them the ideal height for use while standing. Remove the existing feet and secure each 145 mm (5.71") tall riser to a leg of the ScienceDesk frame using the top-located M16 bolt. Refit the standard ScienceDesk feet to the bottom of the risers, and level the frame in the usual way. Due to the height increase, the casters (PSY140) cannot be used with these frame risers.
These risers, which are sold in a set of four, are not compatible with our Corner ScienceDesks. Please contact Tech Support if you wish to order a set of five.