Click to Enlarge
Bifurcated Fiber Bundle Schematic (Not to Scale)


Click to Enlarge
The stainless steel sleeve at the end of each leg is engraved with information about the fiber. The example fiber bundle with SMA905 connectors shown here has a mix of high-OH and low-OH legs. We also offer bundles with two high-OH legs, two low-OH legs, or two ZrF
4
legs.
Features
Y-Cables with One of Four Fiber Configurations


High OH (UV Enhanced)
Low OH (IR Enhanced)
Mixed (One Low OH and One High OH)
ZrF4 (UV to MIR)

SMA905 or FC/PC 2.0 mm Narrow Key Connectors Terminate All Ends
7 Core Sizes from Ø50 µm to Ø1000 µm
Dust Cap for Each Connector Included
Custom Versions Available
Thorlabs' Bifurcated Fiber Bundles, also known as fanout or Y-cables, are constructed from two high-grade optical fibers encased in stainless steel tubing for durability. We offer these bundles with seven fiber core sizes from Ø50 µm to Ø1000 µm. As shown in the table below, they are available with two high-OH fibers, two low-OH fibers, one high-OH and one low-OH fiber, or two ZBLAN ZrF4 fibers. ZrF4 fiber bundles are particularly advantageous for spectroscopy, as they offer exceptionally broad transmission from the UV into the mid-IR (285 nm - 4.5 µm).
All three ends of the cable are terminated with SMA905 or FC/PC connectors. SMA905 connectors are available for each fiber type and diameter. FC/PC connectors are available for high-OH fibers with a 200 or 400 µm core diameter. The stainless steel sleeves of the connectors on the breakout legs of the cable are engraved to indicate the fiber type in each leg. The sleeve of the common connector is engraved with the fiber core size and numerical aperture (NA).
One leg of each bundle contains both fibers before passing through a junction where the cable splits into two legs, each containing a single fiber. Cables with high-OH and/or low-OH fibers are 2 m long from the common end to the split ends, while cables with ZrF4 fibers are 0.5 m long from the common end to the split ends. See the table below for a summary of the dimensions. The two legs are threaded through a sliding clamp so that the breakout length of the cable can be adjusted. The clamp can be locked in place by tightening the 5/64" (2 mm) hex setscrew. A 5/64" (2 mm) hex key is included with each bundle.
When using the common end as the input, these cables perform best when used with sources that provide even illumination across both fiber cores, such as LEDs with a large emitter angle or white light sources like Thorlabs' Stabilized Light Sources. The photos below and to the right illustrate the end face geometry in the common connector.
Each patch cable includes three protective fiber caps that shield the connector ends from dust and other hazards. Bundles with SMA905 connectors include metal CAPSM dust caps; CAPM Rubber Fiber Caps can be purchased as an alternative option. Bundles with FC/PC connectors include CAPF Plastic Dust Caps.
Custom fiber bundles are available upon request, including straight bundles and bifurcated fiber bundles with one common connector split into two or more connectors. See the Custom Bundles tab for an overview of some of our custom bundle capabilities. Please contact Tech Support for details.
Item # Prefix
BFY50
BFY105
BFY200
BFY400
BFY600
BFY1000
BFYZ4
BFYZ6
Fiber Core Size

Ø50 µm
Ø105 µm
Ø200 µm
Ø400 µm
Ø600 µm
Ø1000 µm
Ø450 µm
Ø600 µm
Fiber Types

High OH or Low OH
High OH, Low OH,
or Mixed
High OH or Low OH
High OH or Low OH
ZrF4
Wavelength Range
250 - 1200 nma (High OH)
400 - 2400 nm (Low OH)

300 - 1200 nm (High OH)
400 - 2200 nm (Low OH)
285 nm - 4.5 µm
Fiber Attenuation Plot
NAb
0.22 ± 0.02
0.39 ± 0.02
0.20 ± 0.02 @ 2.0 µm
# of Active Fibersc
2
Total Length
2 +0.075 / -0.0 m
0.5 +0.10 / -0.0 m
Common Leg Length
0.10 ± 0.03 m
0.07 +0.02 / -0.00 m
Junction Length
1.63" (41.4 mm)
2.09" (53 mm)
2.36" (60 mm)
Max Breakout Lengthd
1.85 m
0.37 m
0.36 m
Connectors
SMA905
SMA905 or FC/PCe
SMA905

Click for Details
The common end of a Ø50 µm core Y-bundle. Details of the core, cladding, and epoxy can be seen.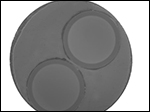 Click for Details
The common end of a Ø105 µm core Y-bundle. Details of the core, cladding, and epoxy can be seen.

Click to Enlarge
Custom 1-to-4 Fan-Out Cable


Click to Enlarge


Click to Enlarge
Sample Fiber Bundle Connector Configurations
Custom Fiber Bundles
Thorlabs is pleased to offer custom straight and fan-out fiber bundles with random or mapped fiber configurations. The table below outlines some of our current bundle production capabilities. We are in the process of expanding these production capabilities, so do not hesitate to inquire if you do not see the bundle that you require described here.
Some custom bundles will require techniques outside of our usual production processes. As a result, we cannot guarantee that we will be able to make a bundle configuration to fit the requirements of your specific application. However, our engineers will be happy to work with you to determine if Thorlabs can produce a fiber bundle that fulfills your needs. To receive a quote, please provide a drawing or draft of your bundle configuration.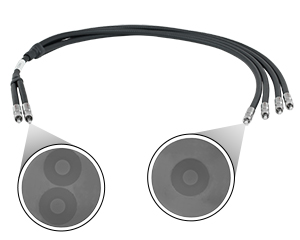 Click to Enlarge
Custom Silica Fiber Bundle with SMA905 Connectors