Key Specificationsa
Item #
PIAK10
PIA13
PIA25
PIA50
Travel
10 mm
13 mm
25 mm
50 mm
Typical Step Sizeb
20 nm
Maximum Step Sizec
<30 nm
Step Size Adjustabilityd
≤30%
Maximum Step Frequencye
2000 Hz
Maximum Axial Preloadf
30 N
25 N
Recommended Maximum
Axial Load Capacityg
2.5 kg (5.51 lbs)
Velocity

2 mm/min (Typical)
<3.5 mm/min (Maximum)
Drive Screw
1/4"-80 Thread, Hard PVD Coated
Motor Type
Piezoelectric Inertia
Barrel
Mounting
Options
Threaded
1/4"-80
3/8"-40
Smooth
Ø3/8" (Ø9.5 mm)
Required Controller
KIM101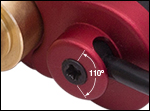 Click for Details
The Control Cable Can be Adjusted up to 110° for Space-Constrained Applications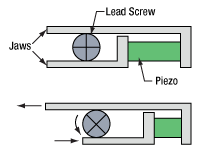 Click to Enlarge
Simplified Illustration Showing the Operation of an Inertia Piezo Actuator
Piezoelectric Inertia "Slip-Stick" Motor
A piezo stack mounted perpendicular to the lead screw axis actuates the screw via a design based on the system's inertia and coefficients of friction. Two decoupled arms, or jaws, are located on either side of the piezo. These arms then extend around the top and bottom of the main lead screw. This is illustrated in the diagram to the left.
The piezo reacts to a custom sawtooth voltage waveform, causing it to expand or contract. The waveform is asymmetric, slowly ramping up to the specified voltage and then quickly dropping the voltage to zero on a nanosecond timescale. As shown in the bottom illustration to the left, the jaws will "stick" to the lead screw during the slow voltage ramp, similar to how a person would turn a screw with their thumb and forefinger. The nanosecond voltage drop will cause the arms to "slip" due to the screws' inertia and the different coefficients of friction, and return the arms to their original position. The "slip-stick" nature of this device uses very short pulse widths and continuous stepping of the actuator will result in an audible noise at a typical level of 60 to 70 dB. This mechanism allows a single piezo element to translate a lead screw along its entire length.
Due to a number of factors that include the application condition, piezo hysteresis, component variance, and the axial load, the achieved step size will vary and is not repeatable. To help overcome this variance, an external feedback system will need to be used. Alternatively, a stepper motor actuator can also be substituted depending on the application.
Features
Compact Design, 31.5 mm x 17.0 mm (W x H)
Piezo Inertia Actuators Offer 20 nm Typical Step Size
Manual Adjustment via Rear-Located Thumbscrew
125 V Maximum Operating Voltage
1/4"-80 Mounting Thread (PIAK10) for Compatibility with Mirror Mounts
3/8" Mounting Block (PIAK10, PIA13, PIA25, and PIA50) for Compatibility with Translation Stages
Versions with 10 mm, 13 mm, 25 mm, or 50 mm of Travel
Ideal for Set-and-Hold Applications that Require Relative Positioning with High Resolutions
Control Cable can be Adjusted up to 110° for Space-Constrained Applications
Thorlabs' Piezoelectric Inertia Actuators provide high-resolution linear motion control with long piezo-controlled translation ranges in a compact package. Each actuator can support loads up to 2.5 kg (5.51 lbs) and preloads up to 30 N with typical movements of 20 nm and no backlash. The step size can be adjusted up to 30% to a maximum of approximately 30 nm using the KIM101 Controller. However, due to the open-loop design, hysteresis, and application conditions, the achieved step size of the system can vary over 20%. An external feedback system will need to be used to overcome this variance.
The actuator is self-locking when at rest and when there is no power supplied to the piezo, making these actuators ideal for set-and-hold applications that require nanometer resolution and long-term alignment stability. Manual adjustments can be made at any time, as long as the piezo is not actively translating the screw, by using the rear-located thumbscrew or with a 5/64" (2 mm) hex key.
Powered by a 10 mm (0.39") long discrete piezo stack, these actuators operate at speeds of up to 3.5 mm/min. The design of the piezo motor, detailed below, will rotate the tip of the lead screw during translation. As shown in the image above, the control cable for each actuator can be rotated up to 110° for space-constrained applications.
Mounting Options
Each actuator contains a Ø3/8" (Ø9.5 mm) barrel that can be mounted in any manual stage that has a Ø3/8" (Ø9.5 mm) mounting clamp. In addition, the PIAK10 contains a second barrel that has a 1/4"-80 thread for compatibility with a 1/4"-80 threaded mirror mount, while the other three actuators have a 3/8"-40 thread at the end of the Ø3/8" (Ø9.5 mm) barrel.
Required Controller
The KIM101 Controller, available below, is required to operate our Piezo Inertia Actuators; these actuators cannot be operated using a standard piezo controller. The controller contains four channels that can be operated individually or in pairs, making the controller ideal for applications that require multiple motorized axes, such as beam steering. The driver has an internal sawtooth voltage signal generator capable of sending sub-millisecond pulses (steps) with controllable amplitudes from 85 V to 125 V. Each actuator has a 1.0 m cable included; 1.5 m SMC extension cables (item # PAA101) and male-to-male SMC adapters (item # T5026) are also available. Please note that, due to the capacitance of the cables, the overall length of the control cables should not exceed 2.5 m.
Item #
PIAK10
PIA13
PIA25
PIA50
Travel
10 mm

13 mm

25 mm

50 mm

Typical Step Sizea
20 nm
Maximum Step Sizeb
<30 nm
Step Size Adjustabilityc
≤30%
Maximum Step Frequencyd
2000 Hz
Backlash
None
Maximum Active Axial Preloade
30 N
25 N
Typical Angular Resolutionf
Ø1" Mirror Mounts: 0.5 μrad
Ø2" Mirror Mounts: 0.3 μrad
N/A
Recommended Maximum
Active Axial Load Capacityg
2.5 kg (5.51 lbs)
Velocity (Continuous Stepping)
2 mm/min (Typical)
<3.5 mm/min (Maximum)
Drive Screw
1/4"-80 Thread, Hard PVD Coated
Actuator Tip
Tungsten Carbide Ball
Lifetime
>1 Billion Steps
Motor Type
Piezoelectric Inertia
Piezo Specifications
Voltage Rating
130 V
Capacitance
175 nF
Resonant Frequency
125 kHz (No Load)
Physical Specifications
Dimensionsh (L x W x H)
2.87" x 1.24" x 0.67"
(72.9 mm x 31.5 mm x 17.0 mm)

2.34" x 1.24" x 0.67"




(59.5

mm

x

31.5

mm

x

17.0

mm)

2.81" x 1.24" x 0.67"




(71.4

mm

x

31.5

mm

x

17.0

mm)

3.80" x 1.24" x 0.67"




(96.6

mm

x

31.5

mm

x

17.0

mm)

Mounting Options
1/4"-80 Threaded Barrel

3/8"-40 Threaded Barrel

Ø3/8" (Ø9.5 mm) Barrel

Ø3/8" (Ø9.5 mm) Barrel
Operating Temperature

10 to 40 °C (50 to 104 °F)

Cable Length
1.0 m (3.28')
Cable Exit Adjustability
±55° (Left- or Right-Hand Exit)
Connector
SMC, Female
Compatible Controller
KIM101