ITO-Coated PET Film
Pack of Twenty 250 mm x 200 mm x 0.2 mm Polyethylene Terephthalate (PET) Film Sheets
Conductive Indium Tin Oxide (ITO) Coating on One Side
High Transmission in the 400 nm - 2110 nm Wavelength Range
OCF2520
Pack of Twenty Sheets
Application Idea
ITO-Coated PET can be used as the conductive layer in a liquid crystal device.

Please Wait
Item #
OCF2520
Wavelength Range
400 - 2110 nm
Material
Polyethylene Terephthalate (PET)
Coating (One Side)
Indium Tin Oxide (ITO)
ITO Sheet Resistance Range*

350 - 500 Ω/sq

Sheet Size
250 mm × 200 mm
(9.84" × 7.87")
Size Tolerance
±5 mm
Sheet Thickness
0.2 mm (7.87 mils)
Thickness Tolerance
±0.01 mm
Surface Quality
Coated Side: 40-20 Scratch-Dig
Uncoated Side:

60-40 Scratch-Dig

Maximum Operating Temperature
120 °C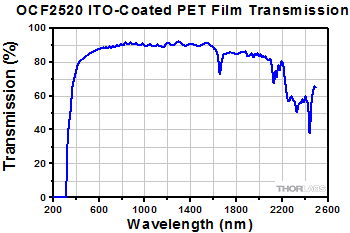 Click to Enlarge

Click
Here
for Raw Data
Typical transmission of one OCF2520 Sheet. Please note that the data given is typical, and performance may vary slightly from lot to lot.
Thorlabs' OCF2520 is a pack of twenty optically clear, Polyethylene Terephthalate (PET) Film Sheets that have a conductive Indium Tin Oxide (ITO) coating deposited on one side. The coating has a sheet resistance of 350 to 500 Ω/sq*, and each sheet is highly flexible and temperature resistant up to 120 ºC.
Measuring 250 mm x 200 mm x 0.2 mm (L x W x T) in size, our ITO-coated PET sheets provide high transmission in the 400 nm - 2110 nm spectral range. Please see the transmission plot to the right for details. The film has a surface quality of 40-20 scratch-dig on the ITO coated side and 60-40 scratch-dig on the uncoated side.
Each sheet is protected on both sides by a thin film that can be pulled off using the included red tabs. A multimeter can be used to verify the side with the conductive ITO coating. These films can be cleaned with ethanol.
Applications
ITO-coated PET films can be used in a number of different applications due to their high optical transmission and conductivity. They can be used in liquid crystal devices to provide a transparent, conductive layer that accepts the applied voltage used to realign the liquid crystal cells. The sheets are also commonly used as components for touchscreens, position sensors, electroluminescent lamps, and electrophoretic displays, as well as in electromagnetic shielding applications.
*Sheet Resistance
Sheet resistance is defined as ρ/t: the resistivity (Ω*m) divided by the thickness (m) of the conductive ITO coating. The units are given as Ω/sq (Ohms per square) to differentiate the sheet resistance from the total resistance of some area of the film. The resistance of these films is given by:
R = Rs * (L/W)
where L and W are the length and width of the film, respectively, and Rs is the sheet resistance. For a square of the thin film, where L = W, the resistance of the film is equal to the sheet resistance regardless of size.