Conductive Epoxy and Tape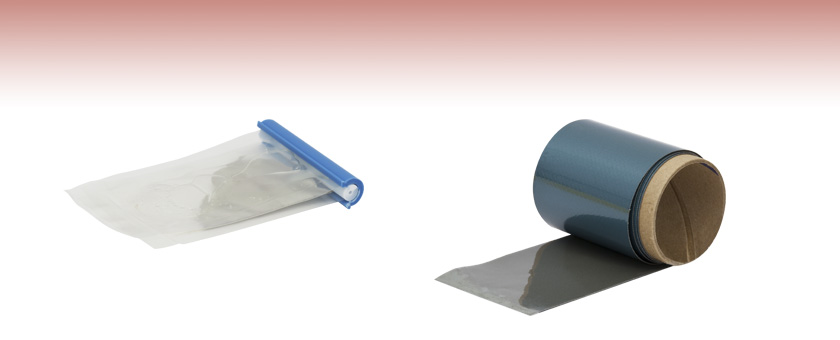 Conductive Silver Epoxy
Thermally Conductive Double-Sided Tape
EG58
Silver Epoxy 4.4 g
TCDT2

Please Wait
Thorlabs offers the Electrodag™ 5810 Conductive Epoxy and two sizes of Thermally Conductive Double-Sided Tape. Thorlabs also carries standard epoxies and adhesives.

Ideal for Mounting Conductive Components that Cannot be Soldered
Low Resistance Epoxy Coating or Adhesive, 0.0007 Ohm-cm
Lap Shear: 1000 psi
Maximum Operating Temperature of 250 °F (121 °C)
Thorlabs offers Electrodag™ 5810 Conductive Epoxy for use in places where soldering is not possible. This two-component epoxy has good electrical and thermal conductivity, featuring a low volume resistance of 0.0007 Ohm-cm and a lap shear of 1000 psi. The silver-filled epoxy has a cure time of 24 hours at room temperature; the cure time can be accelerated to 2 hours at 149 °F (65 °C) or 1 hour at 212 °F (100 °C). The epoxy is packaged in two separate bags with a net weight of 4.4 grams.
The shelf life of EG58 Epoxy will vary depending on the date the epoxy was packaged at the manufacturer. For information on the shelf life of EG58 Epoxy, please contact Tech Support.

Thermally Conductive Double-Sided Acrylic Adhesive Tape
0.009" (0.229 mm) Thick
Two Options:

TCDT1: 1" Wide x 48" Long (25.4 mm x 1219 mm)
TCDT2: 2" Wide x 24" Long (50.8 mm 610 mm)

Great Alternative to Heat-Cured Adhesives, Screw Mounting, or Clip Mounting
Provides a High Bond Strength to a Variety of Surfaces
Can be Removed without Damaging Parts
The thermally conductive, double-sided tape consists of a superior bond strength, pressure-sensitive acrylic adhesive loaded with titanium diboride and applied to an expanded aluminum carrier. The tape is embossed with an innovative pattern for maximum conformability and minimal air pockets and offers excellent thermal, mechanical, environmental, and chemical properties. Our thermally conductive double-sided tape can bond heat sinks and thermal plates to components without the use of clips, screws, other mechanical fasteners, or additional thermal compounds and can be removed after the application without damage to the component.
Item #
TCDT1
TCDT2
Construction
Carrier
Expanded Al
Color
Grey
Thickness
0.009" ± 0.001" (0.229 mm ± 0.03 mm)
Thermal
Thermal Impedance @ <1 psi
0.25 °C-in2/W (1.7 °C-cm2/W)
Thermal Conductivity
1.40 W/m-K
Electrical
Voltage Breakdown
NA
Volume Resistivity
0.013 ohm-cm
Flammability Rating (E140244)
Not Rated
Lap Shear Adhesion
70 psi (0.483 MPa)
Item #
TCDT1
TCDT2
Mechanical
Die Shear
Adhesion
Aluminum
135 psi (0.931 MPa) @ 25 °C
25 psi (0.172 MPa) @ 150 °C
Copper
115 psi (0.793 MPa) @ 25 °C
35 psi (0.241 MPa) @ 150 °C
Aluminum Oxide
125 psi (0.862 MPa) @ 25 °C
40 psi (0.276 MPa) @ 150 °C
Creep
Adhesion
25°C, 12 psi (0.083 MPa)
>50 days
150°C, 12 psi (0.083 MPa)
>50 days
Adhesive CTE, -40 to 150 °C
400 ppm/°C
Dimensions
1" x 48"
(25.4 mm x 1219 mm)
2" x 24"
(50.8 mm x 610 mm)