Solid Aluminum Breadboards with Access Aperture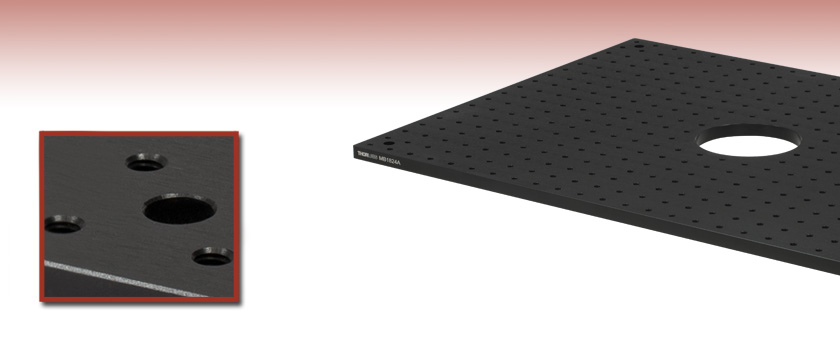 Ø2" (50 mm) or Ø4" (100 mm) Central Aperture for Laser Beam or Cable Routing
Matte Black Anodized Finish Reduces Unwanted Reflections
1/4"-20 (M6) Through-Tapped Mounting Holes
MB1824A
Four Counterbored
Ø1/4" (M6) Mounting Holes

Please Wait
Specification
Imperial Boards
Metric Boards
Material
Aluminum Tooling Plate
Finish
Matte Black Anodized
Breadboard Thickness
0.5"
12.7 mm
Flatness
±0.006" Over 1 ft2
±0.15 mm Over 0.3 m2
Coating Thickness
15 μm to 20 µm
Center Hole Diameter
MB1218A: 2.0"
MB1824A: 4.0"
MB3045A/M: 50 mm
MB4560A/M: 100 mm
Hole Size and Spacing
1/4"-20 Tapped Holes on 1" Centers
M6 Tapped Holes on 25 mm Centers
Distance from Edge
to First Hole
0.5" on All Sides
12.5 mm on All Sides
Number of Counterbored
Mounting Holes
Four Ø1/4" Located at Corners Inset 1"
Four M6 Located at Corners Inset 25 mm

Custom Breadboards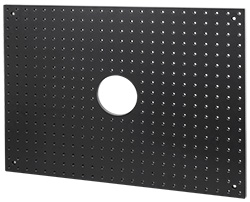 Click to Enlarge
These Breadboards Feature a Central Aperture for Routing Laser Beams or Cables.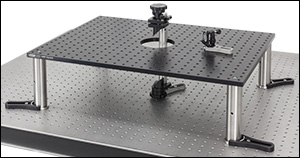 Click to Enlarge
Periscope Assembly
Being Used to Reroute a Beam through the Ø4" Center Access Hole of our MB1824A Breadboard
Features
Ø2" (50 mm) or Ø4" (100 mm) Central Aperture for Routing Laser Beams or Cables
Standard Imperial and Metric Breadboard Hole Patterns
Offset Mounting Holes Allow a Full, Uninterrupted, Threaded Hole Matrix
Solid Aluminum with Low Reflection Anodized Surface
Custom Sizes and Options Available
These solid aluminum, nonmagnetic baseplates feature a central aperture for routing laser beams or for cable management and provide a convenient and cost-effective platform for assembling prototype optical assemblies, performing experiments, and mounting small subsystems. They are finished with a black, minimally reflective anodized coating and are through-drilled with a standard 1" (imperial) or 25 mm (metric) hole pattern offset 1/2" or 12.5 mm respectively, from the edges of the board.
Each breadboard features four counterbored mounting holes, offset from the array of threaded holes, which are counterbored to create an uninterrupted surface for any intended application. The four standard mounting holes are located at each corner of the breadboard, inset 1" from each edge (25 mm on metric). The mounting holes may be used to attach the breadboards to optical tables, other breadboards, mounting posts, brackets, or a variety of other surfaces or mounts. Please see the Mounting Options tab for more details.
Because the work surface holes are threaded completely through these breadboards, components can be mounted on both sides at once. Ø1.5" Mounting Posts allow for adjustments to the height of the optical axis by mounting the breadboards above the surface of an optical tabletop (or another board). The breadboards can also be mounted vertically using 90° or Vertical Mounting Brackets.
Other Breadboard Options and Accessories
For vacuum applications, we recommend using an unanodized breadboard; an unanodized breadboard with an access aperture must be ordered by contacting tech support. If the access aperture is not an essential feature, please consider our selection of standard Unanodized Breadboards.
Thorlabs also offers SlimLine Double Hole Density Aluminum Breadboards with 1/2" offset hole spacing, doubling the density of mounting holes. These are offered in sizes ranging from 4" x 24" to 8" x 36" (100 mm x 600 mm to 200 mm x 900 mm) with thicknesses of 0.5" (12.7 mm), making their slim profile ideal for compact work areas. The same double-hole-density pattern is also available on our circular breadboards.
For limited space applications, Thorlabs offers the MS12B and MS12B/M Mini-Series Breadboards. These breadboards feature increased tapped hole density and thinner breadboard thickness.
Optical Breadboard Enclosures are available to protect sensitive equipment from dust, stray light, acoustic noise, and thermal variations. Enclosures are offered completely sealed or with sliding door access. The breadboards can also be mounted vertically using 90° or Vertical Mounting Brackets, or can be raised using our Ø1.5" Mounting Posts.
Custom Breadboards
We offer a service for custom breadboard orders, with options that include hole pattern and spacing, size, thickness, and anodizing. For a quote, please fill out our custom breadboards form.
Mounting Options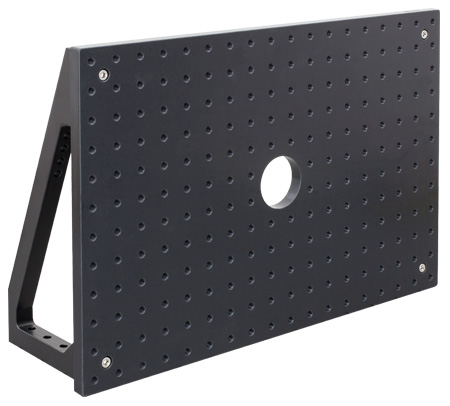 Vertical Arrangement
Thorlabs' aluminum breadboards can be mounted vertically (or perpendicular to a mounting surface) using a wide variety of 90 degree mounting plates. For tall arrangements, we recommend the setup shown to the left. Here, the MB1218A breadboard is vertically oriented using two VB01 Vertical Brackets.
---

Vibration Isolating Feet
Thorlabs' aluminum breadboards may be mounted on a set of AV2 Vibration Isolating Feet, rated for 32 kg. These sorbothane bumpers may be used to isolate a small breadboard from its mounting surface.
Not shown: Standard RDF1 Rubber Damping Feet may also be used where high vibrational damping is not necessary.
---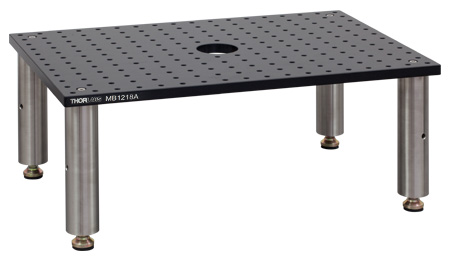 Elevated Arrangement with Adjustable Mounting Feet
A set of Ø1.5" Post Mounts can be used to elevate an aluminum breadboard off of the work surface. At left, an MB1218A breadboard is shown with four P6 Mounting Posts. An adjustable, self-leveling BMF4 Mounting Foot is attached to each mounting post. The self-leveling mounting feet feature rubberized feet and screw thread height adjustment.
---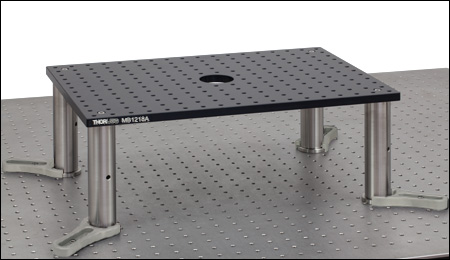 Fixed Elevated Arrangement with Pedestal-Style Feet
A more permanent Aluminum Breadboard mounting option, shown to the left, features pedestal-style Ø1.5" Post Mounts clamped to an optic bench. The MB1218A Aluminum Breadboard to the left is elevated off the optic bench surface using a set of four P6 Mounting Posts, each with a PB4 Pedestal Base Adapter and PF175B Clamping Fork.
Not shown: Ø1.5" Translating Posts may also be used in lieu of the P6 Mounting Posts for applications requiring further height adjustment.
---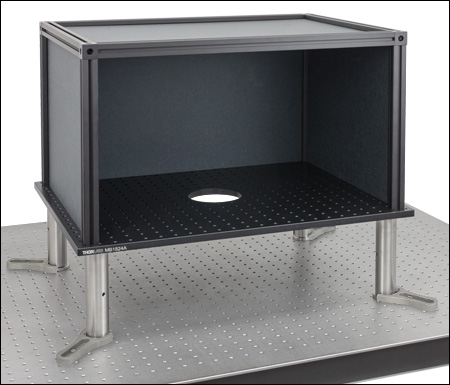 Breadboard Enclosure Systems
Enclosures may be added to Thorlabs' aluminum breadboards to house light and dust-sensitive equipment. Thorlabs offers a variety of plexiglass and standard darkening enclosures. The XE25C5 enclosure shown to the left has the front panel removed for access. Enclosures with sliding doors fabricated from plexiglass or black hardboard are also available.
Item #
Dimensions
(L x W x H)
Unpackaged
Packaged Shipping
Mass (kg)
Weight (lbs)
Mass (kg)a
Weight (lbs)a
MB1218A
12" x 18" x 0.5"
4.47
9.85
5.00
11.00
MB1824A
18" x 24" x 0.5"
8.83
19.47
9.80
21.56
MB3045A/M
300 mm x 450 mm x 12.7 mm
4.33
9.55
4.90
10.78
MB4560A/M
450 mm x 600 mm x 12.7 mm
8.55
18.85
9.50
20.90
These weights are approximate and are subject to change. The information is only to be used as a guideline