Unanodized Solid Aluminum Optical Breadboards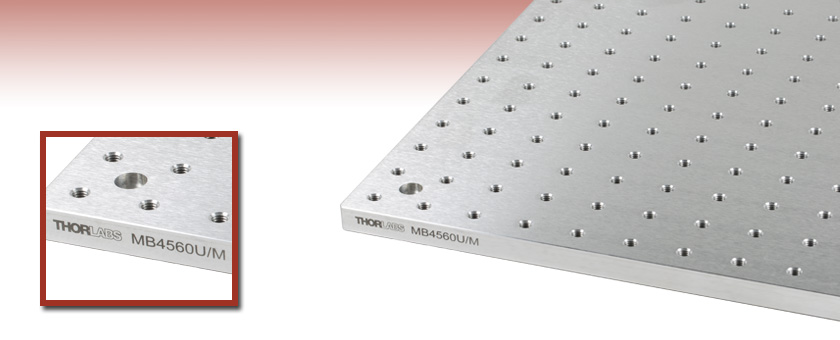 Unanodized Finish Ideal for Customization
Through-Tapped Mounting Holes
Custom Sizes Available
Counterbored Ø1/4"
(M6) Mounting Holes
MB4560U/M
450 mm x 600 mm x 12.7 mm, M6 Taps

Please Wait
Specification
Imperial Boards
Metric Boards
Material
5083 Aluminum Tooling Plate
Finish
Precision Ground, Matte Finish
Breadboard Thickness
0.5"
12.7 mm
Flatness
±0.006" over 1 ft2
±0.15 mm over 0.3 m2
Hole Size and Spacing
1/4"-20 Tapped Holes on
1" Centers
M6 Tapped Holes on
25 mm Centers
Distance from Edge
to First Hole
0.5" on All Sides
12.5 mm on All Sides
Number of Counterbored Holesa
Four 1/4" Located at Corners - Inset 1"
Four M6 Located at Corners - Inset 25 mm
5th counterbored mounting hole placed at the center of larger imperial and metric boards (MB1218U, MB1224U, MB1824U, MB3045U/M, MB3060U/M, and MB4560U/M)
Features
Precision Manufactured Unanodized Surface
Electrically Conductive for Applications Requiring a Common Ground
Standard Imperial and Metric Breadboard Hole Patterns
Offset Counterbored Mounting Holes Allow a Full, Uninterrupted, Threaded Hole Matrix
Larger Breadboards [MB1218U (MB3045U/M) and Larger] Have a Fifth Center-Located
Counterbore Mounting Hole
Double-Density, High-Density Versions, and Custom Sizes Available
All Boards Stocked for Quick Delivery
These solid aluminum, unanodized, nonmagnetic breadboards provide a convenient and cost-effective platform for those wishing to modify a breadboard to suit a specific prototype or experimental need. They are finished with a precision-ground surface and are through-drilled with a standard 1" (imperial) or 25 mm (metric) hole pattern offset 1/2" or 12.5 mm from the edges of the board, respectively. Each breadboard is constructed from 5083 aluminum that has never been anodized for ease of customization. Although the aluminum oxide coating traditionally applied to breadboards minimizes reflectance, it also increases the hardness of the end product, making anodized breadboards more difficult to machine.
Each breadboard features four or five mounting holes, which are counterbored to create an uninterrupted surface for your application. The four standard mounting holes are located at each corner of the breadboard, inset 1" from each edge on imperial breadboards (25 mm on metric). The three largest imperial and metric boards (MB1218U, MB1224U, MB1824U, MB3045U/M, MB3060U/M, and MB4560U/M) have a fifth counterbored mounting hole in the center. Utilizing the center mounting hole increases the mounting options available, reduces stress at the corner mounting holes, and increases rigidity when heavy loads are placed on the boards. The mounting holes may be used to attach the breadboards to optical tables, other breadboards, mounting posts, brackets, or a variety of other surfaces or mounts.
Because the holes are threaded completely through these breadboards, components can be mounted on either side of the breadboards. Ø1.5" Mounting Posts allow for adjustments to the height of the optical axis by mounting the breadboards above the surface of an optical tabletop (or another breadboard). The breadboards can also be mounted vertically using 90° or Vertical Mounting Brackets.
In addition to facilitating customized hole patterns and modifications, the lack of an anodized coating on these breadboards also allows them to be used within a vacuum environment down to 10-6 Torr. Prior to use in a vacuum system, these breadboards will require additional treatment and cleaning. For additional information on preparing these breadboards for vacuum applications, please contact Tech Support.
For other vacuum-compatible options, we offer Passivated Stainless Steel Breadboards, which are stiffer at an equivalent thickness. Black Anodized Aluminum Breadboards are also available in a variety of sizes. The black anodized coating on these breadboards is ideal for limiting stray reflections in an optical system.
Custom Breadboards
We offer a service for custom breadboard orders, with options that include hole pattern and spacing, size, thickness, and anodizing. For a quote, please fill out our custom breadboards form.
Item #
Dimensions
(L x W x T)
Unpackaged
Packaged Shipping
Mass (kg)
Weight (lbs)
Mass (kg)a
Weight (lbs)a
MB4U
4" x 4" x 0.5"
0.33
0.73
0.50
1.10
MB6U
6" x 6" x 0.5"
0.75
1.65
0.81
1.79
MB8U
8" x 8" x 0.5"
1.34
2.95
2.00
4.41
MB810U
8" x 10" x 0.5"
1.68
3.70
2.40
5.29
MB1012U
10" x 12" x 0.5"
2.52
5.56
3.50
7.72
MB12U
12" x 12" x 0.5"
3.02
6.66
4.00
8.82
MB1218U
12" x 18" x 0.5"
4.54
10.01
5.84
12.86
MB1224U
12" x 24" x 0.5"
6.05
13.34
7.00
15.43
MB1824U
18" x 24" x 0.5"
9.09
20.04
11.02
24.29
MB1015U/M
100 mm x 150 mm x 12.7 mm
0.48
1.06
0.70
1.54
MB1515U/M
150 mm x 150 mm x 12.7 mm
0.73
1.61
0.92
2.03
MB2020U/M
200 mm x 200 mm x 12.7 mm
1.30
2.87
2.00
4.41
MB2025U/M
200 mm x 250 mm x 12.7 mm
1.62
3.57
1.82
4.01
MB2530U/M
250 mm x 300 mm x 12.7 mm
2.44
5.37
3.40
7.49
MB3030U/M
300 mm x 300 mm x 12.7 mm
2.93
6.46
3.90
8.60
MB3045U/M
300 mm x 450 mm x 12.7 mm
4.40
9.70
5.61
12.37
MB3060U/M
300 mm x 600 mm x 12.7 mm
5.86
12.92
6.80
14.99
MB4560U/M
450 mm x 600 mm x 12.7 mm
8.80
19.40
10.73
23.66
These weights are approximate and are subject to change. The information is only to be used as a guideline

Breadboard Sizing: Length x Width x Thickness
Threading: All Imperial Breadboards Feature 1/4"-20 Threads on 1" Centers
MB4U, MB6U, MB8U, MB810U, MB1012U, and MB12U Have Four Counterbored Mounting Holes
MB1218U, MB1224U, and MB1824U Have Five Counterbored Mounting Holes

Breadboard Sizing: Length x Width x Thickness
Threading: All Metric Breadboards Feature M6 Threads on 25 mm Centers
MB1015U/M, MB1515U/M, MB2020U/M, MB2025U/M, MB2530U/M, and MB3030U/M Have Four Counterbored Mounting Holes
MB3045U/M, MB3060U/M, and MB4560U/M Have Five Counterbored Mounting Holes