Click to Enlarge

This animation shows how the periscope assembly is used.
Features
Periscope Assembly Designed for Use with Ø1" (Ø25.4 mm) Optics (Sold Separately)
Minimum Optic Thickness: 0.13" (3.3 mm)
Complete Periscope Assembly Redirects and Changes the Height of a Beam Within an Optical System
Fabricated from Black Anodized Aluminum
Optic Fixtures Available Separately for Wider Range of Height Adjustment
Thorlabs' Periscope Assembly provides a convenient way to redirect and change the elevation of a beam within an optical system. As seen in the animation, the system consists of a pair of 45° Ø1" mirror mounts (optics sold separately) with lockable adjustment knobs to provide 360° of rotation of the incoming light.
The top unit, which can be purchased separately below, provides pitch, yaw, and rotation control. It features 360° of continuous rotation as well as ±4° tip and tilt with an adjustment per revolution of 8 mrad/rev. This unit can hold Ø1" optics that are at least 0.13" (3.3 mm) thick.
The bottom unit, which can also be purchased separately below, provides a right angle mirror mount for Ø1" optics as well as a clear aperture for beam sampling. This unit is mounted to the Ø1" post using a 360° continuous rotation pillar post clamp.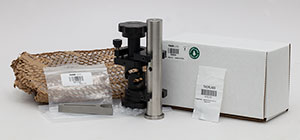 Click to Enlarge
RS99 Packaging

Smart Pack
Reduce Weight of Packaging
Increase Usage of Recyclable Materials
Improve Packing Integrity
Decrease Shipping Costs
Thorlabs' Smart Pack Initiative is aimed at minimizing waste while providing adequate protection for our products. By eliminating any unnecessary packaging, implementing design changes, and utilizing eco-friendly materials, this initiative seeks to reduce the environmental impact of our product packaging.
The updated RS99(/M) packaging primarily consists of recycled paper and cardboard and weighs 15.97% less than the original packaging. This weight change results in a 7.50 kg reduction in travel-based CO2 emissions per year, based on typical product sales.
As we move through our product line, we will indicate re-engineered, eco-friendly packaging with our Smart Pack logo, which can be seen above.