Other Bare Fiber Mounts
Post Mountable or SM Threaded
Multi-Axis Stage Compatible
V-Mounts
Clamps
Chucks
Rotators
Features
Ideal for Angle-Sensitive Setups Involving PM Fiber
Smooth, Continuous 360° Rotation
Options for Bare Fiber and Fiber Chucks
Both the HFR007 High Precision Bare Fiber Rotator and the HFR001 Fiber Chuck Rotator are designed for continuous rotation of fiber in angle-sensitive setups. Either of these rotators can be combined with our line of Multi-Axis Flexure Stages to form orientation-dependent fiber launch systems. Thorlabs also offers a line of complete fiber launch assemblies configured for SM and PM fiber.
High-Precision Bare Fiber Rotator
The HFR007 Fiber Rotator readily accepts uncoated fiber with an outer cladding diameter of 125 µm. The fiber is easily loaded into the rotator's V-groove, and a swing arm holds it in place using a strong magnetic force. It features a graduated knob that allows high-precision rotations accurate to approximately 2°, and features a 3 mm wide key on the bottom so that it can be easily mounted onto any of our multi-axis flexure stages.
1/4" Fiber Chuck Rotator
The HFR001 Fiber Chuck Rotator allows smooth rotation of 1/4" fiber chucks, and features RMS-threading (0.800"-36). Three nylon-tipped setscrews hold the fiber chuck in place. It can be attached to any of our multi-axis flexure stages using an HCS013 objective mount.
Multi-Axis Stage Selection Guide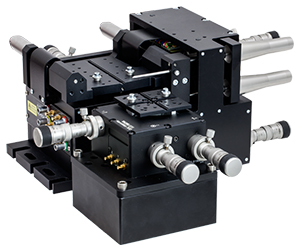 Click to Enlarge
In the above application, a
3-Axis NanoMax flexure stage
is aligned in front of a 6-axis stage at the proper 112.5 mm deck height using an
AMA554
Height Adapter.
3-Axis Stages
Thorlabs offers three different 3-Axis Stage variations: NanoMax flexure stages, MicroBlock compact flexure stages, and RollerBlock long-travel stages. Each stage features a 62.5 mm nominal deck height. Our NanoMax line of 3-axis stages offers built-in closed- and open-loop piezos as well as modular drive options that include stepper motors, differential drives, or additional piezos. The MicroBlock stages are available with differential micrometer drives or fine thread thumbscrews; these drives are not removable. Finally, our RollerBlock stage drivers can be switched out for any actuator that has a Ø3/8" (9.5 mm) mounting barrel.
4- and 5-Axis Stages
Our 4- and 5-axis stages are ideal for the static positioning of waveguides or complex optical elements with respect to our 3-axis or 6-axis high-performance alignment stages. Thorlabs' 5-axis stages have nominal heights of 62.5 mm or 112.5 mm. The AMA554 Height Adapter can be used to raise the deck height of the 3-axis or 4-axis stages to 112.5 mm for compatibility with our 5-axis MicroBlock or 6-Axis NanoMax Stages.
6-Axis Stages
Thorlabs' 6-Axis NanoMax Nanopositioners are ideal for complex, multi-axis positioning and have a nominal deck height of 112.5 mm. These stages offer a common point of rotation and a patented parallel flexure design that allows all actuators to be coupled directly to the base to minimize any unwanted motion in the system. Built-in closed- and open-loop piezo options are available. A selection of modular drive options allows any axis to be manual or motorized with the option for external piezos. Our units without included actuators are also available in right- or left-handed configurations. To increase the stage height of the 3-axis stages to 112.5 mm, we recommend our AMA554 Height Adapter, shown in the image to the right.
A complete selection and comparison of our multi-axis stages is available below.
3-Axis Stages
Item #
MAX313D
MAX312D
MAX311D
MAX383
MAX381
MAX303
MAX302
MAX301
MBT602
MBT616D
RB13M
RBL13D
Stage Type
NanoMax Flexure Stages
MicroBlock Compact
Flexure Stages
RollerBlock Long Travel Stages
Included Drives
DRV3 Differential Micrometers
DRV208 Stepper Motor Actuators
N/A
Fine Thread Thumbscrews
Differential Micrometers
148-801ST
Micrometer Drives
DRV304
Differential Micrometers
Built-in Piezos
N/A
Open
Loop
Closed Loop
N/A
Closed Loop
N/A
Open Loop
Closed Loop
N/A
N/A
Travel (X, Y, Z)
4 mm (0.16")
13 mm (0.51")
Deck Height (Nominal)
62.5 mm (2.46")
Optical Axis Height (Nominal)
75 mm (2.95")
Load Capacity (Max)
1 kg (2.2 lbs)
4.4 kg (9.7 lbs)
Thermal Stability
1 µm/°C
-
Weight
1.00 kg (2.20 lbs)
0.64 kg (1.40 lbs)
0.59 kg (1.30 lbs)
4-Axis Stages
Item #
MBT401D
MBT401D/M
MBT402D
MBT402D/M
Stage Type
4-Axis Thin-Profile MicroBlock Device Stage
4-Axis Low-Profile MicroBlock Device Stage
Included Drives
Differential Micrometers
Built-in Piezos
N/A
Travel
Horizontal Axis (Y)a
13 mm (0.51")
Vertical Axis (Z)
6 mm (0.24")
Pitch (θy)
±5°
Yaw (θz)
±5°
Deck Height (Nominal)
62.5 mm (2.46")
Optical Axis Height (Nominal)
75 mm (2.95")
Load Capacity (Max)
0.5 kg (1.1 lbs)
5-Axis Stages
Item #
MBT401D (MBT401D/M) or
MBT402D (MBT402D/M) with
MBT501
PY005
Stage Type
5-Axis MicroBlock Stage System
Compact 5-Axis Stage
Included Drives
Differential Micrometers
100 TPI Actuators
Built-in Piezos
N/A
Travel
Optical Axis (X)
13 mm (0.51")
3 mm (0.12")
Horizontal Axis (Y)
13 mm (0.51")
3 mm (0.12")
Vertical Axis (Z)
6 mm (0.24")
3 mm (0.12")
Pitch (θy)
±5°
±3.5°
Yaw (θz)
±5°
±5°
Deck Height (Nominal)
112.5 mm (4.43")
62.5 mm (2.46")a
Optical Axis Height (Nominal)
125 mm (4.92")
75 mm (2.95")a
Load Capacity (Max)
0.5 kg (1.1 lbs)
0.23 kg (0.5 lbs)
6-Axis Stages