Flexure Stage Accessories: Top Plates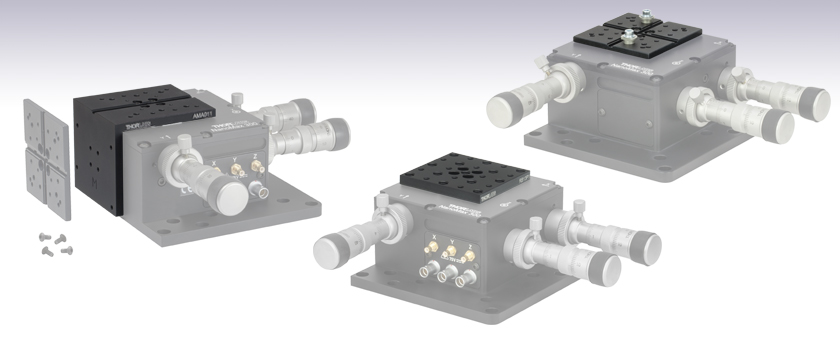 Designed for Use with Our Family of Multi-Axis Stages
Stage-Mounted Top Plates
Compatible with a Wide Range of Accessories
AMA011
Top Plate with
Right-Angle Design
Adds a Side Mounting Surface
RB13P1
Top Plate with 1/4"-20 (M6)
and 8-32 (M4) Tapped Holes
MMP1
Top Plate with Our
Standard 'Crossed
Groove' Design and
AMA10 Cleats

Please Wait
Thorlabs offers a variety of top plates compatible with our Microblock™, RollerBlock™, and NanoMax™ stages, including the MMP1(/M) grooved top plate for mounting accessories with a key-way, the RB13P1(/M) plate with 1/4"-20 (M6) and 8-32 (M4) tapped holes, and the AMA011(/M) right-angle top plate for adding a side mounting surface. The MMP1(/M) grooved mounting plate is included with all flexure stages. The other plates featured here are optional replacements to increase the mounting options available for our stages.
Thorlabs also offers a large selection of extension platforms for increasing the working surface on our stages.
These items are not compatible with 4-Axis MicroBlock stages or 6-Axis NanoMax stages.
Posted Comments:
No Comments Posted