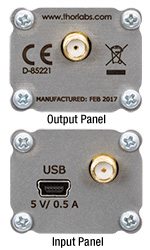 Click to Enlarge
50LD Input and Ouput Panels
Features
20 kΩ Input Impedance and 50 Ω Output Impedance
Drive High-Speed Analog or Digital Signals up to 200 V/µs
20 MHz Bandwidth with SMA Input/Output Connectors
±5 V Input with 1:1 Voltage Gain
USB Mini B Connector for Powering Unit (Cable Included)
Compact In-Line Housing
Thorlabs' High-Speed Voltage Buffer increases the available current for a low-impedance load that is being driven by a high-impedance source, while maintaining a 1:1 voltage gain through the system. The buffer has a 20 kΩ input impedance and a 50 Ω output impedance. This makes it ideal when trying to modulate a laser source, such as our 4-channel laser source, with a high-impedance controller, such as NI's PCIe-6321 and PCIe-6363 data acquisition boards.
With a slew rate of 200 V/µs, the buffer can drive a fast analog or digital signal with minimal distortion of the input waveform, as shown in the performance plots below. It accepts an input voltage up to ±5 V and is powered using a side-located USB mini B connector. A USB Mini B to Male A cable is included with the device.
The 50LD buffer is an in-line device that features a box design with two female SMA connectors, allowing it to be easily used between two SMA cables. Due to the larger size of this box, 2.51" x 1.25" x 1.00", it is not recommended that this buffer be attached directly to a load or control device. As shown in the images above, the box is engraved with the part number, input voltage range, input/output impedance values, voltage gain, and slew rate.

Click to Enlarge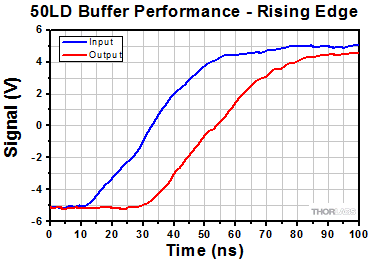 Click to Enlarge
The input signal was obtained using a waveform generator with a 20 kΩ impedance output and a 5 GHz oscilloscope with a 20 MΩ impedance input. The output waveform used the same waveform generator with the 50LD Voltage Buffer and a 5 GHz oscilloscope with a 50 Ω impedance input.