High-Speed Voltage Buffer, SMA Feedthrough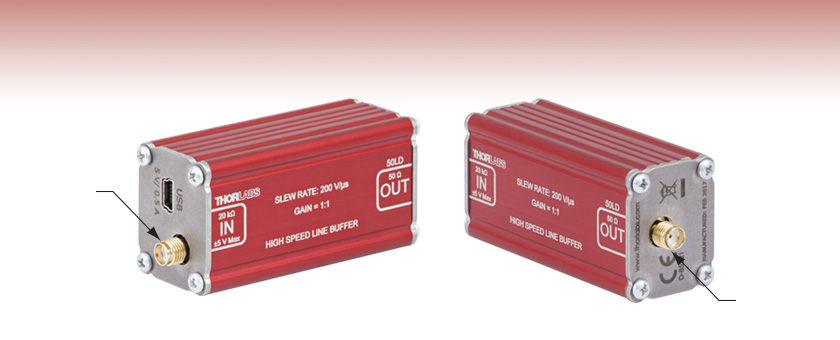 Drive a 50 Ω Load with a High-Impedance Source
±5 V Input with 1:1 Voltage Gain
200 V/µs Slew Rate
SMA Input/Output Connectors
50LD
Input SMA
20 kΩ Impedance
(for Hi-Z Input)
Output SMA
50 Ω Impedance
View Showing Input Panel
View Showing Output Panel

Please Wait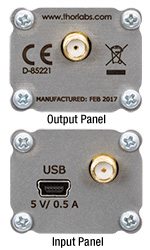 Click to Enlarge
50LD Input and Ouput Panels
Features
20 kΩ Input Impedance and 50 Ω Output Impedance
Drive High-Speed Analog or Digital Signals up to 200 V/µs
20 MHz Bandwidth with SMA Input/Output Connectors
±5 V Input with 1:1 Voltage Gain
USB Mini B Connector for Powering Unit (Cable Included)
Compact In-Line Housing
Thorlabs' High-Speed Voltage Buffer increases the available current for a low-impedance load that is being driven by a high-impedance source, while maintaining a 1:1 voltage gain through the system. The buffer has a 20 kΩ input impedance and a 50 Ω output impedance. This makes it ideal when trying to modulate a laser source, such as our 4-channel laser source, with a high-impedance controller, such as NI's PCIe-6321 and PCIe-6363 data acquisition boards.
With a slew rate of 200 V/µs, the buffer can drive a fast analog or digital signal with minimal distortion of the input waveform, as shown in the performance plots below. It accepts an input voltage up to ±5 V and is powered using a side-located USB mini B connector. A USB Mini B to Male A cable is included with the device.
The 50LD buffer is an in-line device that features a box design with two female SMA connectors, allowing it to be easily used between two SMA cables. Due to the larger size of this box, 2.51" x 1.25" x 1.00", it is not recommended that this buffer be attached directly to a load or control device. As shown in the images above, the box is engraved with the part number, input voltage range, input/output impedance values, voltage gain, and slew rate.

Click to Enlarge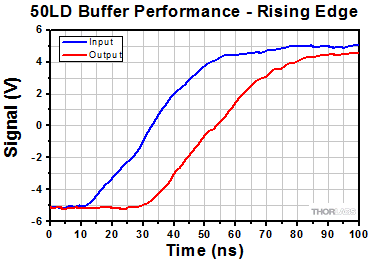 Click to Enlarge
The input signal was obtained using a waveform generator with a 20 kΩ impedance output and a 5 GHz oscilloscope with a 20 MΩ impedance input. The output waveform used the same waveform generator with the 50LD Voltage Buffer and a 5 GHz oscilloscope with a 50 Ω impedance input.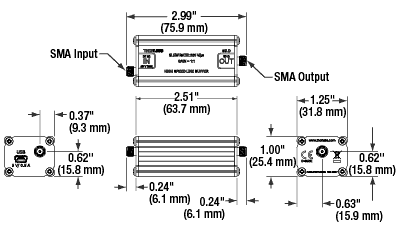 Click to Enlarge
50LD Mechanical Drawing
Specifications
Performance
Source Impedance
20 kΩ
Load Impedance

50 Ω

Maximum Input Voltage

±5 V

Maximum Output Current

300 mA

Slew Ratea
200 V/µs
Voltage Gain
1:1
Bandwidth
20 MHz
General
Input/Output Connectors
Female SMA
Device Input Power
USB (5 V, 500 mA)
Operating Temperature
5 to 35 °C
Slew rate is defined at 10% and 90% cutoffs.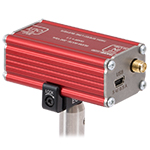 Click to Enlarge
50LD Mounted Using an ECM125 on a Ø1/2" Post
Aluminum Clamps, Post Mountable
These anodized aluminum clamps provide secure mounting for 50LD Electrical Buffer sold above. The ECM100 fits onto the 1.00" side, while the ECM125 fits onto the 1.25" side. The clamp can snap onto the side of the buffer housing and the flexure lock can be tightened using the 2 mm (5/64") hex locking screw on the side.
Each clamp has a #8 (M4) counterbore on the bottom. The counterbore allows the clamp to be mounted on a Ø1/2" post or any surface with an 8-32 (M4) tap. The clamp must be mounted via the counterbore before the buffer housing is attached, as the counterbore will not be accessible once the housing is secured in the clamp.
Plastic Clamp, Double Sided
The EPS125 clamp can attach to the 1.25" side of the 50LD Electrical Buffer sold above. Two electrical buffers can be mounted to a single clamp for a secure and compact setup.