Click to Enlarge
Figure 1:
Each EF100 Series in-line filter features two female BNC connectors. They are engraved with the part number, the type of filter, the passband range, and the response curve.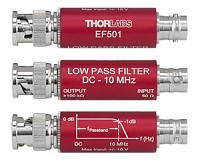 Click to Enlarge
Figure 2:
Each EF500 Series coaxial filter has a male and female BNC connector. They are engraved with the part number, the type of filter, the passband range, and the response curve.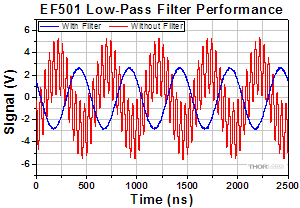 Click to Enlarge
The graph above shows a signal taken on an oscilloscope with (blue trace) and without (red trace) using a filter. The observed phase shift is introduced by the filter.
Features
5th Order Elliptic Low-Pass Filter Design
Selection of 1 dB Passband Windows from 1 kHz to 15 MHz
Can be Driven by Any 50 Ω Load
Designed to be Terminated into High-Impedance Equipment
No External Power Supply Required
Thorlabs' Passive Electrical Filters are feedthrough BNC filters that allow the user to filter unwanted signals and noise with a guaranteed minimum rejection of 40 dB. These low-pass filters are designed to be driven by a low-impedance source and terminated directly into high-impedance equipment. Examples of typical 50 Ω (low-impedance) sources are Thorlabs' amplified photodetectors, while examples of high-impedance equipment include 1 MΩ oscilloscope terminals, DAQ boards, and 100 kΩ op-amp inputs. This page contains our series of low-pass electrical filters. Thorlabs also offers high-pass electrical filters and DC block electrical filters.
These are passive filters; therefore, no power supply is needed to run these devices. Additionally, they will not display any of the intermodulation distortions that are often observed when using active filters. Passive filters also have lower noise floors and lower thermal emission than their active counterparts, giving these filters higher signal-to-noise capabilities. Each filter is engraved with the part number, passband range, input/output impedance values, and a frequency response curve.
High-Order Elliptic Filters
To ensure excellent suppression of frequencies in the stopband region, our 5th order low-pass filters are designed as high-order elliptic filters, providing excellent suppression of high frequency signals. The tables below include more information, such as the 3 dB, 30 dB, and 40 dB stopband frequencies.
Elliptic filters, also known as Cauer filters, produce some of the steepest signal attenuations after the passband when compared to most other passive filters (see the tables below for the filter's frequency response). This property ensures that these filters are well suited for applications that require severe attenuation of stopband frequencies close to the passband.
In-Line and Coaxial Package Designs
Thorlabs offers both in-line and coaxial BNC feedthrough styled filters (see Figures 1 and 2 to the right). The EF100 series filters are in-line and feature a box design with two female BNC connectors. The in-line design is intended to be used in between two BNC cables. The EF500 series filters are coaxial and feature a cylindrical design with a male and female BNC connector. This allows the filter to be directly attached to a device, such as an oscilloscope (see image above). Due to the larger size of the in-line filters, it is not recommended that these filters be attached directly to a measurement device. The larger size of in-line filters over coaxial filters is due to the inverse relationship between the filter frequency and the size of the internal electrical components inside the housing.