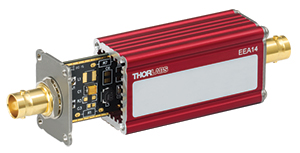 Click to Enlarge
The slotted body of the EEA14 is shown here with the
EEAPCB1
Customizable PCB (shown with electrical elements, not included) partially inserted into it.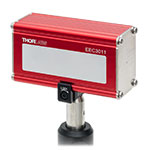 Click to Enlarge
EEC3011 Housing Mounted using an ECM125 Clamp on a
Ø1/2" Post
Features
Compact, Customizable Electronic Enclosures

In-Line BNC Feedthrough Housing
Extruded Housings for Printed Circuit Boards, with BNC or SMA Connectors or Blank End Plates
Extra Blank End Plates or End Plates with BNC or SMA Connectors

Facilitate Quick Integration of Custom Electronics
Compatible with Standard Electronic Elements
Blank Area Engraved on Housing for Write-On Labels
Aluminum Side Clamps for Mounting Housings
Thorlabs' Customizable Electronics Housings are empty enclosures that enable the user to create custom electrical circuits, such as filters, voltage dividers, or impedance matchers. We offer these housings in two types. The smaller ET1 tube housing has a male BNC connector on one side and a female BNC connector on the other side. This in-line feedthrough housing is ideal for simple circuits made from a small number of standard electronic components or more complex circuits built with surface-mounted elements on a small printed circuit board (PCB). For circuits that require more space, the extruded electronics enclosures are ideal. These housings are slotted inside to accept printed circuit boards and are offered with blank end plates, female BNC connectors, or female SMA connectors. Several sizes are available; for detailed dimensions of the enclosures, please click on either the red Docs icons (

) or the blue icons (

) below.
Extra end plates and screws are available for many of the housings sold below. The end plates are blank or have female BNC or female SMA connectors. Aluminum side clamps are available as additional mounting options for the housings. The clamps have a #8 (M4) counterbore, which allows them to be mounted to a Ø1/2" post or other surface with an 8-32 (M4) tap. Alternatively, double-sided plastic clamps are available to mount a housing on top of another housing for a secure, compact setup.