Passive TO Can Laser Diode Mounts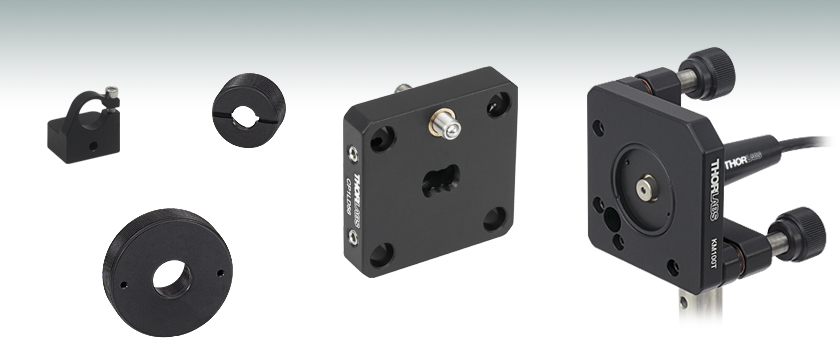 Fixed Mounts for TO-18, TO-38, TO-46, Ø5.6 mm, Ø9 mm, TO-3, and TO-5 Laser Diodes
Post, Cage System, and Lens Tube Mounting Options
Compact Passive Design
LMF9
Ø9 mm Laser
Diode Mount
S1LDM9
SM1-Threaded Aluminum Mount
for Ø9 mm Laser Diodes
S05PLM56
SM05-Threaded Delrin® Mount
for Ø5.6 mm Laser Diodes
CP1LD56
30 mm Cage Plate
for Ø5.6 mm Laser Diodes
Ø9 mm Laser Diode
Mounted in a KM100T
Kinematic Mount
Using an S1LDM9 Adapter
Application Idea

Please Wait
Thorlabs offers post-mountable, SM-threaded, and cage-compatible passive mounts for TO can laser diodes. Passive mounts are also available for fiber-pigtailed laser diodes, as well as unmounted light emitting diodes (LEDs).
Ø1/2" post-mountable passive mounts are compatible with TO-18, TO-38, TO-46, Ø5.6 mm, or Ø9 mm laser diode packages. We also offer post mounts with threads for strain relief cables. SM05-threaded (0.535"-40) and SM1-threaded (1.035"-40) mounts are available in aluminum or non-conductive Delrin®* versions for laser diodes in Ø5.6 mm, Ø9 mm, TO-38, TO-46, and TO-5 packages. The external threading on SM-threaded mounts allows them to be used in a wide variety of SM05- or SM1-compatible optomechanics, including our Kinematic Mounts, Lens Tubes, XY Translation Mounts, 16 mm Cage Plates (SM05 compatible), and 30 mm Cage Plates (SM1 compatible). 30 mm Cage System-compatible and post-mountable cage plate mounts are also available for mounting Ø5.6 mm, Ø9 mm, and TO-3 laser diodes.
Laser Diode Temperature Warning
Please note that these diode mounts do not have any temperature regulation or temperature measurement capability, which only makes them suitable for diodes that do not require active cooling. For our selection of temperature-controlled mounts, please click here. Running a laser diode at a high operating temperature can significantly shorten its lifetime.
*Delrin® is a registered trademark of DuPont Polymers, Inc.
LCRM2 - Creating a Rotating 30 mm Cage Assembly Within a 60 mm Cage System
Thorlabs' versatile cage system can be used to create complex optical systems with elements that are aligned along a common optical axis. The cage system is available in three different sizes (16 mm, 30 mm, and 60 mm rod spacings), with a wide selection of accessories available as well as cage size adapters that allow for interoperability of different cage sizes. Smaller cage assemblies may be mounted within larger ones where clearances allow, as in the Application Idea above.
Design & Construction
In the Application Idea above, a 30 mm cage assembly is mounted on a CP38T SM2-Threaded Round Cage Plate, which is threaded into an LCRM2 60 mm Cage Rotation Mount (available below). The 30 mm cage assembly consists of a TO-can laser diode and collimation optics. Rotating the laser diode in conjunction with its collimation optics allows the polarization axis of the TO can laser diode to be rotated while maintaining a collimated, approximately Gaussian beam.
The Ø9 mm TO can laser diode is mounted in an LDH9-P2 30 mm Cage Collimation Mount and SR9 ESD Protection/Strain Relief Cable. The collimated elliptical output of the laser diode is corrected for using cylindrical lenses mounted in CYCP Cylindrical Lens Mounts. ER1.5 Cage Assembly Rods must be substituted for the ER2 rods that are included with each CYCP mount. This provides the necessary clearance for the 30 mm cage assembly to rotate unobstructed within the 60 mm cage assembly.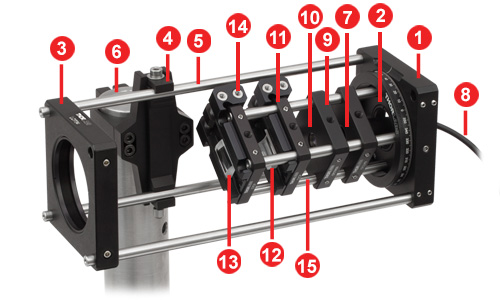 Click to Enlarge
Rotating 30 mm Cage Assembly Within 60 mm Cage System
Choose the passive laser diode (LD) mount compatible with the laser diode package (Mounting options for Ø5.6 mm or Ø9 mm TO can as well as TO3 laser diodes are available).