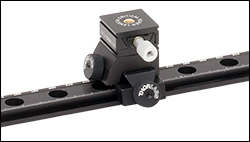 Click to Enlarge
RC1 and RC3 rail carriers
and a
DT12
miniature dovetail stage mounted on a dovetail rail.
Features
Dovetail Design Accommodates Our Snap-On Rail Carriers
Compact Profile: 0.38" x 0.75" (9.5 mm x 19.1 mm)
Stock Lengths Range from 3" to 24" (Metric Lengths: 75 - 600 mm)
Laser-Engraved Scale for Precise Construction
Ends 8-32 (M4) Tapped
Thorlabs' RLA Optical Rails are our smallest option for building stable, rigid mechanical assemblies. They consist of extruded lengths of aluminum with a dovetail mounting surface that accommodates our snap-on rail carriers. Objects are easily slid along this dovetail before being secured. These rails measure only 0.75" (19.1 mm) wide and are available from stock in lengths ranging from 3" - 24" (metric lengths: 75 - 600 mm).
These dovetail rails offer numerous 1/4" (M6) counterbored holes for mounting flexibility. The end of each rail is 8-32 (M4) tapped for vertical mounting. Rails 12" (300 mm) and longer offer mounting slots to provide additional mounting options. As shown in the image at the top of the page, the rails are laser engraved with graduations every 1.0 mm and labels every 10.0 mm for precise placement of optomechanical hardware.
Thorlabs' product family for RLA dovetail rails includes our snap-on carriers as well as mounting accessories. Together with spacer sets and table clamps that allow the rails to be mounted both horizontally and vertically, these tools provide a complete family of rigid, versatile buliding blocks suited for virtually any optomechanical setup.