Features
"Snap-On" Rail Carriers Mount Components to Dovetail Rails
Thumbscrew Clamp with Rounded, Stiff Plastic Tip
Counterbore Adapter Rings Allow the Use of #8 (M4) Cap Screws in 1/4" (M6) Counterbored Holes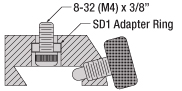 Rail Carrier Cross Section with
SD1 Counterbore Adapter Ring
Rail Carriers
Thorlabs' Dovetail Optical Rail Carriers are designed to mount components to our RLA Dovetail Optical Rails. Once attached, these rail carriers enable one- or two-dimensional movement of optomechanics at any position along the length of the rail. They are precision machined on all surfaces in order to maintain good lateral alignment while being translated along the length of the rail, and can be easily snapped into any existing rail system without requiring access to the rail ends.
These convenient rail carriers are provided in three varieties. The RC1 is a basic, 1" (25 mm) long rail carrier platform that features a 1/4" (M6) counterbored hole for mounting simple, lightweight optomechanics. The RC2(/M) is 2" (51 mm) long, accommodating larger components, and provides two 8-32 (M4) tapped holes in addition to a 1/4" (M6) counterbored hole. Finally, the RC3 provides a dovetail perpendicular to that of the RLA rail it is mounted on, allowing an RC1 or RC2 to be attached on top to provide coarse transverse adjustments.
Counterbore Adapter Ring
For additional mounting flexibility, the SD1 adapter ring (shown schematically above and to the right) allows a #8 (M4) cap screw to be used within the 1/4" (M6) counterbored holes of the rail carriers. This allows small optomechanical components, such as the KMS compact kinematic mount shown at the top of the page, to be directly mounted to a rail carrier.