Rail Carrier Positioners for Dovetail Optical Rails
Fine Adjustment of Rail Carriers Along the Rail Axis
Positioner Provides Up to 1.04" (26.4 mm) of Translation
Return Positioner Travels Up to 0.25" (6.3 mm)
RCN
Rail Carrier Positioner
Application Idea
Fine Tuning the Position of a Carrier-Mounted Lens
RCN1
Rail Carrier Return Positioner

Please Wait
Features
RCN Positioner:

3/16"-100 Adjuster Screw Translates Rail-Mounted Carrier
0.01" (254 µm) of Translation per Revolution
Max Translation Range of 1.04" (26.4 mm)
Adjuster Screw Accepts 5/64" (2.0 mm) Hex Driver

RCN1 Return Positioner:

Spring-Loaded Plunger that Clamps onto Dovetail Rails
Use with RCN Positioner for Bidirectional Alignment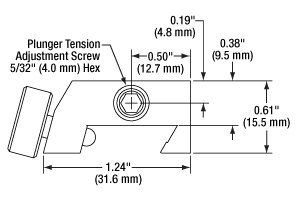 Click to Enlarge
RCN1 Mechanical Drawing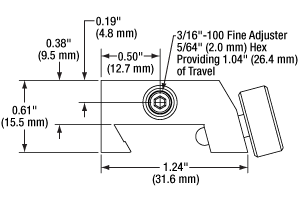 Click to Enlarge
RCN Mechanical Drawing
Thorlabs' RCN Rail Carrier Positioner and RCN1 Rail Carrier Return Positioner are designed to aid in fine alignment of optics mounted on a dovetail rail carrier. The RCN consists of an F19SS150 3/16"-100 adjuster screw that has been incorporated into a dovetail rail clamp. The screw provides smaller, smoother movement than coarse translation by hand. The included adjuster screw can travel 1.04" (26.4 mm) from beginning to end before the interior of the bushing is exposed; longer adjuster screws can be installed if desired.
The RCN1 is comprised of a spring-loaded plunger integrated into a dovetail rail clamp. The plunger can travel a maximum range of 0.25" (6.3 mm), and the compression spring tension can also be adjusted with a 5/32" (4.0 mm) hex key. When used in conjunction, the RCN positioner and RCN1 return positioner provide precision alignment in either direction on the rail's axis. When a rail carrier is placed between the carrier positioners, actuating the adjustment screw pushes the carrier toward the RCN1 return positioner, compressing the spring loaded plunger. Retracting the adjustment screw on the RCN positioner causes the spring-loaded plunger on the RCN1 return positioner to expand, which keeps the rail carrier in contact with the actuating screw of the RCN. Additionally, the return positioner provides stability while making adjustments.
To use, place the positioners along the rail so that both positioners are in contact with the carrier or return carrier, and secure the RCN and RCN1 positioners by tightening the thumbscrews. Loosen the clamp holding the carrier or carriage to the rail, then turn the adjuster screw with a 5/64" (2.0 mm) balldriver to push the carrier until the desired amount of translation is achieved.
Posted Comments:
No Comments Posted