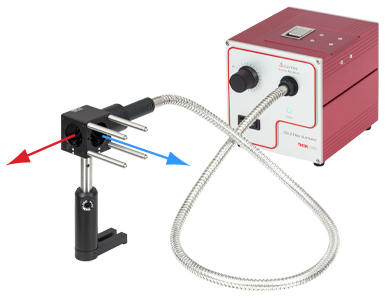 Click for Details
CM1-DCH
Filter Cube
Separating the Visible and Infrared Light Output from an
OSL2
Halogen Source
Features
Three Sizes Available: Ø1", Ø2", or 25 mm x 36 mm
High Transmission (>85% Avg.) and Reflection (>90% Avg.) Over Designated Wavelength Ranges
Available Wavelength Ranges: Red Hot, Near-IR Hot, UV Cold, and Visible Cold
Soda-Lime Glass Substrate
Surface Quality: 60-40 Scratch-Dig
Custom Hot and Cold Mirrors Sizes Are Available by Contacting Tech Support
Thorlabs' Soda-Lime Hot Mirrors are perfect for keeping unwanted heat from reaching sensitive areas of your setup. In applications where heat build up is a concern, 0° or 45° angle of incidence (AOI) hot mirrors provide a means of protection by reflecting the IR beam either back along the input beam path or at 90°. These mirrors also act as a dichroic mirror with a low pass region.
Thorlabs' Soda-Lime Cold Mirrors work to transmit IR energy and reflect the visible light from your setup at 90°. These mirrors are excellent for projection applications and for use as a dichroic mirror with a high pass region.
The KM100T, KM200T, and KM100C are ideal mounting solutions for this line of hot and cold mirrors. The 45° AOI rectangular mirrors are also compatible with our dichroic filter cubes; for other mounting options, please see our filter mounts. For both types of mirrors, the beamsplitter-coated surface should face the input beam.
If your application requires a substrate with a lower coefficient of thermal expansion, better overall performance, or a more durable coating and substrate, please consider our UV Fused Silica Hot and Cold Mirrors.
We also offer Dichroic Mirrors/Beamsplitters, which provide a greater range of cutoff frequencies.