Cage Cube for Rectangular Optics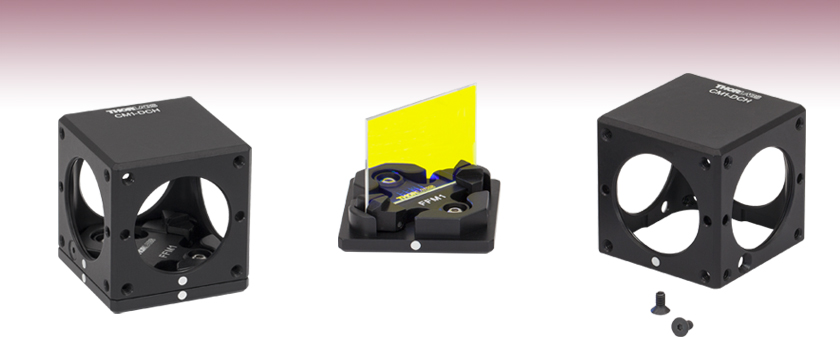 Holds a Rectangular Optic up to 3 mm Thick at 45° AOI
30 mm Cage System and Ø1" Lens Tube Compatible
Secure a Dichroic, Beamsplitter, Mirror, Polarizing Bandpass Filter, or Another Optic
CM1-DCH
Integrated Filter Mount

Please Wait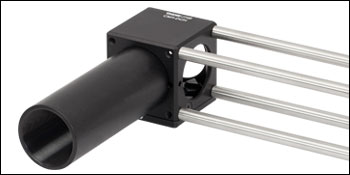 Click to Enlarge
The CM1-DCH is 30 mm Cage and SM1 Lens Tube compatible.


Click to Enlarge
Two Flat Head Hex Screws are used for Cube Cover Removal and Filter Replacement
Features
Mount Rectangular Dichroic Mirrors and Other Optics up to 3 mm Thick
Four SM1-Threaded (1.035"-40) Through Ports for Emission and Excitation Filter Attachment
30 mm Cage System Compatible
Connect Two Cage Cubes Side by Side with the CM1-CC Cage Cube Connector
The CM1-DCH dichroic filter cube holds a rectangular optic, such as a dichroic mirror, beamsplitter, silver mirror, or polarizing bandpass filter up to 36 mm wide, 26 mm tall, and 3 mm thick using an integrated clamp. Its compact size compared to other filter cage cubes reduces the distance between cage components. Two flat head hex screws on the base of the cube can be unscrewed with a 1.5 mm hex key to detach the base from the cube housing, allowing access to the integrated clamp (see the photo below right).
Emission and excitation filters can also be mounted into short lens tubes and attached to the SM1-threaded ports for a full fluorescence imaging filter setup (see the Application tab for more information). CM1-DCH cubes have four 4-40-threaded holes on each face for 30 mm cage system integration and are post mountable via an 8-32 (M4) tap. The cubes can also be connected sequentially using the CM1-CC cage cube connector sold below. Cage cubes can also be connected with cage rods by using our ERSCB Rod Adapters.
Please note: The filter holder base features a modified FFM1 filter holder mount. Our catalog FFM1 is not compatible with the CM1-DCH. Additional CM1-DCH bases may be ordered as a special by contacting Tech Support.
For a complete selection of our cube-mounted optics please see the Mounted Optics Guide tab.
Fluorescence Filter Set Application
The CM1-DCH can be used along with two SM1L03 lens tubes to hold a complete imaging filter set within a cage system. The emission and excitation filters are mounted in the 0.3" lens tubes attached to the cage cube. Mouse over the photo to see the corresponding components in the table to the right.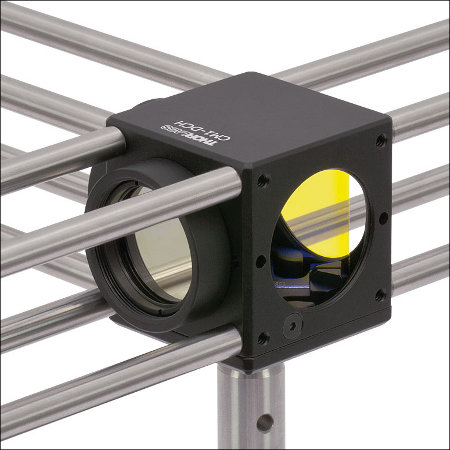 30 mm Cage-Cube-Mounted Optics Selection Guide
The table below provides links to all of our 30 mm Cage-Cube-Mounted optics. For our selection of 16 mm Cage-Cube-Mounted Optics, please see our 16 mm Cage Systems guide.
30 mm Cage Cube Empty Optic Mounts Selection Guide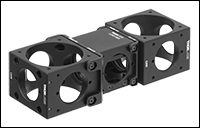 Click to Enlarge
CCM1-4ER
Compact Cage Cube using the
C4W-CC
and CM1-CC Cube Connectors, respectively.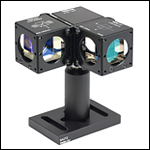 Click to Enlarge
Connect Two 1.5" Wide Cage Cubes Side by Side
Connect a 1.5" Wide Cage Cube to a 2" Wide Cage Cube
Compatible with CM1 or CCM1 Series Cage Cubes
The CM1-CC cage cube connector allows two or more CM1 or CCM1 style cubes to be connected as shown in the image to the right. The CM1 and CCM1 series of cage cubes, which are all compatible with this connector, include empty cubes, empty dichroic cubes, mounted beamsplitters, mounted penta prisms, and mounted turning mirrors. The CM1-CC cage cube connector includes four 4-40 button-head screws, two 4-40 flat-head screws, four washers, and a 1/16" hex key.
Two cage cube-mounted turning mirrors cannot be connected using the CM1-CC due to a lack of Ø6 mm cage rod holes on two sides of the cube.
We also offer the C4W-CC to connect two 2" wide 30 mm cage cubes. Both C4W-CC and CM1-CC cage cube connectors can be used to connect one 1.5" wide 30 mm cage cube, such as our CCM1-4ER(/M), with a 2" wide 30 mm cage cube.
Alignment Pins
Please note that because dowel alignment pins are used, the connector requires drilled holes on the cube face between the SM1-threaded (1.035"-40) ports. If you have an older cube and would like it updated to have alignment holes for free, please contact Technical Support. Alternatively, the alignment pins are press-fit inside their mounting holes, and can be pressed out for use with cubes that do not have these alignment holes.