Adapters for Leica DMI Microscopes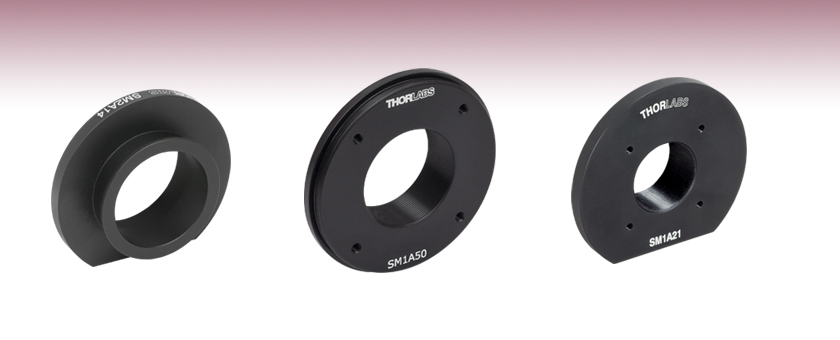 Lamphouse and Camera Port Adapters for Leica DMI Microscopes
SM1- and SM2-Threaded for Integration with Thorlabs' Mechanical Components
SM2A14
Lamphouse Port Adapter with External SM2 (2.035"-40) Threads
SM1A50
Camera Port Adapter with Internal SM1 (1.305"-40) and External SM2 (2.035"-40) Threads
SM1A21
Lamphouse Port Adapter with Internal SM2 (2.035"-40) Threads

Please Wait
Item #
SM Threading
30 mm Cage Compatibility
Lamphouse Port Adapters
SM1A21
Internal SM1 (1.035"-40)
Four 4-40 Taps
SM2A8
Internal SM2 (2.035"-40)
-
LED4A2
External SM2 (2.035"-40)
-
SM2A14
External SM2 (2.035"-40)
-
Camera Port Adapters
SM1A50
Internal SM1 (1.035"-40)
External SM2 (2.035"-40)
Four 4-40 Taps
Features
Lamphouse Port Adapters
These adapters provide compatibility between Leica DMI microscope lamphouse ports and our SM1 (Ø1") lens tube, 30 mm cage assemblies, or our SM2 (Ø2") lens tubes. Available adapters are outlined in the table to the right. The adapters allow laser beam combiners, LED light sources, and other mechanical and optical components to be directly connected to the microscope lamphouse port. The adapters provide rigid coupling to maintain long-term, stable alignment. They are offered with either black or silver anodization to match the surface finish of various devices, such as our 4-Wavelength LED Source.
Camera Port Adapters
The SM1A50 adapter is designed to allow SM1 and 30 mm Cage System components to be mounted to the camera port on a Leica DMI microscope. The adapter is internally SM1 and externally SM2 threaded and features four 4-40 taps on 30 mm that accept ER cages rods. This adapter is ideal for inserting custom optics, as well as our CCD and CMOS cameras, into a microscope system.
Note: Thorlabs does not guarantee compatibility with other industry-standard microscopes not mentioned on this wepage.


Item #
SM1A50
Click Image
to Enlarge
Features
Internal SM1 Threading
External SM2 Threading
30 mm Cage Compatibility
The SM1A50 microscope adapter is designed so that custom-built optical systems or detectors based on Thorlabs' components may be attached to the camera port of Leica DMI Microscopes.
The SM1A50 features internal SM1 (1.035"-40) threading for compatibility with Ø1" Lens Tubes, external SM2 (2.035"-40) threading that is compatible with Ø2" Lens Tubes, and 4-40 tapped holes on 30 mm centers for attaching cage system rods. Since Thorlabs' USB CCD cameras are provided with a C-Mount to SM1 adapter, our cameras can also be easily integrated into microscope systems for general imaging applications. For demanding imaging applications, our Scientific CCD Cameras can be adapted to SM1 threading using a C-Mount to SM1 adapter (Item # SM1A39), available separately. To achieve proper parfocality, we recommend using a Ø1" lens tube with 1.8" thread depth (which can be achieved by combining Item # SM1L10, SM1L05, and SM1L03) with the Leica DMI microscopes and camera port adapters. In addition, an SM1-threaded dust cover (Item # SM1CP2) is included to keep the port closed when not in use.