Knife-Edge Right-Angle Prism Mirrors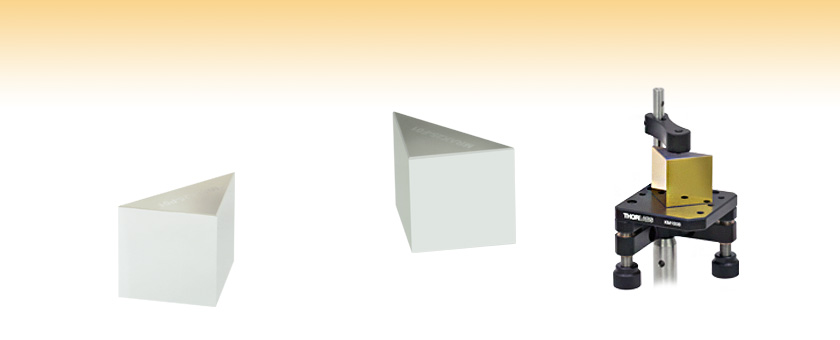 Precision Cut Prisms Feature Bevel-Free 90° Angle
Silver, Gold, and Aluminum Coatings Available
25 mm x 25 mm Faces
MRAK25-P01
MRAK25-F01
Application Idea
MRAK25-M01 Mounted
on a KM100B Kinematic
Platform Mount

Please Wait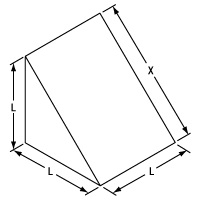 The size of these prisms is defined by the leg dimension, L. See the
Specs
tab for full product dimensions.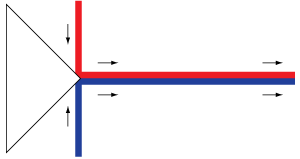 Click to Enlarge
This schematic shows how two beams can be made collinear using these knife-edge right-angle prism mirrors.
Features
Right-Angle Prism with Mirror-Coated Legs
"Knife Edge" Between the Two Coated Surfaces for Combining or Separating Beams
25 mm x 25 mm Reflective Surfaces
Thorlabs' Knife-Edge Right-Angle Prism Mirrors feature reflective coatings on the two legs and offer a clear aperture extending across the 90° angle between the coated surfaces. They are manufactured from N-BK7 and have 25 mm x 25 mm reflective legs. These prism mirrors are offered with one of the following reflective coatings: UV enhanced aluminum, protected aluminum, protected gold, or protected silver. Please see the Specs and Graphs tabs above for details on the reflectivity of the various coatings.
The precision corner between the two coated surfaces allows two counterpropagating beams to be made collinear with the output orthogonal to the input, as shown in the figure to the right. They can also be used to split a single input beam aimed directly at the knife edge. The prisms are ideal for situations where it is undesirable to use a beamsplitting cube, such as due to the geometry of the setup. Some diffraction and scatter will occur whenever a beam is split using these prisms.
These prisms feature a coating that extends to the edge of the optic. Care should be used when handling the prisms, as the coated edge is very delicate and can be chipped easily.
While the hypotenuse is polished, these mirrors are not intended for use as retroreflectors due to the adhesion layers used in the coating process. As a result, no specifications are given for the polished hypotenuse of the prism. For retroreflection applications we suggest the PS911K, an uncoated version of our knife edge prism, or our selection of mounted and unmounted retroreflectors. Thorlabs also offers a selection of hypotenuse-coated right-angle prism mirrors.
Care and Handling
Silver coated mirrors require additional care due to their susceptibility to damage from environmental conditions and improper handling. Fingerprints, contact with abrasive surfaces, and environments with high humidity or temperature will diminish the effectiveness of the protective overcoat leaving the silver coating susceptible to oxidation and degradation. When working with silver mirrors, follow standard practices for handling optics. Latex gloves or similar protective coverings are recommended to prevent oil and other residues on the user's fingers from reaching the optical surface. Even with such precautions, care should be taken not to touch the mirrored face or edges. Silver mirrors should be used and stored in areas at room temperature with minimal humidity. For information on how to clean mirrors and other optics, visit our Optic Cleaning Tutorial.
Item #
MRAK25-F01
MRAK25-G01
MRAK25-P01
MRAK25-M01
Coating (On Legs)
UV Enhanced Aluminum
Protected Aluminum
Protected Silver
Protected Gold
Reflectancea
Ravg > 90% (250 -450 nm)
Ravg > 90% (450 - 2000 nm)
Ravg > 95% (2 - 20 µm)
Ravg > 97% (450 - 2000 nm)
Ravg > 95% (2 - 20 µm)

R

avg

> 96% (800 nm - 20 µm)
Substrate Material
N-BK7
Lb
25.0 mm
Xb
35.4 mm
Clear Aperture
(Coated Surfaces)
Entire Face Length and Width, Excluding a 1.25 mm Border Along All Beveled Edges
Clear Aperture
(Hypotenuse)
90% of Face Length and Width
Surface Flatness
(All Surfaces)
λ/8 @ 632.8 nm Over the Clear Aperture (Peak to Valley)
Surface Quality
20-10 Scratch-Dig
For an angle of incidence from 0° to 45°.
Defined in the diagram below.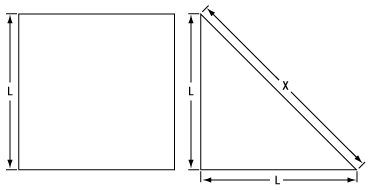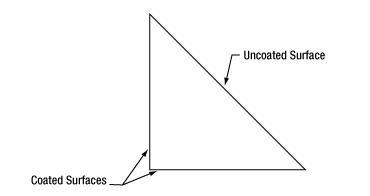 All data shown below is for unpolarized light, unless otherwise stated. The shaded regions in the graphs denote the ranges over which we guarantee the specified reflectance. Please note that the reflectance outside of these bands is typical and can vary from lot to lot, especially in out-of-band regions where the reflectance is fluctuating or sloped.
UV-Enhanced Aluminum Coating (250 - 450 nm)
Protected Aluminum Coating (450 nm - 20 µm)
Protected Silver Coating (450 nm - 20 µm)
Protected Gold Coating (800 nm - 20 µm)