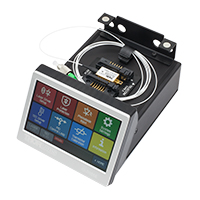 Click to Enlarge
The SLD1325 Superluminescent Diode Mounted in a CLD1015 Compact Laser Diode Driver with TEC
Features
Optimized for Use in Spectral Domain OCT Systems
830 nm Center Wavelength SLDs

Extremely Low Typical Gain Ripple of 0.03 dB (RMS)
Available with 13 mW or 22 mW Typical Fiber-Coupled Power
20 nm Typical 3 dB Bandwidth
50 nm Typical 20 dB Bandwidth

1325 nm Center Wavelength SLD

Wide Bandwidth of >100 nm for Improved Resolution in Spectral Domain OCT Systems
Integrated Optical Isolator for Enhanced Output Stability

Smooth, Near-Gaussian Spectra
FC/APC-Terminated Fiber Pigtail Minimizes Optical Feedback
Integrated TEC and Thermistor for Temperature Control
Hermetically Sealed 14-Pin Butterfly Package
Superluminescent Diodes (SLDs) are the light source of choice in Spectral Domain Optical Coherence Tomography (SD-OCT) imaging. The broad spectrum and short coherence length of the emitted light improves the depth resolution in OCT images. Thorlabs offers SLDs designed for OCT applications with center wavelengths of 830 nm or 1325 nm. Each SLD is shipped with an individualized product data sheet, which includes information on the spectrum and operating parameters of the device. Raw test data for each SLD is also available upon request; please contact Tech Support with inquiries.
Thorlabs' 830 nm SLDs have a center wavelength of 830 nm, a typical 3 dB bandwidth of 20 nm, near-Gaussian spectrum, and extremely low gain ripple, which are important features for producing high-quality OCT images at this wavelength. Two versions are available; the SLD830S-A10 has a typical fiber-coupled power output of 13 mW, while the SLD830S-A20 has a typical fiber-coupled power output of 22 mW. The ripple is guaranteed to be no larger than 0.15 dB (RMS), with a typical value of 0.03 dB.
The SLD1325 has a center wavelength of 1325 nm. It was designed with a broad bandwidth of >100 nm, which supports improved depth resolution in SD-OCT systems. For additional information about the relationship between the OCT system resolution and SLD bandwidth, see the Resolution SD-OCT tab. This SLD is packaged with an integrated TEC and thermistor for temperature control, as well as an optical isolator for enhanced optical stability.
Thorlabs is able to provide low-ripple SLDs with custom wavelengths or higher power diodes. Please note that the engineering design and wafer manufacturing costs involved make the purchase of low quantities very costly. For a quote on custom SLDs, please contact Tech Support.
Operation Guidelines
We strongly recommend adherence to the operating conditions marked on each package. While optimal performance is achieved by utilizing the recommended settings, we recognize users can adjust the spectral characteristics of the SLD by deviating from these recommended settings. For instance, operating at lower temperatures will cause a shift of the central wavelength to shorter wavelengths. It is imperative, however, that as the temperature is reduced, the injection current is also reduced so as not to exceed the recommended output power, if one is noted on the package.
These SLDs should be operated in a constant current, constant temperature mode, which is relatively simple with the proper SLD mount and drivers. To mount and drive these SLDs, Thorlabs recommends using the CLD1015 Compact Laser Diode Driver.
As with most active semiconductor devices, standard anti-static handling procedures must be adhered to in order to prevent an electrical discharge that could destroy the device.
SLD Specifications
Note, these specifications are given as guidelines. The characterization sheet shipped with each SLD provides the min, max, and recommended operating parameters and specifications specific to that device. The ASE Power specification is the output from the fiber pigtail.
Item #
SLD830S-A10a
SLD830S-A20
Operating Specifications
Min
Typical
Max
Min
Typical
Max
Center Wavelengthb
820 nm
830 nm
840 nm
820 nm
830 nm
840 nm
Operating Current
-
-
150 mA
-
-
200 mA
ASE Powerc
10 mW
13 mW
-
20 mW
22 mW
-
Optical 3 dB Bandwidthc
17 nm
20 nm
-
17 nm
20 nm
-
Optical 20 dB Bandwidthc
-
50 nm
-
-
50 nm
-
Gain Ripple (RMS)c (Click for Plot)
-
0.03 dB
0.15 dB
-
0.03 dB
0.15 dB
Forward Voltagec
-
2.0 V
2.5 V
-
2.0 V
2.5 V
TEC Operation (Typical / Max @ TCASE = 25 °C / 70 °C)
TEC Current
-
0.1 A
1.5 A
-
0.1 A
1.5 A
TEC Voltage
-
0.13 V
4.0 V
-
0.13 V
4.0 V
Thermistor Resistance
-
10 kΩ
-
-
10 kΩ
-
Absolute Maximum Ratingsa
Absolute Max Current
150 mA
225 mA
Operating Case Temperature
0 to 70 °C
Storage Temperature
-10 to 70°C
Pin Code
14 Pin, Type 1
Fiber Specifications
Fiber Type
780HP
Numerical Aperture
0.13
Core Diameter
4.4 µm
Mode Field Diameter (Nominal)
5.0 ± 0.5 µm @ 850 nm
Fiber Length
1.5 m
Connector
FC/APC, 2.0 mm Narrow Key
Item #
SLD1325
Center Wavelengtha
1325 nm
Bandwidth (FWHM)
>100 nm
Operating Current
<780 mA
ASE Power
>10 mW
Maximum SLD Injection Current
780 mA
Maximum Voltage
4 V
Operating Temperature Range
0 to 40 °C
Isolation of Integrated Isolator
>30 dB
TEC Operation
Max Thermoelectric Cooler Current
4 A
Max Thermoelectric Cooler Voltage
4 V
Thermistor Resistanceb
10 kΩ
Fiber Specifications
Fiber Pigtail
SMF-28e
Fiber Length
~1 m
Fiber Connector
FC/APC
Return Loss of FC/APC Connector
>50 dB
Center Wavelength Calculation
The center wavelength for these SLDs is determined by taking the weighted average of the intensity profile. For a given Optical Spectrum Analyzer (OSA) trace:

where
Xi is the Wavelength of a Trace Data Point
Yi is the Amplitude of a Trace Data Point
CW is the Specified Center Wavelength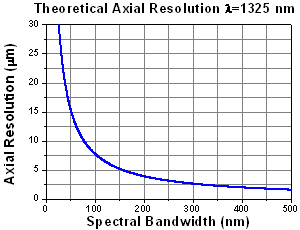 Theoretical axial resolution for a Spectral Domain OCT System utilizing a 1325 nm light source with 100 nm bandwidth in air, assuming an ideal source with Gaussian spectral distribution.
The theoretical axial (depth) resolution of a Spectral Domain OCT imaging system is
.
Here, Δz, is the axial resolution (FWHM of the autocorrelation function) while Δλ is the FWHM of the power spectrum of the SLD light source. The index of refraction (n) of air is ~1, so for a central wavelength (λ) of 1325 nm and a spectral bandwidth of 100 nm, the theoretical axial resolution would be approximately 7.7 µm (see plot). This equation assumes an ideal source with Gaussian spectral distribution. To reduce side-lobe artifacts that may arise from utilizing non-Gaussian sources, we recommend applying a spectral filter to the detected interferogram. Depending on the filter applied, the actual resolution may be reduced.
Butterfly Package, Type 1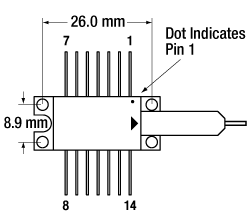 | Pin | Description | Pin | Description |
| --- | --- | --- | --- |
| 1 | + TEC | 14 | - TEC |
| 2 | Thermistor | 13 | Case |
| 3 | NC | 12 | NC |
| 4 | NC | 11 | SLD Cathode |
| 5 | Thermistor | 10 | SLD Anode |
| 6 | NC | 9 | NC |
| 7 | NC | 8 | NC |