Microscope Objective Turret, SM1-Compatible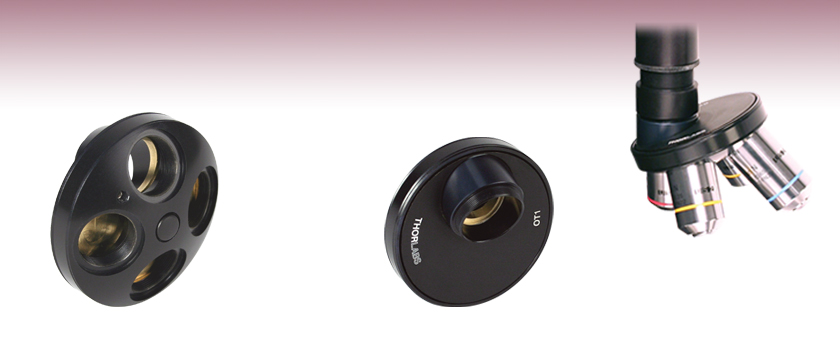 Objective Lens Turret with 4 RMS-Threaded Mounting Ports
RMS-Threaded Objective and Turret Caps
SM1-Threaded Mounting Interface
OT1 Lens Turret
OT1
Back View
OT1 Lens Turret
with 4 Microscope Objectives

Please Wait
The OT1 is an SM1-compatible compact objective lens turret with four RMS-threaded ports. The housing is primarily constructed of aluminum but has steel inserts at critical points to ensure the durability and precision of the detent mechanism that reproducibly positions the objective lenses with a bi-directional repeatability of ±2.5 µm. The mounting interface for the OT1 objective lens turret has SM1 (1.035"-40) threading so that it can be easily integrated into custom imaging systems built using Thorlabs' Lens Tube and Cage Systems. To mount the OT1 in a cage system, use a CP33 or CP33T for a 30 mm cage system and an LCP02 for a 60 mm cage system. The OT1 is designed to securely hold objectives in either horizontal or vertical orientations.
The RMSCP1 and RMSCP1 are caps designed to protect unused lens turret ports, microscope objectives, and other RMS (0.800"-36) threaded components. The RMSCP2 features external RMS threading for the lens ports of the OT1, while the RMSCP1 features internal RMS threading for microscope objectives.
We also offer 5-Position Objective Holders that are compatible only with DIY Cerna® Microscope Systems. Additionally, a Post-Mountable Focus Block that includes a built-in five-objective turret is available.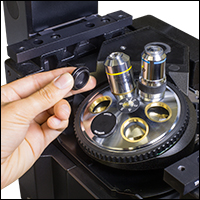 Click to Enlarge
RMSCP2 Protecting Turret Ports of an Inverted Microscope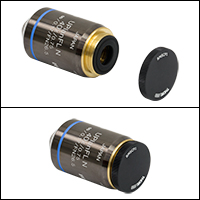 Click to Enlarge
RMSCP1 Covering an Objective
RMSCP1: Internally RMS-Threaded Cap for Microscope Objectives
RMSCP2: Externally RMS-Threaded Cap for Objective Lens Turret Ports
These RMS-Threaded Caps are designed to protect microscope objectives, objective lens turret ports, and other RMS (0.800"-36) threaded components. The RMSCP1 has internal RMS threading, making them compatible with standard RMS-threaded microscope objective lenses. The RMSCP2 has external RMS threading to cover unused objective lens ports (see image on the far right). Each of these caps is made from anodized aluminum and has a knurled edge for secure hand tightening.