Parfocal Length Extenders for Microscope Objectives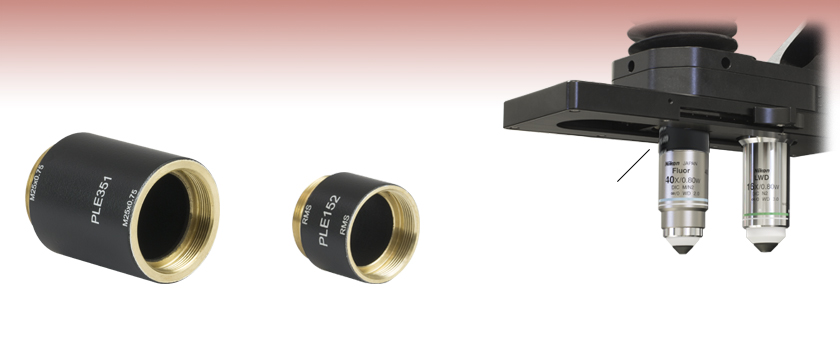 Add 15 mm or 35 mm to the Parfocal Length of an Objective
Versions Compatible with RMS or M25 x 0.75 Objectives
Stackable for Compatibility with Industry-Standard Parfocal Lengths
PLE351
35 mm, Internal and External
M25 x 0.75 Threading
PLE152
15 mm, Internal and External
RMS (0.800"-36) Threading
Application Idea
Objective with 45 mm Parfocal Length
Using PLE153 Extender to Match
60 mm Parfocal Length Objective
(Shown Mounted on CSN200 Nosepiece)
Parfocal Length Extender

Please Wait
Specifications
Item #
PLE152
PLE153
PLE151
PLE351
PLE352
Extension
15 mm
35 mm
External
Threading
RMSa
M25 x 0.75
M25 x 0.75
M25 x 0.75
M26 x 0.706
Internal
Threading
RMSa
M25 x 0.75
Diagram
RMS (0.800"-36) Threading

Click to Enlarge
As shown here, the parfocal length is the distance from the shoulder of the objective to the focal plane.
Common Objective Standards
Parfocal Length
45 mm
60 mm
75 mm
95 mm
Manufacturer/
Thread
Thorlabs
-
M25
-
M25
Olympus
RMSa
-
M25
-
Nikon
-
M25b
M32
-
Mitutoyo
-
-
-
M26
Features
Threaded Spacers Increase an Objective's Parfocal Length
Stackable Design Matches Multiple Industry-Standard Parfocal Lengths
Versions Available with RMS (0.800"-36) or M25 x 0.75 Internal Threads
Anti-Reflective Interior Coating Minimizes Stray Reflections
Solid Brass Construction with Anti-Reflective Interior Coating
Thorlabs' parfocal length extenders increase the parfocal length of an infinity-corrected objective by a fixed amount. The parfocal length is the distance from the shoulder of the objective to the focal plane. Parfocal length varies between manufacturers and between different objectives; for common standards, see the table below and to the right. Using a parfocal length extender to match parfocal lengths when switching between various microscope objectives minimizes the refocusing required. When using parfocal length extenders, take care to not exceed the maximum recommended distance from the objective to the tube lens; otherwise, vignetting may occur.
We offer 15 mm and 35 mm extenders with RMS (0.800"-36) threading or M25 x 0.75 internal threading to accommodate industry standards (refer to the tables to the right for details). By stacking two matched 15 mm adapters together, the user can also extend an objective with a parfocal length of 45 mm to one with a parfocal length of 75 mm. The 35 mm adapter can be used to adapt our TL4X-SAP Super Apochromatic Objective with a 60 mm parfocal length to match the 95 mm parfocal length of our TL2X-SAP Super Apochromatic Objective. For objectives or objective holders with different threading, we offer a wide selection of thread adapters; note that the use of an adapter could increase the parfocal length.
The PLE152 RMS-Threaded Extender is directly compatible with our OT1 Objective Lens Turret, which is RMS-threaded and enables easy manual switching between four objectives.