Focus Block and Accessories
Components to Support Custom Microscopes
Compatible with Thorlabs' Lens Tube and Cage Systems
MP1214
Focus Block Stand with Damped Post
MGZ30
Microscope Focus Block
Application Idea
The MGZ30 Focus Block and MP1214 Stand can support a home-built epi-fluorescence imaging system. See the Application tab for details.

Please Wait
Item #
MGZ30
Description
Focus Block
Z-Axis Travel
30 mm (Manual Adjustment)
Z-Axis Adjustment
Fine: 225 µm/rev
Coarse: 40 mm/rev
Vertical Load (Max)
10 lb (4.5 kg)
Mount Compatibilitya
Ø1.5" Posts
Posts are not included. Thorlabs recommends the MP1214 Focus Block Stand, shown below.
Features
Manual Microscope Focus Block

30 mm of Travel with Coarse/Fine Adjustment
Objective Turret Holds Five Objectives at Once
Includes Dovetail Adapter with SM1, SM2, and 30 mm Cage Compatibility

Vibrationally Damped Stand Enhances Image Quality
Thread Adapters for Industry-Standard Objective Threads
RMS-Threaded End Caps to Cover Empty Turret Ports and Objective Back Apertures
This page features a Post-Mountable Focus Block and a Focus Block Stand to support home-built imaging systems that use our wide selection of optical and mechanical components. Thorlabs' post-mountable focus block provides 30 mm of travel along the Z-axis of an optical system via fine and coarse adjustment knobs and includes a built-in five-objective turret.
To stabilize images against vibrations, Thorlabs has developed a focus block stand that consists of an extra-thick breadboard and a dynamically damped post that together reduce the amplitude and duration of vibrations applied to the stand.
When combined with Thorlabs' family of objectives, thread adapters, and cameras, the parts listed here can be used as the basis for a flexible, reliable, and easy-to-use imaging solution for the most demanding applications.
Alternatively, for users interested in modular microscopes, Thorlabs has developed the DIY Cerna® Microscopy Platform. The system includes pre-configured components for widefield viewing, epi-illumination, and transmitted light imaging in addition to providing compatibility with Thorlabs' standard SM thread and cage system interfaces.
Home-Built Epi-Fluorescence Microscope
Thorlabs' MGZ30 Focus Block and MP1214 Stand can be used to construct and support a simple epi-fluorescence microscope. The DFM1 filter cube with a user-selected filter set is used to couple illumination from a liquid light guide (LLG) into the objective. A 100 mm tall rigid stand is used to support the sample. Sample viewing is accomplished using a C-mount camera, in this case the previous-generation 1501M-USB scientific-grade camera. Alternatively, one of our other CCD or CMOS cameras can also be used. The camera is connected to the setup via an SM1ZM rotation mount in order to provide some focusing adjustment. This simple microscope can be easily modified by using other light sources, cameras, objectives, and sample holders. A list of components is provided in the table below.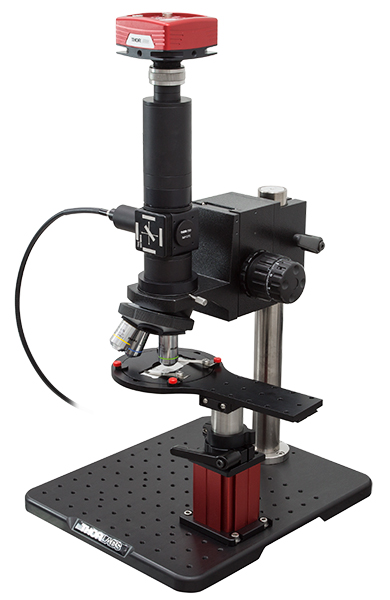 Click to Enlarge
A home-built epi-fluorescence microscope based on the
MGZ30 Microscope Focus Block.
Item List for Epi-Fluorescence Microscope
Item #a
Qty.
Description
Focus Block
MGZ30
1
Post-Mountable Manual Focus Block
MP1214
1
12" x 14" Focus Block Stand with Included DP14A Post
SM2L10
1
SM2 Lens Tube, 1" Long, One Retaining Ring Included
SM2T2
1
SM2 (2.035"-40) Coupler, External Threads, 1/2" Long
SM1A2
1
Adapter with External SM1 Threads and Internal SM2 Threads
-
Up to 5
Objectives with RMS or M26 x 0.706 Threadsb
Epi-Illumination
DFM1
1
Kinematic Fluorescence Filter Cube, 30 mm Cage Compatible, 1/4"-20 Tapped Holes
ACL2520U-Ac
1
Aspheric Condenser Lens, Ø25 mm, f=20.1 mm, NA=0.60 ARC: 350-700 nm
SM1L20c
1
SM1 Lens Tube, 2.00" Thread Depth, One Retaining Ring Included
SM1RRC
1
Extra-Thick SM1 (1.035"-40) Threaded Retaining Ring
AD3LLGc
1
Ø3 mm Core Liquid Light Guide to SM1 Adapter
SM1CP2
1
Externally SM1-Threaded End Cap
-
1
Ø3 mm Core Liquid Light Guideb
-
1
Illumination Sourceb
-
1
Fluorescence Filter Setb
Camera Tube
SM1A9
1
Adapter with External C-Mount Threads and Internal SM1 Threads
SM1ZM
1
SM1 Zoom Housing for Ø1" Optics, Non-Rotating, 3.5 mm Travel
SM1L03
2
SM1 Lens Tube, 0.30" Thread Depth, One Retaining Ring Included
SM2L30
1
SM2 Lens Tube, 3" Thread Depth, One Retaining Ring Included
SM2L05
1
SM2 Lens Tube, 1/2" Thread Depth, One Retaining Ring Included
TTL200
1
Infinity-Corrected Tube Lens, f = 200 mm
SM2A20
1
Adapter with External SM2 Threads and Internal M38 x 0.5 Threads
SM1A2
2
Adapter with External SM1 Threads and Internal SM2 Threads
-
1
C-Mount Camerab
Sample Holderd
LPH100
1
Rigid Stand Post Holder, L = 100 mm
MPP10
1
Ø1.5" Post with 66 mm Dovetail Clamp, L = 100 mm
MPRC(/M)
1
Ø110 mm Recording Chamber Holder, 66 mm Dovetail
MPSH2d
1
Slide Holder Insertd
The components with item #s in this column can be used to build the basic structure of this microscope, which can then be customized by adding other components which should be selected based on the application. Use one of these links to add all of the item #s in this column to your cart: View Imperial Product List, View Metric Product List.
Our selection of liquid light guides, illumination sources, fluorescence filter sets, cameras, and sample holders can be used to customize this simple build-it-yourself microscope.
The LLG collimation assembly (ALC2520U-A, SM1L20, and AD3LLG) can be replaced with one of Thorlabs' mounted LEDs collimated using an aspheric condenser lens mounted in an SM1V05 variable lens tube. The assembly can be mounted to the DFM1 using the SM1T2 lens tube coupler and an SM1L03 lens tube. Click here for more details on how to build a collimation module using the SM1V05.
The setup shown to the right uses the previous-generation MPSH Slide Holder. Also, other insert holders or rail arms can be used with a 100 mm tall rigid stand to customize the setup for a given application.