Manual Dichroic Filter Wheel for 30 mm Cage System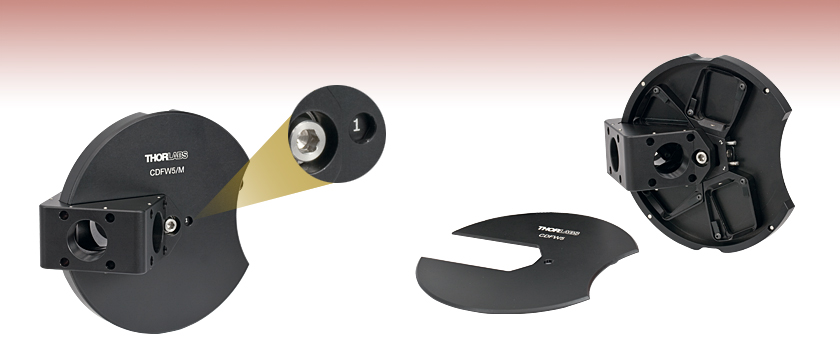 Mounts Five Rectangular Dichroic Filters
Input and Output Ports at a 45° Angle to the Filter
Removable Filter Wheel
Light Tight
CDFW5
Shown with Cover Removed
CDFW5

Please Wait
Features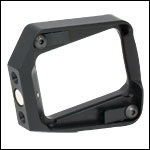 Click to Enlarge
The CDFW5 includes 5 removeable filter holders.
Thorlabs' CDFW5 Manual Filter Wheel is designed for use with dichroic filters for fluorescence or wavelength separation applications. The mounting block has four light ports, all of which are oriented at 45° to the plane of the filter. This allows the user access to the through and perpendicular light paths.
The filter wheel is equipped with four 6mm holes and SM1 threading on each port for compatibility with our 30mm cage and SM1 (1.035"-40) lens tube systems. Two 8-32 (Imperial) or M4 (Metric) mounting holes on the bottom of the mounting block allows the wheel to be post mounted.
The light-tight filter wheel cover is magnetically coupled and can be easily removed by hand, exposing the five filter holders. Each magnetically coupled filter holder can be pulled free from the central hub to facilitate removal and replacement of a filter without disassembling or disturbing the setup. By removing one 1/4"-20 shoulder screw on the front of the housing as well as loosening the thumbscrew on the back of the housing, the entire wheel can be removed from a fixed cage setup.
An indent at each position secures the wheel in position when making a filter change. A small window on the filter wheel housing indicates the current filter position, as shown in the image at the top of the page.
Mounting Service
If a compatible microscopy filter is ordered at the same time as the CDFW5, Thorlabs will premount the filter at no additional charge. In order to take advantage of this option, please contact Technical Support prior to ordering.
*Delrin is a registered trademark of DuPont Polymers, Inc.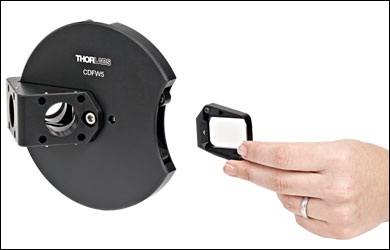 Click to Enlarge
The filter inserts may be removed without removing the cover.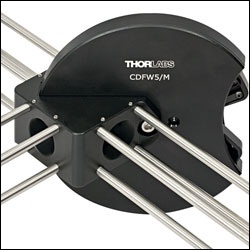 Click to Enlarge
The CDFW5 features input and output ports at a 45° angle to the filter.