Specificationa
Double-Density Aluminum Breadboards
Threading
Imperial
Metric
Material
Aluminum Plate
Finish
Matte Black Anodized
Breadboard Thickness
0.5"
12.7 mm
Flatness
±0.006" over 1 ft2
±0.15 mm over 0.09 m2
Hole Size and Spacing
1/4"-20 Tapped Holes on 1" Centers
M6 Tapped Holes on 25 mm Centers
Distance from Edge
to First Hole
0.5" on All Sides
12.5 mm on All Sides
Number of Counterbored Holes
Four 1/4" Located at Corners - Inset 1"
One 1/4" Located at Centerb
Four M6 Located at Corners - Inset 25 mm
One M6 Located at Centerb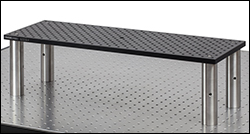 Click to Enlarge
Double Density Breadboard Mounted onto an Optical Table Using
Standoff Posts


Click to Enlarge
A Fifth Mounting Hole in the Middle of the Breadboard Increases Rigidity and Reduces Stress When Mounting Heavy Loads
Features
Our Double-Density Breadboards are constructed from a 1/2" (12.7 mm) thick aluminum plate to maintain flatness over the full length and provide a double-density hole pattern 1/4"-20 (M6 × 1.0). See the Hole Patterns tab for information on tap spacing.
The small footprint and slim profile make these breadboards ideal for compact areas. Since the holes are threaded completely through these base plates, components can be mounted on both sides at once. Standoff posts allow the breadboards to be mounted above the surface of an optical tabletop (or breadboard), as shown in the image to the far right, for access to components on both sides.
Each breadboard features four or five mounting holes, offset from the array of 1/4"-20 (M6) threaded holes, which are counterbored to create an uninterrupted surface for any intended application. The four standard mounting holes are located at each corner of the breadboard, inset 1" from each edge (25 mm on metric). All breadboards except the MB12D, MB1530/M, and MB3030D/M include a fifth counterbored mounting hole at the center of each board. Using the center mounting hole increases the mounting options available, reduces stress at the corner mounting holes, and increases rigidity when heavy loads are placed on the boards (see photo to the right). The mounting holes may be used to attach the breadboards to optical tables, other breadboards, mounting posts, brackets, or a variety of other surfaces or mounts.
One imperial and one metric breadboard below are designed for use with the EC2530C enclosure. They are thinner than the other breadboards on this page, and the mounting counterbores are positioned to allow the breadboards to be mounted within the enclosure. See our benchtop enclosures for custom electronics for details.
We also offer Mini-Series breadboards with high-density hole patterns. For vacuum applications, we recommend using our selection of unanodized breadboards.
Custom Breadboards
We offer a service for custom breadboard orders, with options that include hole pattern and spacing, size, thickness, and anodizing. For a quote, please fill out our custom breadboards form.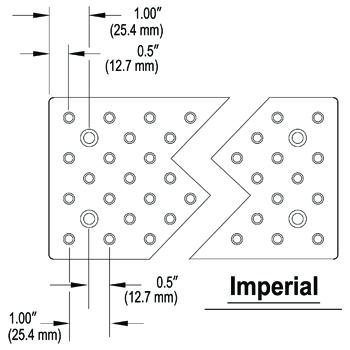 Click for Details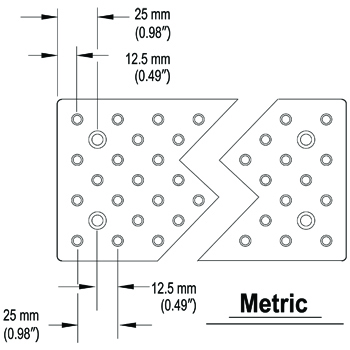 Click for Details
Note: the hole patterns on the EC2530BB and EC2530BB/M are different from those shown in the drawings above. See the following PDF drawings for details:
Item #
Dimensions (L x W x H)
Unpackaged
Packaged Shipping
Mass (kg)
Weight (lbs)
Mass (kg)*
Weight (lbs)*
MB424
4" x 24" x 0.5"
1.96
4.32
3.07
6.75
MB436
4" x 36" x 0.5"
2.95
6.50
4.09
9.00
MB612
6" x 12" x 0.5"
1.47
3.24
4.60
10.13
MB824
8" x 24" x 0.5"
3.92
8.64
5.11
11.25
MB836
8" x 36" x 0.5"
5.88
12.96
7.16
15.75
MB12D
12" x 12" x 0.5"
2.94
6.48
3.36
7.4
MB1060/M
100 mm x 600 mm x 12.7 mm
1.90
4.19
3.07
6.75
MB1090/M
100 mm x 900 mm x 12.7 mm
2.86
6.31
3.47
7.64
MB1530/M
150 mm x 300 mm x 12.7 mm
1.42
3.13
2.56
5.63
MB2060/M
200 mm x 600 mm x 12.7 mm
3.80
8.38
5.11
11.25
MB2090/M
200 mm x 900 mm x 12.7 mm
5.69
12.54
7.16
15.75
MB3030D/M
300 mm x 300 mm x 12.7 mm
2.85
6.28
3.64
8.00
EC2530BB
9.06" x 9.06" x 0.37"
1.50
3.30
N/A
N/A
EC2530BB/M
230 mm x 230 mm x 9.5 mm
1.50
3.30
N/A
N/A