Rectangular, Continuously Variable, Metallic Neutral Density Filters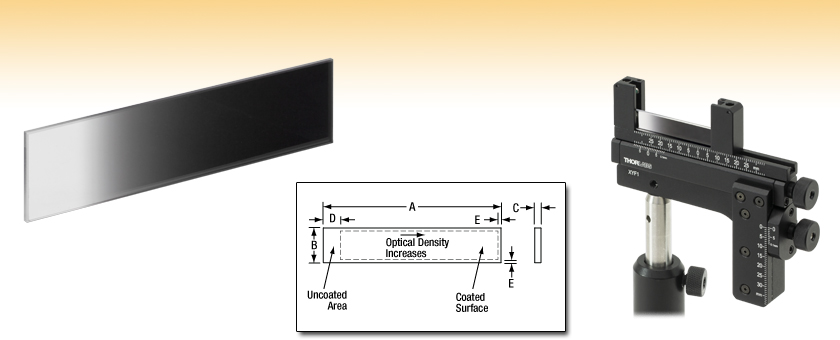 Ideal for Use in Building a Variable Attenuator
Optical Densities: 0.04 - 2.0 and 0.04 - 4.0
Two Sizes Available
NDL-25C-2
25 mm x 100 mm ND Filter
OD: 0.04 to 2.0
Application Idea
NDL-10C-4 Variable ND Filter Held
in an XYF1 Translating Filter Mount
(XYF1 Maximum Filter Width: 76.2 mm)

Please Wait
Features
Provides Continuously Variable Attenuation
OD Ranges from 0.04 - 2.0 or 0.04 - 4.0
Two Size Options
These rectangular, continuously variable reflective neutral density filters provide linear, adjustable attenuation within the coated region via translation. Offered in 10 mm x 50 mm and 25 mm x 100 mm sizes (H x W), these rectangular neutral density filters are available with OD ranges of either 0.04 - 2.0 or 0.04 - 4.0. Please refer to the Specs tab for more information. They are composed of a UV fused silica glass substrate and a metallic Inconel coating. The UV fused silica substrate used in these filters exhibits high transmission and virtually no laser-induced fluorescence (as measured at 193 nm), making it an ideal choice for applications from the UV to the near IR. While the spectral range's lower limit of 240 nm is limited by the absorption of the light by the substrate, UV fused silica provides good transmission up to 2.1 µm, and thus the upper limit of 1200 nm is dependent on the increased opacity of the Inconel coating. The optical density (OD) for each filter is specified at the design wavelength of 633 nm; some variation in the OD will occur over the usable range. The OD (see equations below) increases linearly from the start of the coating.
Optical density (OD) indicates the attenuation factor provided by an optical filter, i.e. how much it reduces the optical power of an incident beam. OD is related to the transmission, T, by the equation

where T is a value between 0 and 1. Choosing an ND filter with a higher optical density will translate to lower transmission and greater reflection of the incident light. For higher transmission and less reflection, a lower optical density would be appropriate. As an example, if a filter with an OD of 2 results in a transmission value of 0.01, this means the filter attenuates the beam to 1% of the incident power. Please note that the transmission data for our neutral density filters is provided in percent (%). See the Graph tab for a plot of transmission as a function of distance when using one of our continuously variable filters.
Inconel is a metallic alloy that ensures flat spectral response from the UV to the near IR. Unprotected metal coatings like this should only be cleaned by blown air, never touched, as contact may cause scratching to the unprotected surface. Although these are reflective ND filters, the Inconel coating does absorb some of the incident light, which limits the use of these filters to low-power applications. Inconel is resistant to aging under normal conditions; however, it will oxidize at elevated temperatures. To prevent oxidation, Thorlabs recommends using these ND filters at temperatures below 100°C. To achieve the best performance light should be incident on the side with the Inconel coating.
For mounting options, the NDL-10C-2 and NDL-10C-4 can be mounted using the XYF1(/M) XY translation filter mount. Please note that a portion of the filter's edges will be covered when held between the two mounting arms.
These filters are not intended to serve as laser safety equipment. For lab safety, Thorlabs offers an extensive line of safety and blackout products that significantly reduces exposure to stray or reflected light.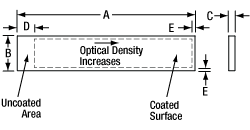 Click to Enlarge
Common Specifications
Substrate Material
UV Fused Silicaa
Length Tolerance (A & B)
+0.00 / -0.25 mm
Coating Tolerance (C & D)
±0.25 mm
Coating
Front: Inconel (NiCrFe)
Back: Uncoated
Spectral Range
240 - 1200 nm
Surface Flatness (@633 nm)
1λ per 25 mm
Surface Quality
60-40 Scratch-Dig
Wedge
<3 arcmin
Click Link for Detailed Specifications on the Substrate
Item Specifications
| Item # | Optical Density Rangea | A | B | C | D | E |
| --- | --- | --- | --- | --- | --- | --- |
| NDL-10C-2 | 0.04 - 2.0 | 50 mm | 10 mm | 2 mm | 5 mm | 1 mm |
| NDL-10C-4 | 0.04 - 4.0 | 50 mm | 10 mm | 2 mm | 5 mm | 1 mm |
| NDL-25C-2 | 0.04 - 2.0 | 100 mm | 25 mm | 2 mm | 10 mm | 2 mm |
| NDL-25C-4 | 0.04 - 4.0 | 100 mm | 25 mm | 2 mm | 10 mm | 2 mm |
The optical density is specified at 633 nm.

Click to Enlarge
The plot to the left indicates the optical density and transmission as a function of distance from the end of the neutral density filter (i.e., length A as indicated in the diagram below). Optical density and transmission are specified at 635 nm. Click here to download the raw OD and transmission data, which is theoretically calculated.