Ø1" Post V-Clamp Mounts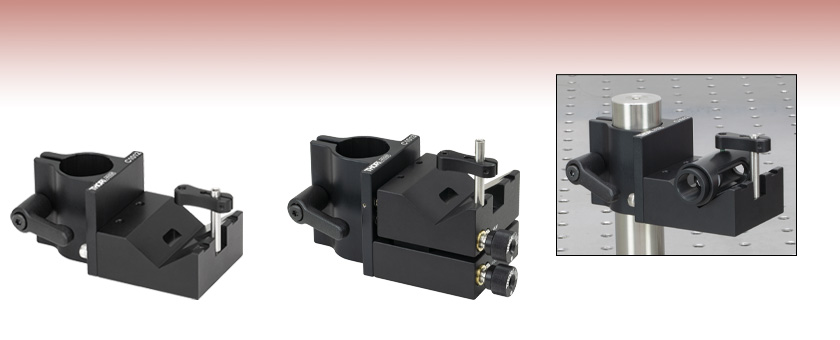 Mounts can Hold Ø0.03" to Ø1.19" (Ø0.8 mm to Ø30.3 mm) Cylindrical Components
Optional PM4(/M) Clamping Arm Increases Max Diameter to 1.88" (47.7 mm)
Ideal for Mounting SM05 and SM1 Lens Tubes
Adjustable Height Collar Also Available
C1012
±10° Manual Pitch Adjustment
Application Idea
A C1012 V-Mount Using the Included PM3 Clamping Arm to Secure a SM05L20C Ø1/2" Lens Tube
C1013
Kinematic with ±2.0° Pitch & Yaw

Please Wait
Thorlabs' Ø1" Post V-Clamp Mounts are designed to fasten cylindrical components to our Ø1" or Ø25.0 mm Posts. A flexure clamping mechanism actuated with the attached handle is used to secure the clamp to the post. The V-clamp mount provides two lines of contact along the length of the V-groove, and the included PM3(/M) Clamping Arm provides a third point of contact at the top.
The C1012(/M) and C1013(/M) mounts can hold cylindrical components from Ø0.03" to Ø1.19" (Ø0.8 mm to Ø30.8 mm) using the included PM3(/M) clamping arm or up to Ø1.88" (Ø47.7 mm) using the PM4(/M) Clamping Arm (not included). The pitch of the C1012(/M) mount can be coarsely adjusted by ±10°. The C1013(/M) kinematic mount has two adjustment screws that provide ±2° pitch and yaw control.
These clamps feature a quick-release handle for securing the clamp to a post. The handle contains a 1/4"-20 (M6 x 1.0) threaded stud that engages the part by simply rotating the handle. An internal mechanism allows the handle's rotational position to be adjusted without actuating the mounting stud. The same quick-release handle is also sold separately [Item # C10QR(/M)].
Also sold below is the RSHA(/M) Adjustable Height Collar which offers increased control over positioning. The RSHA(/M) collar acts as a fine height adjuster with up to 0.20'' (5.1 mm) of vertical adjustment, has a resolution of 0.025" (0.64 mm) per revolution of the actuator ring, and is compatible with our Ø1'' (Ø25.0 mm) posts.
Posted Comments:
No Comments Posted