Threaded Empty Glass Cells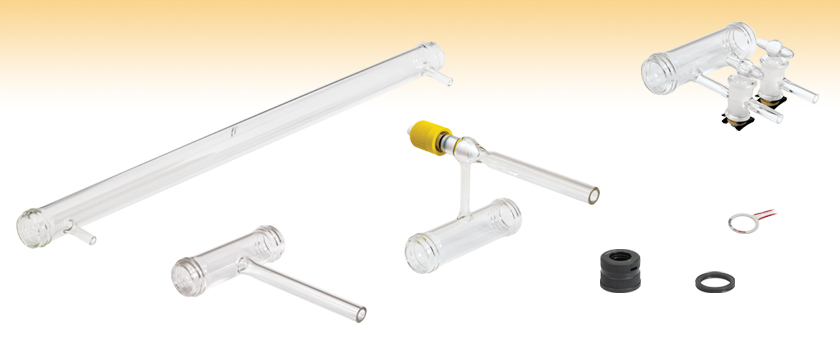 100 mm or 500 mm Long Empty Borosilicate Glass Cells for Spectroscopy
Ø28 mm with GL-32 Threading on Each End
Available with One or Two Fill Tubes
Custom Solutions Available
TGC100A
One Fill Tube,
100 mm Long
TGC100V
One Fill Tube with
J. Young® Valve
GC1
End Cap for Ø28 mm Threaded Glass Cells
GC1V
Viton® O-Ring
TGC100D
Two Parallel Fill Tubes with Glass Stopcocks
HT10KR2
10 W Metal Ceramic Ring Heater
TGC500C
Two Fill Tubes, 500 mm Long

Please Wait
Inside Thorlabs: Scientific Glassblowing
Features
100 mm Long Glass Cells for Spectroscopy Applications:

Available with One Tube for Filling or Two Tubes for Flow
Single Fill Tube Cells Also Available with Genuine J. Young®* Valve for Sealing
Two Parallel Fill Tube Cells Also Available with Glass Stopcocks for Sealing

500 mm Long Glass Cell for Spectroscopy Applications:

Available with Two Parallel Tubes for Flow

Both Ends Include GL-32 Threading Allowing Installation of Interchangeable Windows
Custom Design and Manufacturing Services Available (Contact Tech Support)
Ø25 mm Cells Compatible with Flexible Glass Cell Heaters
These empty borosilicate glass cells feature external GL-32 glass threading at their ends, which allows users to secure Ø25 mm or Ø1" flat windows (3 - 5 mm thick) using a GC1 Threaded End Cap, as depicted in the illustration lower right. Once windows are attached, the cell can be filled with atomic vapors or molecular compounds for spectroscopic analysis. A user-provided spectroscopy-grade light source can be matched with the transmission characteristics of the window material. We also offer empty glass cells that do not have threaded ends and thus do not require assembly, as well as empty glass cells with angled windows that compensate for beam offset. As shown in the video to the right, custom reference cells can be manufactured upon request, including different cell lengths, cell diameters, or fill tube configurations. Please contact Tech Support with inquiries.
Cells are available with either one or two fill tubes. A single fill tube is useful when sealing a cell, while two fill tubes can be used to maintain constant gas flow. We also offer empty cells with a single fill tube and a J. Young® Valve to seal the cell with a high-vacuum, greaseless stopcock (see the image below). Fill tubes with a 0.5" outer diameter are compatible with Ø1/2" compression fittings, as shown in the Vacuum Seal tab. The GC1 caps and GC1V O-Rings will limit the clear aperture of the optic to 0.79".
Each cell is made from borosilicate glass, a rugged material known to resist chipping and cracking, and has high transmission from 350 nm to 2200 nm. All glass cells on this page can hold a vacuum below 10-7 Torr and withstand pressures up to 5 psi when properly assembled. The post-production cleaning process for these cells consists of an ultrasonic cleaning followed by a methanol rinse. The cell is then connected to a vacuum system and leak tested. The cells are not vacuum sealed when shipped; before using the cell in a vacuum setup, we advise users to follow a similar cleaning process for each cell.
These cells are commonly used in spectroscopic applications such as tunable diode laser calibration, stabilization of laser frequencies, and calibration of wavelength meters. Refer to the Application tab for a general overview of use with absorption spectroscopy. We also offer compact and Herriott multipass cells for gas absorption spectroscopy applications, as well as filled and sealed vapor and acetylene reference cells.
Mounting & Heating Options
The glass cells can be mounted in our V-Clamp Mounts, which are available in standard, kinematic, or Ø1.5" post-compatible versions. Please check that the cell diameter is supported by the mount. A VBC1(/M) Post-Mountable Band Clamp can be used to mount a TGC100C or TGC100D cell without marring, and two can be used to mount a TG500C cell. Our cells with threaded ends can be heated using the HT10KR2 Ring Heater, which can fit inside the threaded end cap, as illustrated to the right. Our HT10K and TLK-H Resistive Foil Heaters can attach to the outside of the glass cells via adhesive backing.
*J. Young® is a registered trademark of GPE Scientific. Viton® is a registered trademark of DuPont.
Absorption Spectroscopy
The reference substance pumped into the glass cell is associated with a unique absorption spectrum that serves as its fingerprint. The contents of a reference cell can be determined via a linear absorption measurement (as depicted by the simplified schematic below). By scanning a tunable diode laser over a wavelength range and detecting light absorption with a photodetector, a series of peaks will be recorded, which is characteristic of the vapor inside the cell. Please note that we also offer pre-filled and sealed acetylene reference cells, as well as vapor reference cells with quartz or borosilicate substrates.

Click for Details
Disassembled view of a KF25
flange-to-compression-fitting adapter.
Creating a Vacuum Seal with a KF Flange
Thorlabs' empty borosilicate cells can be used with our KF16 or KF25 Flanged Components and Accessories in order to manage gas flow in and out of the cell. Glass cells terminated with Ø0.31" (Ø8.0 mm) fill tubes can be inserted into the KF25C031 Flange-to-Compression-Fitting Adapter, while glass cells terminated with one or two Ø0.50" (Ø12.7 mm) fill tubes can be inserted into a KF16C050 or KF25C050 flange-to-compression-fitting adapter.
To input the glass cell into a KF16 or KF25 Vacuum System, follow the instructions below.
Select a KF16 or KF25 flange-to-compression-fitting adapter that is compatible with the fill tube diameter of the glass cell.
Coat a cleaned and inspected KF16CR-F or KF25CR-F Centering O-Ring in vacuum grease and place it on a base post or pipe.
Place the flange-to-compression-fitting adapter on top of the KF16CR-F or KF25CR-F Centering O-Ring and secure them with the KF16WNC or KF25WNC Wing Nut Clamp.
Loosen and remove the knurled locking knob, O-ring, and seal ring of the flange-to-compression-fitting adapter so its mating surface can be inspected and the included O-ring can be coated in vacuum grease. This will create a vacuum seal when the cell is inserted into the system.
Slide the open end of the glass cell tube through the top (side with the Thorlabs engraving) of the knurled locking knob, seal ring (with the counterbore seat for the O-ring facing the adapter body), and O-ring (in that order) of the flange-to-compression-fitting adapter.
Slide the glass tube into the flange adapter body and then slide the O-ring, seal ring, and knurled locking knob down the tube onto the flange adapter body. Tighten the knurled locking knob by hand.
It is not recommended to insert the glass tube into a fully assembled KF flange-to-compression-fitting adapter. The sharp edges of the glass tube may damage the O-ring, thus causing the seal to fail.
Posted Comments:
No Comments Posted