Sealed Acetylene Reference Cells with Angled Windows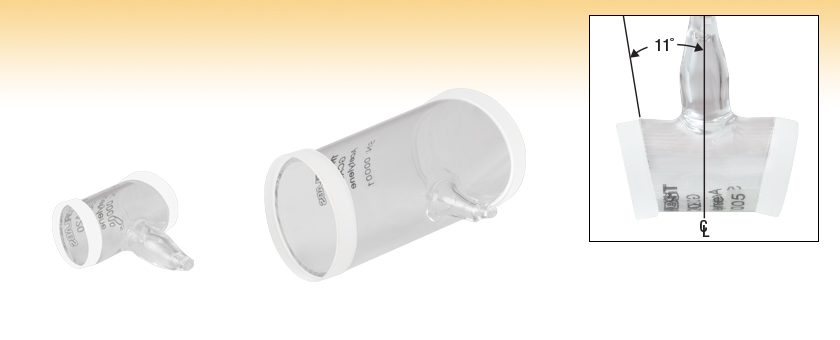 High Transmission Across the 185 nm - 2.1 µm Wavelength Range
Sealed Cells Filled with 50 Torr of Acetylene
Ø1/2" or Ø1" Wedged Windows Angled at 11°
Sealed Windows Angled at 11° to Cell Body
GCA20
Sealed Acetylene Cell with Ø1/2" UV Fused Silica Wedged Windows Angled at 11°
GCA50
Sealed Acetylene Cell with Ø1" UV Fused Silica Wedged Windows Angled at 11°

Please Wait
Specifications
Item #
GCA20
GCA50
Reference Gas
Acetylene, >99.6% Purity
Absorption Spectruma
(1530 nm Band)
Cell Lengthb
20.0 ± 3.0 mm
50.0 ± 3.0 mm
Path Lengthc
14.0 ± 3.0 mm
40.0 ± 3.0 mm
Cell Outer Diameter
12.0 ± 0.2 mm
24.0 ± 0.2 mm
Cell Clear Aperture
>Ø8.0 mm
>Ø20.0 mm
Nominal Pressure
50 Torr
Pressure Tolerance
±10 Torr
±5 Torr
Stem Height
≤10 mm
Window Angle
11.0° ± 1.0°
Window Item #
WW40530
WW41050
Window Flatness
λ

d

Window Wedge Angle
30 ± 10 arcmin
Window Substrate
UV Fused Silicae
UVFS Transmission
(Click for Plot)
Diagram (Click to View)
Data taken from the HITRAN database for C-12 acetylene.
Length of the center of the cell including the windows.
Length of the center of the cell excluding the windows.
Measured at 633 nm
Click link for detailed specifications on the substrate.
Inside Thorlabs: Scientific Glassblowing
Features
Sealed Acetylene Cells for Frequency and Wavelength Reference
Pair of Windows Angled at 11° to Cell Body

Diverts Reflections Out of Beam Path
Compensates Beam Shear (Offset)

Wedged Windows Minimize Etalon Effects
UV Fused Silica Windows Bonded to Fused Silica Cell Body
High Transmission Across the UV, Visible, and NIR Spectral Ranges (See Table to the Right)
Custom Design and Manufacturing Services Available (Contact Tech Support)
Thorlabs' Sealed Acetylene Reference Cells with UV Fused Silica (UVFS) Angled Windows are fused silica cells that contain acetylene gas (C2H2), which has a well-defined absorption spectrum. Gas reference cells are commonly used in spectroscopic applications such as tunable diode laser calibration, laser wavelength locking, and calibration of wavelength meters. For a general overview of use with absorption spectroscopy, please refer to the Application tab.
Each acetylene cell has a fused silica body with ends closed by either Ø1/2" or Ø1" UVFS wedged windows; see the table to the right for a graph of the UVFS transmission. The windows are angled to ensure that stray reflections do not re-enter the beam path. Since the two windows are angled opposite to each other, the small beam shear (translation) from the first window is compensated by an equal amount at the second window. To reduce etalon effects, the windows have a 30 arcmin wedge.
The reference cells offered here have been heated to 800 °C under vacuum to remove contaminants prior to filling. Additionally, each cell is helium-leak tested to ensure longevity. The actual fill pressure and path length for each reference cell are measured at time of manufacture, and a summary of the test data can be downloaded by clicking on the red Docs icon (

) next to the Item # and entering the cell serial number under "Download Serial Item Data." A sample of these results for the GCA50 Acetylene Gas Reference Cell can be found here.
Custom reference cells can be manufactured upon request, including different cell materials, lengths, diameters, fill tube configurations, and a variety of fill gases. Please contact Tech Support with inquiries.
SDS sheets are available and can be found by clicking on the red Docs icon (

) below.
Mounting Options
These cells can be mounted in a V-Clamp Mount. Please check that the cell diameter is supported by the mount. Do not overtighten.
Other Single- and Multi-Pass Cells
In addition to gas reference cells, Thorlabs offers both borosilicate and quartz vapor reference cells that contain a range of fill materials. Also available are pre-assembled compact and Herriott multipass cells for gas absorption spectroscopy applications as well as empty glass cells, empty glass cells with angled windows, empty glass cells with Brewster windows, and threaded glass cells.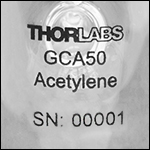 Click to Enlarge
Each reference cell includes a serial number, which can be used to access a test report containing path length and fill pressure.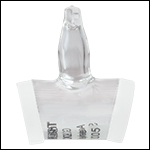 Click to Enlarge
Angled and Wedged Windows Minimize Etalon Effects
Please note: These reference cells are subject to hazardous goods regulations and must be shipped separately using specifically regulated shipping methods and may require special shipping and handling charges. Next day delivery is not available. All orders will ship from our US warehouse regardless of destination and cannot be returned. Due to hazardous materials shipping regulations, we are currently unable to ship our acetylene reference cells to Brazil, China, or Uruguay.
The reference substance pumped into the glass cell is associated with a unique absorption spectrum that serves as its fingerprint. The contents of a reference cell can be determined via a linear absorption measurement (as depicted by the simplified schematic below). By scanning a tunable diode laser over a wavelength range and detecting light absorption with a photodetector, a series of peaks will be recorded, which is characteristic of the gas inside the cell.
In addition to acetylene reference cells, Thorlabs' line of glass cells includes: pre-filled and sealed vapor reference cells with quartz or borosilicate substrates, empty glass cells, empty glass cells with angled windows, threaded empty glass cells, and multipass cells.