Vapor Reference Cells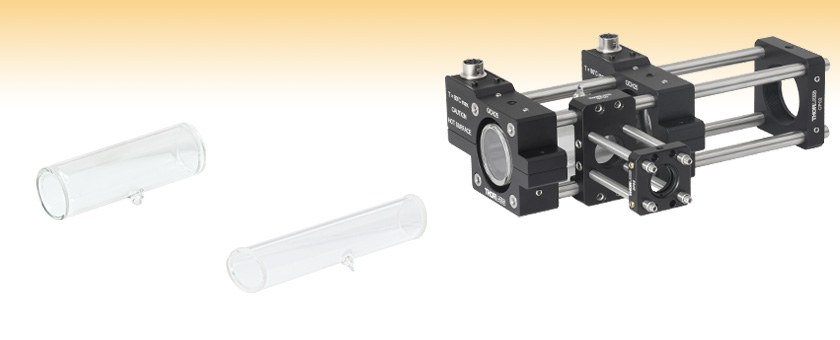 Different Vapors for Frequency and Wavelength Reference
Cells Made from Either Quartz or Borosilicate
Custom Reference Cell Capabilities
GC25075-RB
Ø25.4 mm Borosilicate Cell with Rubidium Gas
GC19100-I
Ø19 mm Quartz Cell with Iodine Gas
Application Idea
The perpendicular 16 mm cage system mounted using the SP30 Adapter Plate can be used to detect fluorescence from the vapor cell, which is mounted in a GCH25-75 Glass Cell Heater.

Please Wait
Features
Vapor Cells for Frequency and Wavelength Reference
Borosilicate Glass Reference Cells

Cesium (Cs)
Potassium (K)
Sodium (Na)
Rubidium (Rb)

Quartz Glass Reference Cells

Cesium (Cs)
Iodine (I)
Rubidium (Rb)
Enhanced Rubidium 87 (87Rb)

Glass Cell Heaters Available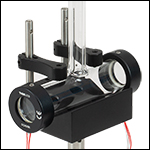 Click to Enlarge
with Two GCH25R Heater Caps
Reference cells contain vapors of specific atomic elements or molecular compounds, each of which has a well-defined absorption spectrum. These cells are commonly used in spectroscopic applications such as tunable diode laser calibration, stabilization of laser frequencies, and calibration of wavelength meters. Thorlabs offers both borosilicate and quartz reference cells that contain a range of standard fill materials. Custom reference cells can be manufactured upon request.
Since each fill material is associated with a unique absorption spectrum that serves as its fingerprint, the contents of a reference cell can be determined via a linear absorption measurement (as depicted by the simplified schematic above). By scanning a tunable diode laser over a wavelength range and detecting light absorption (A) with a photodetector, a series of peaks will be recorded, which is characteristic of the vapor inside the cell.
All of the cells offered here are baked and evacuated to 10-8 Torr prior to filling in order to remove contaminants. Additionally, each cell is helium leak checked to ensure the longevity of the vapor cell. The vapor pressure of the alkali metal will cause it to migrate throughout the cell and condense at the coolest area. Heating the windows of the cell rather than the cell body will help ensure the windows stay warmer and thus that the alkali will collect elsewhere. If obstruction of the optics becomes an issue, apply cooling to an area on the cell body, such as near the fill stem, and heat the windows in an alternating fashion to drive the metal from the window surfaces and collect it at the cool spot. The metal may eventually move back to the windows depending on how the cell is heated.
Mounting & Heating Options
These cells can be mounted in our V-Clamp Mounts, which are available in standard, kinematic, or Ø1.5" post-compatible versions. Please check that the cell diameter is supported by the mount. The cells can be heated using the GCH25-75 Glass Cell Heater, illustrated in the Application Idea at the top of the page, or the GCH25R Heater Caps, shown in the photo above. Our HT10K and TLK-H Resistive Foil Heaters wrap around Ø25.4 mm glass cells and feature adhesive backing.
Related Items
We also offer sealed acetylene reference cells for frequency and wavelength calibration. Also available are pre-assembled compact and Herriott multipass cells for gas absorption spectroscopy applications as well as empty glass cells, glass cells with angled windows, glass cells with Brewster windows, and threaded glass cells for custom spectroscopic applications.
Please note: These reference cells are subject to hazardous goods regulations and must be shipped separately using specifically regulated shipping methods and may require special shipping and handling charges. Next day delivery is not available. All orders will ship from our US warehouse regardless of destination and cannot be returned. Due to hazardous materials shipping regulations, we are currently unable to ship our reference cells to Brazil, China, or Uruguay.
Borosilicate Reference Cells
Specifications
Material
Borosilicate Glass
Cell Diameter
25.4 mm (1.00")
Cell Length
71.8 mm (2.83")
Pressure @ 25 °C
>10-7 Torr
Fill Stem
<10 mm (<0.39")
Window Angle
0°
Window Type
Flat
Window Thickness
1.6 mm (0.06")
Clear Aperture
>Ø20.0 mm (>Ø0.79")
Minimum Transmission (350 nm - 2.2 µm)
>84%
Vapor
Typical Wavelength
Sodium (Na)
589 nm
Potassium (K)
764 nm
Rubidium (Rb)
780 nm
Cesium (Cs)
852 nm
Quartz Reference Cells
Item #
GC19075-CS
GC19100-I
GC19075-RB
GC19075-RB87
Material
Quartz
Cell Diameter
19.0 mm (0.75")
Cell Length
75.0 mm (2.95")
100.0 mm (3.94")
75.0 mm (2.95")
75.0 mm (2.95")
Pressure @ 25 °C
> 0.1 - 1.2 Torr
Fill Stem
<10 mm (<0.39")
Window Angle
11° ± 1°
Window Type
Wedged 2°
Window Thickness
3 mm (0.12")
Window Surface Quality
60-40 Scratch-Dig
Window Flatness
λ/4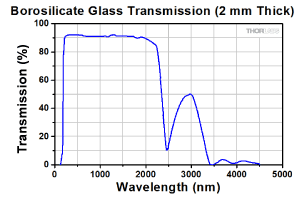 Click to Enlarge
Borosilicate Glass Transmission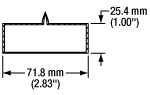 Click for Full Dimensions
These reference cells are fabricated from borosilicate glass, a rugged material known to resist chipping and cracking. They are tested to ensure that the transmission through the cell exceeds 84% for light in the 350 nm to 2.2 µm range.
MSDS sheets are available and can be found by clicking on the red Docs icon (

) below.
To apply heat to the cell, consider our selection of glass cell heaters.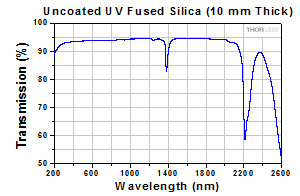 Click to Enlarge
UV Fused Silica Transmission
Click
Here
for Raw Data

Click for Full Dimensions
Note that for the iodine reference cell GC19100-I, the length is 100.0 mm rather than 75.0 mm.
Thorlabs' quartz reference cells feature UV fused silica windows for superior transmission in the UV spectral range. The windows, which are angled to compensate for beam offset, are designed with a 2 degree wedge so as to eliminate etalon effects.

The rubidium reference cell (GC19075-RB) is sold with the natural isotope ratio of Rb, which is 72.15% 85Rb and 27.85% 87Rb . A version is also available with 98% pure 87Rb (GC19075-RB87).
Although quartz will survive temperatures up to 800 °C, the reference vapor will be consumed by reactions with the wall of the cell at temperatures significantly lower than quartz's melting temperature.
MSDS sheets are available and can be found by clicking on the red Docs icon (

) below.
To apply heat to the cell, consider our selection of glass cell heaters.