Vacuum Grease and Vacuum Epoxy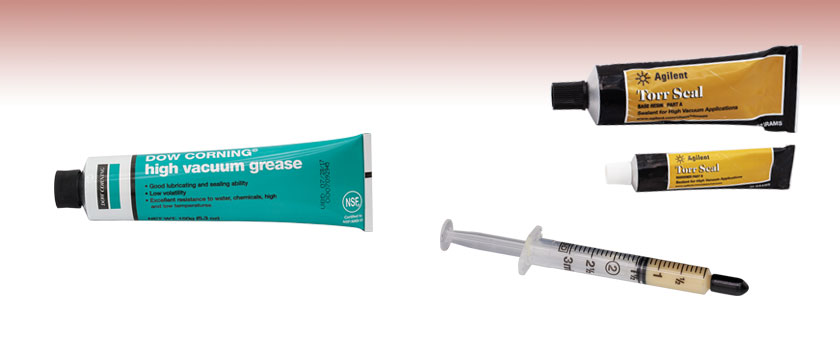 Vacuum-Compatible Grease to 10-9 Torr
Vacuum Epoxy Seals Leaks Down to 10-9 Torr
Excellent for Vacuum and Non-Vacuum Applications
SG10
Silicone Vacuum Grease
TS10
Vacuum Epoxy
GKZ8
Apiezon Grease

Please Wait
Vacuum Epoxy
Thorlabs' Vacuum Epoxy can be used to seal leaks in vacuum equipment down to 10-9 Torr. This line of epoxy can form a high-strength, long-term bond with metals, ceramics, or glass and does not require solvent to evaporate. Please note that epoxy resins are prone to solidification or crystallization. If this occurs, the product can easily be returned to a liquid state by immersing the tube in warm [approximately 100 °F (38 °C)] water for 30 minutes. Ensure all material is melted prior to use. Allow the resin component to return to room temperature prior to mixing with the hardener.
High-Temperature and Low CTE Epoxy
This two part, 100% solid, heat curing epoxy can be used in applications requiring constant performance at temperatures up to 250 °C. It can handle 250 °C to 350 °C for brief periods. The epoxy is vacuum compatible and passes NASA low outgassing standard ASTM E595.
Silicone Vacuum Grease
Silicone grease, a general laboratory lubricant, works over a higher temperature range (-40 °C to 260 °C) than hydrocarbon greases. Silicone grease can be used for both vacuum and non-vacuum applications, such as lubricating rubber gaskets, glass-to-rubber boundaries, and water-treating equipment.
Apiezon Grease
For higher vacuum requirements, Thorlabs offers apiezon grease, which contains PTFE for higher lubricity and has an optimal working range of 10 °C to 30 °C. Apiezon grease is recommended for both general applications and vacuum applications down to 10-9 Torr. This grease comes in a syringe for easy use and is ideal for re-lubricating the leadscrew threads of our Z9, ZFS, and ZST actuators.