Fast-Change Lens Tube Filter Holders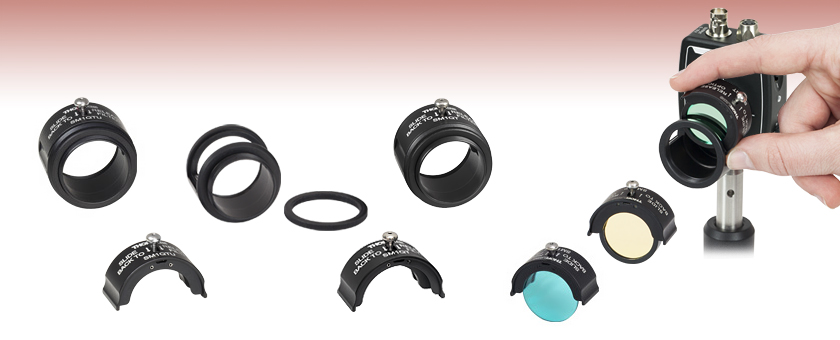 Quickly and Easily Exchange Filters Without Disassembly
Features Internal and External SM1 Threads
Lock Nut Allows for Precise Orientation Within a Setup
SM1QU
Lens Tube Filter Holder for Filters ≤3.5 mm Thick
SM1QT
Extra Carriage for Filters 3.5 - 6.3 mm Thick
SM1QB
Extra Slotted Lens Tube with Included Locking Ring
Application Idea
SM1QP Lens Tube Filter
Holder Threaded onto a
PDA50B2 Detector
Pre-Load Multiple Filter Carriages for Fast and Easy Filter Exchange
SM1QTU
Extra Carriage for Filters ≤3.5 mm Thick
SM1QP
Lens Tube Filter Holder for Filters 3.5 mm to 6.3 mm Thick

Please Wait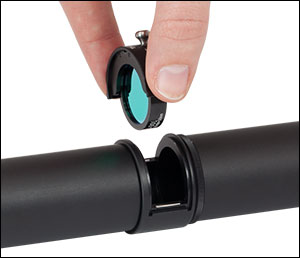 Click to Enlarge
Using an SM1QP Filter Holder, filters can be swapped into a lens tube system without disassembly.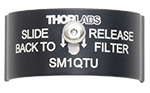 Click to Enlarge
The Filter Carriages are laser engraved to indicate how to install the filter.
Features
Exchange Filters in an Optomechanical Setup Without Disassembly
Accept Ø1" or Ø25 mm Filters

SM1QU Holds Unmounted Filters (0 - 3.5 mm Thick)
SM1QP Holds Mounted Filters (3.5 - 6.3 mm Thick)

Extra Filter Carriages and Slotted Lens Tube Sold Separately
Filter Secured via Spring-Loaded Clamp
Stackable SM1 Lens Tube Construction
Included Lock Nut Allows the User to Select a Specific Rotational Orientation
Thorlabs' Fast-Change Lens Tube Filter Holders allow Ø1" and Ø25 mm filters to be quickly exchanged within an experimental setup without disassembling connected lens tubes. These holders are comprised of two pieces: a filter carriage and a slotted lens tube, which are magnetically coupled to each other, enabling fast insertion and removal.
To install a filter in the carriage, first separate the filter carriage from the slotted lens tube by gripping the recessed grooves on either side of the carriage and pulling gently. Slide the top-located stainless steel knob in the direction of the engraved arrows (as shown in the photo above). This opens the spring-loaded clamp located on the underside of the carriage. Insert the filter, pressing it firmly against the underside of the holder, and release the knob. See the animation below for details.
Filter Holder Installation Procedure
There are two preconfigured filter holder options: the SM1QU accepts an unmounted filter with a thickness ≤ 3.5 mm, while the SM1QP accepts a mounted filter with a thickness from 3.5 mm to 6.3 mm. The filter holders are 1.02" long with a 1.31" (33.3 mm) outer diameter and a Ø21 mm (Ø0.83") clear aperture. Please note that the clear aperture of the assembly may be further restricted by the filter.
Extra filter carriages are available separately. The SM1QTU carriage (included in the SM1QU) holds an unmounted filter with a thickness ≤ 3.5 mm, while the SM1QT carriage (included in the SM1QP) holds a mounted filter with a thickness from 3.5 mm to 6.3 mm.
The SM1QB extra slotted lens tube, included in both the SM1QU and SM1QP filter holders, is also available separately. The slotted lens tube can accept either filter carriage described above. It features internal SM1 (1.035"-40) threading on one side and external SM1 threading on the other, making it compatible with all of our SM1-threaded components. One included lock nut (item # SM1NT) allows the user to set the rotational orientation of the filter holder at any angle.
We also offer a variety of removable filter holders for cage systems, as well as SM-Threaded Adapters for Square Filters.