SM-Threaded Adapters for Square Filters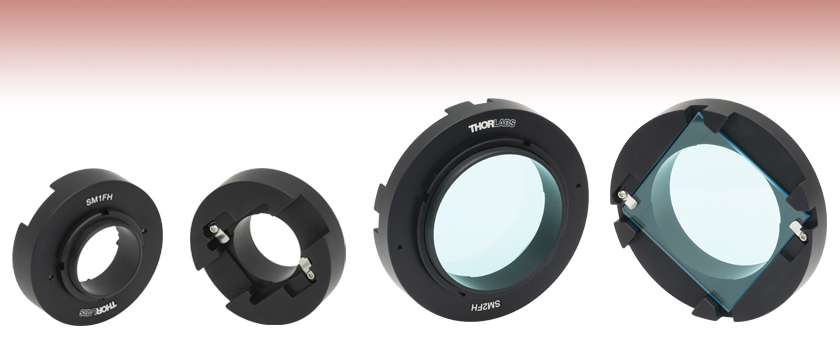 Mount Square Optics on SM-Threaded Components
Ideal for Plate Filters
SM1FH
SM1 (1.035"-40) Adapter for 1" Square Optics
SM2FH
SM2 (2.035"-40) Adapter for 2" Square Optics
(Filter Not Included)
Front
Back
Front
Back

Please Wait
Specifications
Item #
SM1FH
SM2FH
Accepted Optic Size
1" or 25 mm Square
2" or 50 mm Square
Max Optic Thickness
0.18" (4.6 mm)
Clear Aperture
Ø0.95" (Ø24.0 mm)
Ø1.90" (Ø48.3 mm)
Threading
External SM1 (1.035"-40)
0.25" (6.3 mm) Deepa
External SM2 (2.035"-40)
0.25" (6.3 mm) Deepa
Included Locking Ring
SM1NT1
SM2NT1
Outer Diameter
2.00" (50.8 mm)
3.00" (76.2 mm)
Without the included 0.11" (2.8 mm) thick locking ring installed.
Features
Mount Square Optics onto Internally SM-Threaded Components
Spring-Loaded Clips Secure Optic
These adapters accept square optics and have external SM threading for mounting to other internally SM-threaded components, such as lens tubes. Each adapter has two spring-loaded clips that can hold an optic up to 0.18" (4.6 mm) thick. The SM1FH adapter has SM1 (1.035"-40) threads and accepts 1" or 25 mm square optics, while the SM2FH adapter has SM2 (2.035"-40) threads and accepts 2" or 50 mm square optics. The spring-loaded clips can be tightened using a 0.05" (1.3 mm) hex key.
Each adapter includes a locking ring that allows the optic to be positioned in a specific orientation when the adapter is attached to an SM-threaded component. The locking rings can be tightened by using the SPW502 spanner wrench (for Item # SM1NT1) or SPW503 spanner wrench (for Item # SM2NT1). The adapters are also designed with outer diameters that allow them to be mounted in our smooth-bore mirror mounts.
We also offer Fast-Change Filter Holders for use in lens tube systems and a wide variety of Post-Mountable Rectangular Plate Optic Mounts.