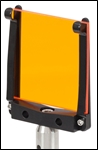 Click to Enlarge
550 nm Colored Glass Filter Held with a SFH3 Fixed Filter Mount
Features
Filter Mounts Securely Hold a Variety of Plate Optics
Support Filter Thicknesses up to 0.58" (14.7 mm)
Various Options Available; See Table Below for Details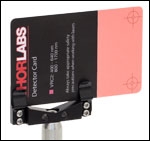 Click to Enlarge
VRC2
Detector Card Mounted Using an FH2 Filter Mount
Thorlabs offers a wide variety of filter mounts that are ideal for securely mounting an optic up to 0.58" (14.7 mm) thick in an optomechanical assembly. They are ideal for mounting ND filters or colored glass filters. These mounts can also hold temporary beam blocks, beam targets, or laser viewing cards, as shown in the image to the left. All filter holders, with exception of the PC2(/M) Flexure Plate Clamp and the FFM1 Dichroic Mount, include an 8-32 (M4) tap or #8 (M4) counterbore for mounting to a Ø1/2" post. They are rugged and solid, enabling permanent use within an assembly.
A variety of filter mount options are available, and can be quickly chosen using the table below. Several mounts feature a stackable design that allows multiple filter mounts to be attached together using two 8-32 cap screws of the appropriate length and two nuts. The quick-release mount is ideal for frequently switching between filters with easy access. Our compact filter holders are recommended for any application with tight space constraints. For rigid cage system assemblies, we offer a 60 mm cage compatible filter mount that can hold two 2" (50 mm) square filters simultaneously. Finally, two plate holders are offered that can hold plates as thick as 0.58" (14.7 mm) and are ideal for large exposure plates or filters.
Thorlabs also offers the XYFM1(/M) Test Target Positioning Mount which is designed to mount test targets or other rectangular optics up to 1" (25.4 mm) to 3" (76.2 mm) wide. It allows for the translation of any rectangular optic over a 50 mm x 30 mm (1.97" x 1.18") area.
Item #
DH1(/M)
PC2(/M)
FH2 / FH2D
SFH3
LCP05(/M)
SFH2
FFM1 / LFFM1
FP01 / FP02
XYFM1(/M)
Filter Thickness
≤0.08" (2.0 mm)
One Optic

≤0.06" (1.5 mm)
Two Optics
0.03" - 0.09"
(0.8 - 2.3 mm)
≤0.08" (2.0 mm)
One Optic

≤0.06" (1.5 mm)
Two Optics (FH2D Only)
0.04" - 0.19"
(1 - 5 mm)
≤0.16"
(4 mm)
≤0.16"
(4 mm)
≤0.12" (3.0 mm)
for FFM1

≤0.16" (4.0 mm)
for LFM1
≤0.58"
(14.7 mm)
≤0.12"
(3 mm)
Feature
Compact
Compact
Stackable
Stackable
Cage Compatible
Quick-Release
Cage Cube
Compatible
Thick Plate
Translating