Fixed Cage System Filter Mounts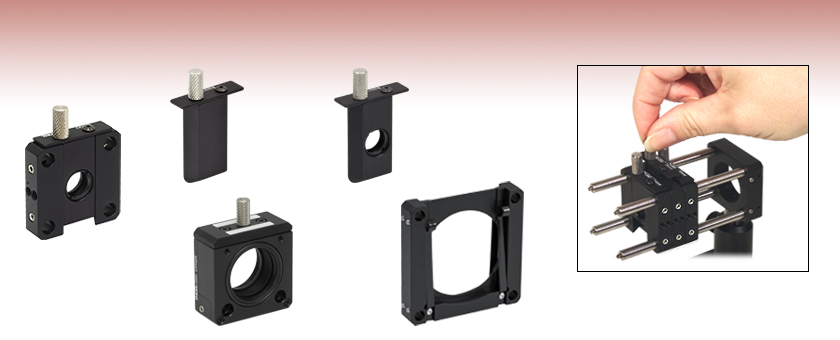 Mount Ø1/2", Ø1", or Ø2" Optics in a Cage System
Mount 2" x 2" (50 mm x 50 mm) Filters in 60 mm Cage System
CFH1R
(Cage Plate & Filter
Holder Included)
LCP05
CFH2R
(Cage Plate & Filter Holder Included)
CFH1-F
Extra Ø1/2"
Filter Holder
CFH1-B
Blank Plate
Stackable Design

Please Wait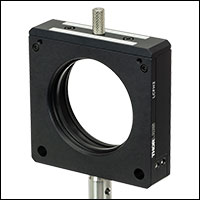 Click to Enlarge

In addition to cage system compatibility, these mounts can be fastened to
Ø1/2" posts
via 8-32 (M4) tapped holes.
Features
30 mm and 60 mm Cage System Fixed Mounts Available
Mount Ø1/2", Ø1", Ø2", or 2" x 2" Optics
Quick Installation and Removal of Optics
Post Mountable via 8-32 (M4) Tapped Holes
The mounts offered below are for installing a single filter in-line within a cage system. See the Filter Mount Selection Guide to the right for other mounting options.
The CFH1R and LCFH1(/M) Removable Filter Holders are based upon a precision spring-loaded dovetail design, ensuring good position stability and repeatability. These filter holders are designed to hold Ø1/2" or Ø1" optics, respectively, using the included retaining ring. Additional plates are available to easily mount and then switch optical components.
The CFH2R(/M) and LCFH2(/M) Removable Filter Holders are light-tight, stackable filter blocks designed to integrate easily into our 30 mm or 60 mm cage systems or to be post mounted on a breadboard. Unlike the CFH1R and LCFH1(/M), this light-tight design is achieved with a permanent O-ring mounted on the front face and a double-flanged top plate on the removable inner body.
The LCP05(/M) 60 mm Cage Plate for Square Filters, has a Ø2" through hole (42 mm clear aperture) and is designed to hold either 2" square or 50 mm square filters up to 4 mm thick. Since the mount is equipped with two spring clips on each side, a filter can be pressed up against either side of the clear aperture. This filter holder is ideal for use with our 2" x 2" Unmounted Absorptive Neutral Density Filters or our Square Colored Glass Filters.