Rail Carriage for 66 mm Rails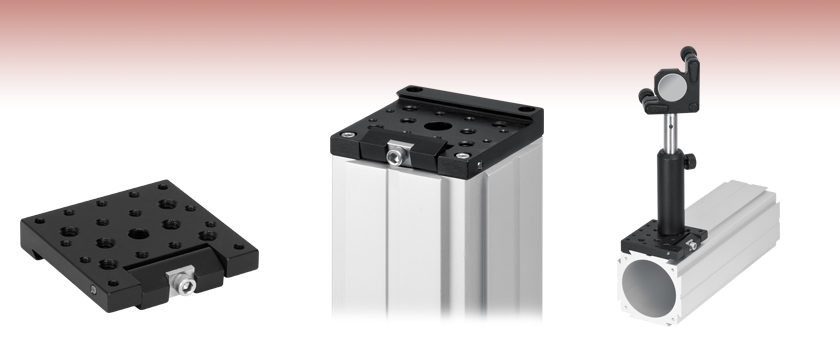 Side-Locked Mounting Platform that Slides Along Rail
Contains Array of 1/4"-20 (M6), 8-32 (M4), and 6-32 Tapped Holes
Attaches to Side or End of Rail
XT66P2
Attached to Rail End
Compatible
with Standard
Optomechanics
Application Idea

Please Wait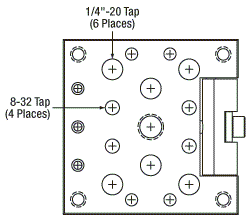 Click for Details
Mechanical Drawing of Imperial Version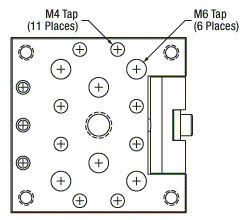 Click for Details
Mechanical Drawing of Metric Version
Features
Insert and Remove Anywhere Along a Rail Side
Slides Along Rail Side Prior to Lockdown
Attachable to Rail End with M3 Cap Screws
Wide Assortment of 1/4"-20 (M6), 8-32 (M4), and 6-32 Tapped Holes
The XT66P2(/M) Rail Carriage consists of a closely packed array of six 1/4"-20, four 8-32, and seven 6-32 tapped holes (six M6 and eleven M4 taps in the metric version), along with a centered 1/4" (M6) counterbore. It fastens to a 66 mm rail by tightening the included side-mounted 9/64" (M3) locking screw. The swinging clamping arm provides ample clearance to lift the carriage off when the locking screw is loosened, permitting the carriage to be installed anywhere along an exposed rail side. The position of the rail carriage can be finely adjusted using Thorlabs' XT66N Rail Platform Positioner.
This rail carriage also contains four counterbored holes at the corners, positioned such that the XT66P2(/M) can fasten to the end of a standard 66 mm rail using four M3 cap screws (not included), as shown in the image at the top of the page. In this orientation, the clamping arm is free to hold another 66 mm rail at a right angle. Alternatively, optomechanics can be attached to the rail ends.
Thorlabs offers an extensive selection of accessories for 66 mm rails, including clamps and angle brackets, breadboard mounts, mounting platforms, rail carriages, rail platform positioners, rotation slide platforms, rail joiners, and lens tube adapters. Together with size adapters that incorporate 34 mm and 95 mm rails into an XT66 setup, these tools provide a complete family of rigid, versatile building blocks suited for virtually any optomechanical setup.