Mounting Platforms for 66 mm Rails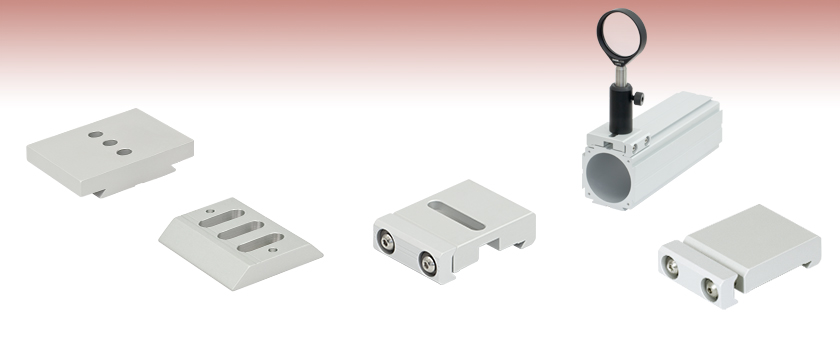 Dovetail Platforms with 1/4"-20 (M6) Holes and Slots
Mount Standard Optomechanics to 66 mm Rails
Clamps are Positioned by Sliding Along Rail
Optical Axis
Centered Over
Rail Axis
XT66C5
Blank Clamping
Platform
XT66C4
Clamping Platform with
Counterbored Slot
XT66D3
X-Axis Slotted Dovetail
XT66D2-50
Dovetail with
Counterbored Holes

Please Wait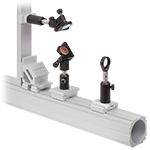 Click to Enlarge

Rail-Mounted Periscope
(See
Application Idea
Tab for Details)
Features
Compact Platforms Provide Compatibility with Standard 1/4"-20 (M6) Optomechanics
Conveniently Insert and Remove Mounts from an Optical Path
Options with Tapped Holes, Counterbored Holes, or Counterbored Slots
Some Models Contain Built-In Clamp for Direct Compatibility with Rails
Blank Clamping Platform for Custom Applications
Thorlabs provides a wide selection of platforms that permit optomechanics with standard 1/4"-20 (M6) threadings to be incorporated into a 66 mm rail assembly.
Mounting Platforms and Dovetails
Our mounting platforms feature 1/4"-20 (M6 x 1.0) tapped holes or 1/4" (M6) counterbored holes, while the dovetails have 1/4" (M6) counterbored slots or a single 1/4"-20 (M6 x 1.0) tapped hole. They attach to the rail with any of our Dovetail Clamps and are available in several different geometries, as illustrated below.
In order to maintain a minimal physical profile, our XT66D2 and XT66D3 Slotted Dovetails require our reduced-height Low-Profile Channel Screws or Low-Profile T-Nuts to fasten to standard optomechanics. The counterbores in these platforms are too shallow to accommodate standard 1/4"-20 or M6 cap screws.
Mounting Clamps
Our mounting clamps feature a built-in dovetail clamp that provides direct compatibility with 66 mm rail systems. The XT66C4 Clamping Platform contains a 1/4" (M6) counterbored slot that is parallel to the rail axis, while the XT66RC Counterbored Pivot Platform includes a 1/4" (M6) counterbored slot that can be rotated through a full 360°. We also offer the XT66C5 Blank Clamping Platform for customers who wish to machine custom mounting options.
Thorlabs offers an extensive selection of accessories for 66 mm rails, including clamps and angle brackets, breadboard mounts, mounting platforms, rail carriages, rail platform positioners, rotation slide platforms, rail joiners, and lens tube adapters. Together with size adapters that incorporate 34 mm and 95 mm rails into an XT66 setup, these tools provide a complete family of rigid, versatile building blocks suited for virtually any optomechanical setup.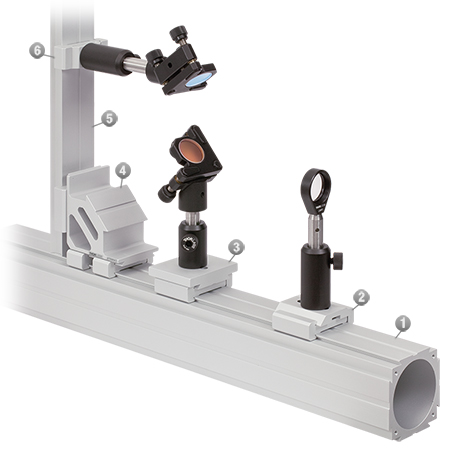 Click for Details
Simple Periscope, View 1 of 2
---

Click for Details
Simple Periscope, View 2 of 2
Application Idea: A Simple Periscope
The photographs to the left depict a simple periscope constructed using our 66 mm rail system. The two photos display the same setup from two different angles in order to clearly show how each part has been integrated. The labeled parts correspond to a row in the upper table, while the lower table shows the clamps and optical mounts used throughout the periscope.
Please note that lenses and mirrors, which are not shown in the tables below, would also be required.
Label
Item #
Description
Product Image
1
XT66-500
66 mm Construction Rail, L = 500 mm
2
XT66D2
50 mm Long Slotted Dovetail with One Z-Axis Counterbored Slot
3
XT66D2-50
50 mm Long XT66 Platform with Three 1/4"-20 (M6) Counterbores
4
XT66RA2
Right-Angle Clamp for 66 mm Rails
5
XT66DP-500
66 mm Double Dovetail Rail, L = 500 mm
6
XT66DE1
20 mm Long, 1/4"-20 Tapped Dovetail for 66 mm Rails
Additional Items
XT66C1
20 mm Long Double Dovetail Clamp for 66 mm Rails
XT66C2
40 mm Long Double Dovetail Clamp for 66 mm Rails
MA45-2
45° Mounting Adapter, Compatible with KM100 and KM200
KM100
Ø1" Kinematic Mirror Mount
LMR1
Ø1" Lens Mount