Z-Axis Translation Stages and Accessories for 30 mm Cage Systems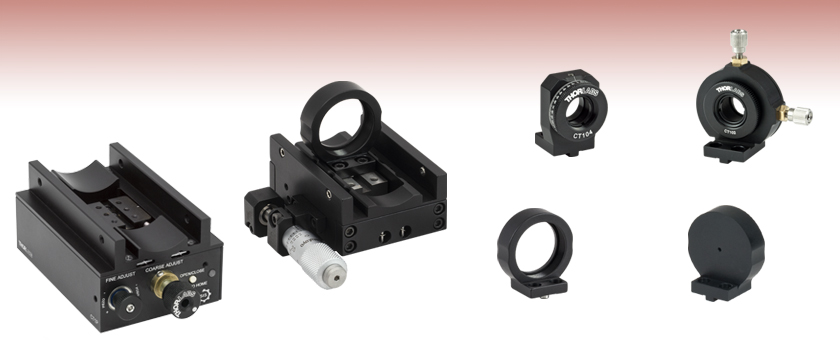 1/2" (13 mm) or 12 mm Manual Travel Along Optic Axis
Version with 160 µm Piezo-Driven Fine Adjustment
Modular Design with Interchangeable Optic Mounts
CT104
Ø1/2" Rotation Mount
CT101
Ø1" (Ø25 mm) Optic Mount
CT102
Ø1/2" X-Y
Translation Mount
CT103
Blank Plate for
Custom Machining
CT1A
1/2" Travel, Micrometer Drive
CT1P
12 mm Travel with M6 x 0.25 Screw,
160 µm Closed-Loop Piezo Travel

Please Wait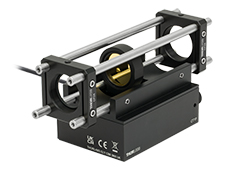 Click to Enlarge

Features
Translation of Components Along 30 mm Cage System Optical Axis
CT1P(/M) Stage Offers 12 mm Manual Travel and 160 µm Closed-Loop Piezo Travel (Min)
CT1A(/M) Stage Includes 1/2" (13 mm) Travel Micrometer and CT101 Optic Mount
Interchangeable Optic Mounts Sold Separately
Thorlabs' Z-Axis Translation Stages can be fixed to two cage rods in a 30 mm cage system while allowing the translation along the optical axis of a component secured to the moving world of the stage. The CT1P(/M) translation stage with integrated piezo actuator features 12 mm of manual travel as well as at least 160 µm of piezo travel with 0.5 µm resolution in closed-loop operation. The CT1A(/M) manual translation stage includes a CT101 optic mount and features a 1/2" (13 mm) travel micrometer with 0.001" (10 μm) graduations. These stages are fully compatible with all the optic mounts sold on this page.
We offer optic mounts that are specifically designed for both the CT1A(/M) and the CT1P(/M) stages, as well as our 1/4" Translation Stages. These mounts include a fixed optic mount, an X-Y translation mount, a rotation mount, and a blank plate for custom machining. See below for details.
Manual Stage with Integrated Piezo Actuator
Item #
CT1P
CT1P/M
Travel Range
Coarse: 12.0 mm (250 µm per Revolution)
Fine (Piezo): 160 µm (Closed Loop)a
Moving World Load Capacity (Max)
40 g
Coarse Adjustment Screw
M6 x 0.25 mm
Piezo Fine Resolution (Closed Loop)
0.5 µm
Theoretical Open Loop Resolutionb
8.0 µm
Piezo Drive Voltagec
-10 V to 140 V, 6 mA Max
Power Consumption
5 V, 500 mA Max (270 mA Typical)
EXT IN
MMCX Connector 0 to 10 VDC,
1.6 Hz Low Pass Filter
MONITOR Out
MMCX Connector 0 to 10 V (Max Load 20 kOhm)
I/O (Trigger)
MMCX Connector 0 to 5 V (TTL)
Drive Output Update Rate
10 Hz
Control Loop
Dual PID
Thermal Stability
144 nm/°C (Typical)
Bearing Type
Crossed-Roller Bearings
Moving World Mounting
Six 4-40 Mounting Holes,
4 mm Keyway
Six M3 Mounting Holes,
4 mm Keyway
Fixed World Mounting
Two 8-32 Mounting Holes
Two M4 Mounting Holes
Operating Temperature
10 to 40 °C (50 to 104 °F)
Stage Outer Dimensions (L x W x H)
3.35" x 2.36" x 1.69"
(85.0 mm x 60.0 mm x 43.0 mm)
Cable Length
1 m (3.3')
Weight (Including Cable)
305 g (10.75 oz)
Compatible Accessories
CT101, CT102, CT104, CT103
This is the minimum fine travel achievable. Depending on mounting, load, and orientation, the user may achieve more than this.
Theoretical Value, Not Measured
These voltages are nominal values. The actual voltage applied to the piezo will vary dependent on temperature, resistance, etc.
Manual Stage
Item #
CT1A
CT1A/M
Travel Range
1/2"
13 mm
Micrometer Drive
0.001" per Graduation
10 µm per Graduation
Bearing Type
Linear Ball Bearings
Moving World Mounting
Six 4-40 Mounting Holes,
4 mm Keyway
Included Accessory
CT101
Other Compatible Accessories
CT102, CT104, CT103
Stage Outer Dimensions (L x W x H)a
2.35" x 2.54" x 1.25"
(59.7 mm x 64.5 mm x 31.6 mm)
Weight
250 g (8.82 oz)
These dimensions describe the stage without the CT101 mount and micrometer.
Thorlabs' Kinesis® software can be used to control devices in the Kinesis or APT family, which covers a wide range of devices ranging from small, low-powered, single-channel drivers (such as the K-Cubes and T-Cubes) to high-power, multi-channel, modular 19" rack nanopositioning systems (the APT Rack System).
The Kinesis Software features new .NET controls which can be used by 3rd party developers working in the latest C#, Visual Basic, LabVIEW® or any .NET compatible languages to create custom applications. Low level DLL libraries are included for applications not expected to use the .NET framework. A Central Sequence Manager supports integration and synchronization of all Thorlabs motion control hardware.
The software packages allow two methods of usage: graphical user interface (GUI) utilities for direct interaction with and control of the controllers 'out of the box', and a set of programming interfaces that allow custom-integrated positioning and alignment solutions to be easily programmed in the development language of choice.

Software
Kinesis Version 1.14.40
The Kinesis Software Package, which includes a GUI for control of Thorlabs' Kinesis and APT™ system controllers.
Also Available:


Click to Enlarge
Kinesis GUI Screen for Integrated-Piezo-Actuated Translation Stages