Optical Tables: 304L Grade Virtually Nonmagnetic Steel Construction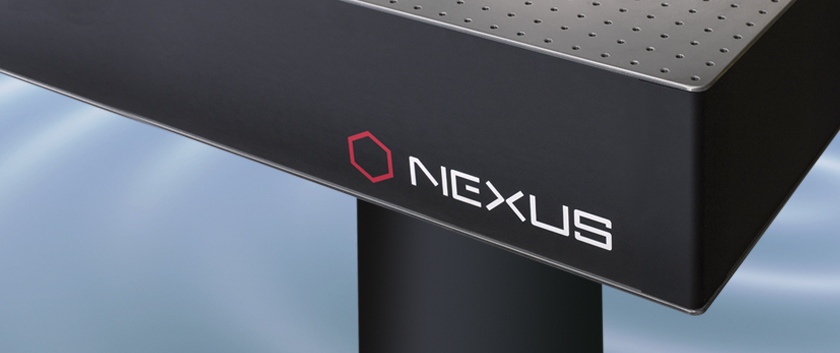 210 mm (8.3″) Thickness
Virtually Nonmagnetic 304L
Stainless Steel Construction
Machined Matte Finish with Holes
to Edge of Table
Each Table Individually Tested

Please Wait
Optical Table Manufacturing
Features
Thickness: 210 mm (8.3")
Sizes from 3' x 6' (1 m x 2 m) to 4.8' x 8' (1.5 m x 2.5 m) Available
Every Table Individually Optimized, Tested, and Shipped with Test Data Certificate
Constructed of 304L Grade Nonmagnetic Steel
1/2" (12.5 mm) Hole Border for Maximum Usable Area
Top Skin: ±0.1 mm (±0.004") Surface Flatness over any 1 m² (11 ft²) Area
5 mm Stainless Steel Top and Bottom Skins with All-Steel Side Panels
Steel-to-Steel Bonding Throughout Increases Thermal Stability
For Use with Earthquake Restraints, Custom Order a Modified Table (Contact Tech Support)
Nexus® Optical Tables and Breadboards
One High Quality Level
Nexus is a single high-quality grade of tables and breadboards manufactured in various sizes by Thorlabs. They are suitable for photonics, imaging, and microscopy applications. Each size is individually optimized, and each table ships with a unique test data certificate. See the Table Vibration Isolation and Construction tabs for more details.
More Options
See the Nexus Guide tab for a complete overview of our optical tables product line.
Thorlabs' 210 mm (8.3") thick Nexus® optical tables are offered in a variety of lengths and widths from 3' x 6' (1 m x 2 m) to 4.8' x 8' (1.5 m x 2.5 m). They feature excellent thermal stability and broadband damping optimized for each table size. The 5 mm thick stainless steel top and bottom skins have a matte finish and the top skin is precision-machined with a surface flatness of ±0.1 mm over any 1 m2 area.
Virtually Nonmagnetic Construction
These optical tables are constructed of 304L grade stainless steel. This alloy of steel contains less iron than typical stainless steel, which reduces its ferromagnetic properties. 304L steel is usually referred to as "virtually nonmagnetic" since weak magnetic properties are still present.
Nonmagnetic optical tables are built to order with a typical lead time of 4 - 6 weeks. Custom sizes and options are also available with a typical lead time of 6 - 8 weeks. See the Nexus Guide tab for a complete overview of the Nexus optical tables product line.
Support Options
Our optical tables require table legs (sold separately). We sell rigid table legs as well as legs with either active or passive isolators. We also offer earthquake restraints for lab safety in earthquake zones and a selection of other optical table accessories.

Please note: All tables require modification to accept earthquake restraints prior to shipment. Please contact Tech Support to order an optical table equipped with the necessary alterations. Tables, once they are manufactured and shipped, cannot be retrofitted to accept earthquake restraints.

Click for Details
Specifications
Construction
Table Thickness
210 mm (8.3")
Flatness of Top Skin
±0.1 mm (±0.004") Over Any 1 m2
Construction
Symmetrical Isotropic Construction in All Axes
Top and Bottom Plates
Matched 304L Grade Stainless Steel for Athermalized Design, 5 mm (3/16") Thick
Core Construction
High-Density Plated 304L Grade Steel Honeycomb, 0.26 mm Thick
Damping
Proprietary Optimized Broadband Damping
Side Panels
Rigid 304L Grade Steel Box Section
Side Trim Finish
Matte Black Linoleum, 2 mm Inset from Table Surface
Top Surface Finish
Machined Matte Finish
Compatible Mounting Legs
Rigid Legs, Passive Isolators, Active Isolators
Mounting Holes
Imperial
Metric
Threads and Spacing
1/4"-20 Tapped Holes on 1" Centers
M6 Tapped Holes on 25 mm Centers
Distance from Edge to First Holes
0.5" from Table Edge on all Sides
12.5 mm from Table Edge on all Sides
Maximum Screw Depth
205 mm (23.5 mm for Outer Border Holes)
Performancea
Maximum Dynamic Deflection Coefficientb
<0.4 x 10-3
Maximum Relative Tabletop Motionb
<0.14 nm (5.5 x 10-9 in.)
Deflection Under Load (Stiffness)b
<1.7 μm for a 150 kg (330 lb) Load
Measured on a 3' x 6' x 8.3" (W x L x H) table, load placed centrally, load footprint 300 mm x 300 mm (11.8" x 11.8").
Complete performance test data is available on the Vibration Isolation tab.
See below for definitions.
Imperial Table Dimensions & Weight
Item #
Dimensions
(W x L x H)
Unpacked
Weight
Packaged
Shipping
Weight
Packed Dimensions
T48HN
4' x 8' x 8.3"
893.42 lbs
1194.82 lbs
8.4' x 4.5' x 19.2"
Metric Table Dimensions & Mass
Item #
Dimensions
(W x L x H)
Unpacked
Mass
Packaged
Shipping
Mass
Packed Dimensions
T1225CN
1.2 m x 2.5 m x 210 mm
415.40 kg
546.40 kg
2.6 m x 1.3 m x 490 mm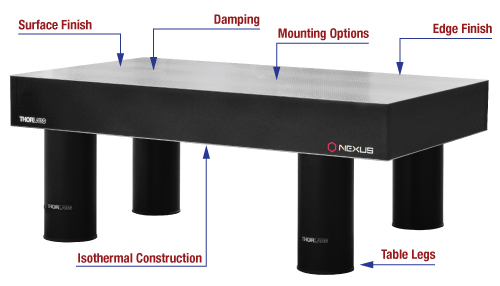 Click for Details
Dynamic Deflection Coefficient
The dynamic deflection coefficient is a figure of merit for optical tables that is derived from the measurement of the optical table's compliance. Physically, the dynamic deflection coefficient can be interpreted as a measure of the table's motion when subjected to vibrations.
where Q is the amplification of the tables response to a vibrational source at a specific frequency (f) of the optic table. Q is calculated by dividing the compliance at the optical table resonance frequency by the theoretical compliance of an ideal rigid body. The maximum dynamic deflection coefficient is usually due to the response of the optical table at its first natural resonance frequency. Nexus® optical tables feature proprietary optimized damping mechanisms to limit the value of Q at the table's natural resonances.
Relative Tabletop Motion
The relative tabletop motion is the relative displacement of any two points on the optical table surface due to environmental vibrations transmitted through the optical table supports. The maximum relative tabletop motion is the worst case relative displacement; for a rectangular optical table, the two points that produce the worst case results are generally located at the corners of the optical table. The measurement reported in the specifications table was taken in a quiet laboratory environment (PSD <10-9 g2/Hz). The optical table supports used to support the optical table had a transmissibility less than 0.01 for frequencies greater than 10 Hz.
Deflection Under Load
The deflection under load is a measure of the stiffness of the optical table. The stiffness of an optical table can be quantified by placing a load at the center of the optical table and measuring the deflection of the optical table surface, which will have a parabolic shape. The specification reported in the table is the relative vertical displacement between the center and edge of the optical table.
Optimized Damping
Broadband Damping
The most important feature of an optical table or breadboard is its resonant frequency. Since resonant frequency and vibration amplitude are inversely related, the resonant frequency should be as high as possible to minimize vibration intensity. Nexus tables and breadboards are broadband damped over a specific range of frequencies. For improved performance, the damping is optimized for each size of table and breadboard offered.
We have performed extensive testing to optimize the thickness/size ratio of our tables. Larger sized tables (at least 10' or 3 m long) are offered with a standard 12.2" (310 mm) or 18.1" (460 mm) thickness for stability. Smaller sizes are available in both 8.3" (210 mm) and 12.2" (310 mm) thicknesses; they can be custom ordered in larger sizes.
Compliance
The most widely used transfer function for the vibrational response of an optical table is compliance. In the case of a constant (static) force, compliance is defined as the ratio of the linear or angular displacement to the magnitude of the applied force. In the case of a dynamically varying force (vibration), compliance is defined as the ratio of the excited vibrational amplitude (angular or linear displacement) to the amplitude of the force causing the vibration. Any deflection of the tabletop is evident by the change in relative position of the components mounted on the table surface. Therefore, by definition, the lower the compliance value is, the closer the optical table is to meeting the primary goal of optical table design: minimized deflection. Compliance is frequency dependent and is measured in units of displacement per unit force (meters per Newton).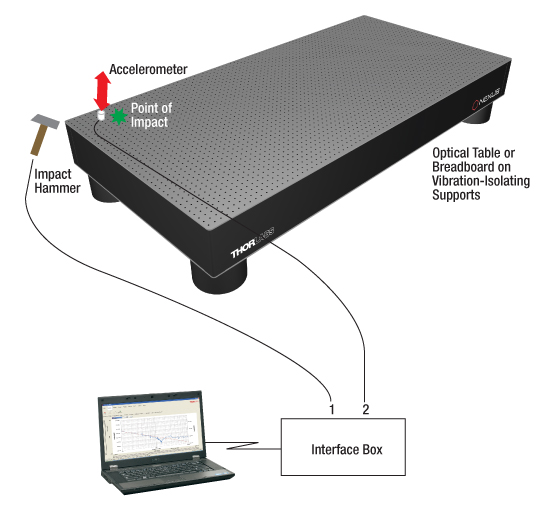 Click to Enlarge
Compliance Test Schematic
See the Vibration Isolation Tutorial for more information on compliance.
Compliance Measurement Procedure
An impulse hammer is used to apply a measured force to the top surface of the table or breadboard, and transducers attached to the surface detect the resultant vibrations (see diagram to the right). The signals from the transducers are interpreted by the analyzer and used to produce a frequency response spectrum (i.e., a compliance curve). During the development phase of an optical table, compliance curves are recorded at many points on the tabletop; however, the compliance is always greatest at the corners. The compliance curves and data published by Thorlabs are taken with the sensor located approximately 6" (150 mm) from the corner of the tabletop (closer to the edge for small breadboards), with the point of impact just inboard of the sensor. This test location represents the worst case data.
Unique Test Data Certificate
Each individual Nexus product is tested and shipped with a unique test data certificate and compliance curve. This provides more accurate data compared to the industry standard of using a single size-specific compliance curve to represent the entire product line. The compliance curves and data published by Thorlabs are from sensors located on the corner of the table and therefore represent the worst case data.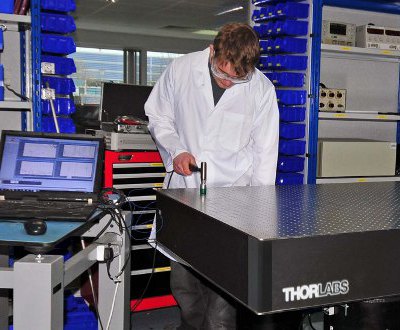 Click to Enlarge
Nexus Table Compliance Testing
Test Results
210 mm Thick Tables
Item #
Table Size
(W x L)
Compliance
Curve
(Click to View)a
T36H / T36HH / T36V
3' x 6'
T38H / T38V
3' x 8'
T46H / T46HH / T46V
4' x 6'
T48H / T48HH / T48HN /
T48V
4' x 8'
T58H / T58V
4.8' x 8'
T1020C / T1020CH / T1020P
1 m x 2 m
T1025C / T1025P
1 m x 2.5 m
T1220C / T1220CH / T1220P
1.2 m x 2 m
T1225C / T1225CH / T1225CN /
T1225P
1.2 m x 2.5 m
T1525C / T1525P
1.5 m x 2.5 m
310 mm Thick Tables
Item #
Table Size
(W x L)
Compliance
Curve
(Click to View)a
T36J / T36W
3' x 6'
T38J / T38W
3' x 8'
T46J / T46W
4' x 6'
T48J / T48W
4' x 8'
T410J / T410W
4' x 10'
T58J / T58W
4.8' x 8'
T510J / T510W
4.8' x 10'
T514J / T514W
4.8' x 14'
T1020D / T1020Q
1 m x 2 m
T1025D / T1025Q
1 m x 2.5 m
T1220D / T1220Q
1.2 m x 2 m
T1225D / T1225Q
1.2 m x 2.5 m
T1230D / T1230Q
1.2 m x 3 m
T1525D / T1525Q
1.5 m x 2.5 m
T1530D / T1530Q
1.5 m x 3 m
T1540D / T1540Q
1.5 m x 4 m
460 mm Thick Tables
Item #
Table Size
(W x L)
Compliance
Curve
(Click to View)a
T46K / T46X
4' x 6'
T48K / T48X
4' x 8'
T58K / T58X
4.8' x 8'
T510K / T510X
4.8' x 10'
T514K / T514X

4.8' x 14'

T1220E / T1220R

1.2 m x 2 m

T1225E / T1225R
1.2 m x 2.5 m
T1525E / T1525R

1.5 m x 2.5 m

T1530E / T1530R

1.5 m x 3 m

T1540E / T1540R

1.5 m x 4 m
The compliance curves here are typical, and slight variations may occur between individual tables. Each table is individually tested before shipment and includes a certificate with the individual test data and compliance curve (see Unique Test Data Certificate section, above).
Simplified Nexus Table Construction
Note: For Illustrative Purposes Only. Not a Representation of the Nexus Tables Construction Sequence
Nexus® Optical Tables and Breadboard Manufacturing
Experienced In-House Design Engineers Create Models and Production Drawings
Dedicated Tables Manufacturing Facilities for Repeatable and Consistent Production
In-House Vibration Transmissibility and Compliance Testing
In-House Welding and Fabrication
Custom Design Capabilities for Unique Optical Table and Breadboard Solutions
Lean Manufacturing:

Cross-Training Allows Staff to Meet Production Demands
Use of Current Technology Leads to Increased Quality
Efficient Organization Leads to Time Savings for Customers
Our team has over 25 years of experience designing optical tables, breadboards, and related accessories. We leverage this experience to ensure that our Nexus® honeycomb optical tables and breadboards always meet two basic design goals: the natural resonances of the table should be as high as possible (well above the frequency of ambient environmental vibrations) and the table should be well damped (to quickly damp vibrations caused by equipment on the surface). To meet these goals, our engineers use a variety of tools to refine their designs, such as finite element analysis (FEA) and SolidWorks. FEA allows our engineers to evaluate various materials and to identify possible unwanted material stresses. SolidWorks is employed to build 3D models of every design.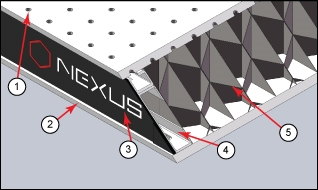 Click to Enlarge
Nexus Table / Breadboard Cross Section, showing the (1) Top Skin, (2) Bottom Skin, (3) Side Panels, (4) Side Rails, and (5) Honeycomb Core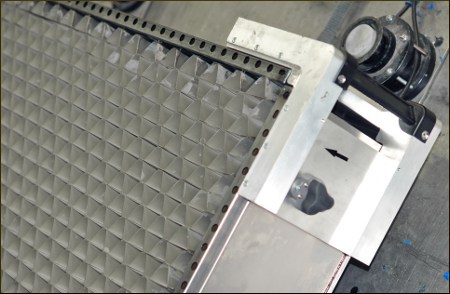 Click to Enlarge
Honeycomb Core of a Nexus Table During Manufacturing
Every Nexus optical table and breadboard is designed to be isotropic and symetrical in X, Y, and Z. For optimal thermal stability, only steel components are used in construction; no wood or plastic is used. Each table includes precision machined top and bottom mounting skins, an uninterrupted honeycomb core, and four side panels with finishing trim. See the animation to the right for a simplified illustration of how our tables are assembled. For more details on each step in the process, read below.
Precision Steel Construction for Thermal Stability
Thorlabs' Nexus tables and breadboards feature all-steel construction, including 5 mm thick top and bottom skins and a 0.26 mm thick precision formed and welded steel honeycomb core. The core is geometrically formed using accurate pressing tools, and geometric pitch is retained by using welded flat shims. The honeycomb core in our Nexus tables and breadboards extends from the top skin to the bottom skin without intermediate layers, leading to a stiffer, more thermally stable product.
The key aspect of the thermally stable Nexus design is symmetrical isotropic steel construction in all axes. Steel components expand and contract similarly, maintaining flatness during changes in temperature. The steel core extends from top to bottom skin without intermediate plastic or aluminum spill management structures that reduce the overall stiffness of the product and introduce a higher coefficient of thermal expansion. Steel side panels are used rather than wood, which can introduce environmental instability due to susceptibility to moisture.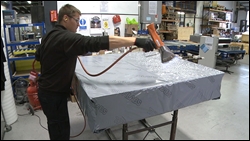 Click to Enlarge
Heat-Shrink Packaging Being Applied Over a
Nexus Optical Table Prior to Shipment
Machined Finish with Minimized Contamination Packaging
Automated Finishing Process
Our Nexus tables and breadboards feature an automated orbital machined matte finish that is significantly smoother and flatter than our previous product line. The improved surface finish achieves ±0.1 mm (±0.004") flatness over any 600 mm x 600 mm area. Large radius corners are incorporated into the design, resulting in less pointed edges for lab safety.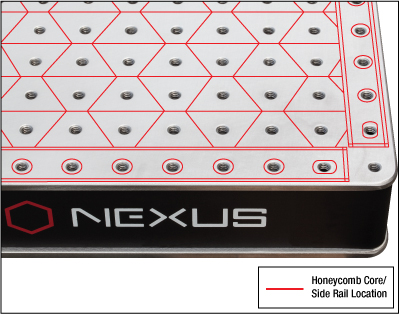 Click to Enlarge
Diagram showing the location of the honeycomb core and side panels, which do not intersect with any screw holes.
Sealed Edges with Anti-Static Packaging
All optical tables ship with a heat-shrink film that protects the table from most contaminants, such as dust, from entering the product during shipment. For additional protection, we offer an optional finishing and packaging service that is suitable for customers that want to minimize the presence of airborne contaminants on the interior and exterior surfaces of the table or breadboard. This includes anti-static packaging, which has a metallic foil inner layer protected by a heat shrink film outer cover, and gap-free edge panel construction to reduce static charge and prevent dust from entering the product.
Mounting Hole Options and Pattern
Individually Tapped, Countersunk Mounting Holes
Prior to bonding the components of the table, each mounting hole in the top surface is tapped and slightly countersunk to ensure that components mounted to the table sit flat. The mounting holes are then cleaned and sealed on the bottom with vinyl film discs (non-sealed models) or sealing cups (sealed hole models, see Sealed Mounting Holes below). The vinyl film is easily punctured when using a hole for the first time. Cap screws can be finger tightened into the mounting holes of all Nexus tables and breadboards.
Reduced Hole Pattern Border
Our top surface hole patterns extend to the edge of the table or breadboard with only a 12.5 mm (0.5") border, equal to half of a hole-to-hole spacing. This increases the usable area of the table and improves mounting option flexibility.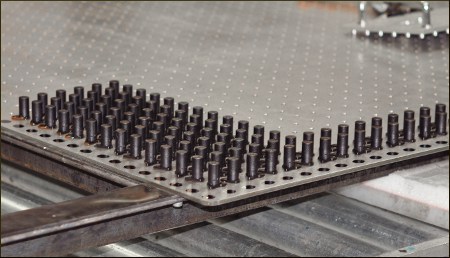 Click to Enlarge
Nylon Sealing Cups Installation During Manufacturing
Increased Screw Depth and Optional Sealed Holes
Our custom-designed core maker produces precision formed and welded honeycomb core strips. The core is shaped and installed so that it does not intersect with any screw holes (see photo to the right), allowing screws to be inserted far into the table, all the way to the bottom skin (for non-sealed-hole models). See the Specs tab for specific screw depth specifications, including outer border holes.
Sealed Mounting Holes
Tables and breadboards can be manufactured with nylon sealing cups glued to the underside of the top skin (see photo to the left) for liquid spill management. Sealed hole tables are available in all sizes and thicknesses, and the maximum screw depth is 1" (25.4 mm).
Mounting Holes on the Bottom Skin
Our breadboards feature at least four mounting holes in the base skin, permitting the secure attachment of standard or vibration isolating feet and allowing more flexibility for integrating breadboards onto tables or into setups in addition to using breadboard stands.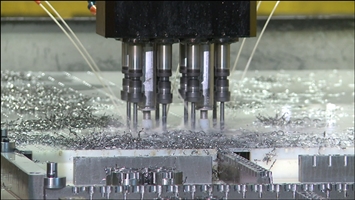 Click to Enlarge
Optical tables and breadboards are tapped using a high-speed
drilling machine.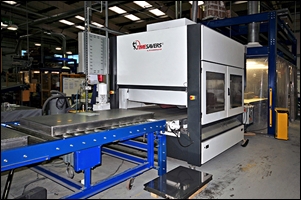 Click to Enlarge
The surfaces of our tables and breadboards are sanded in our finishing machine.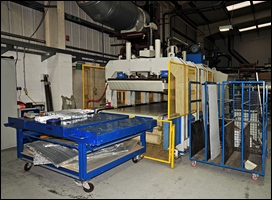 Click to Enlarge
Tables and breadboards are bonded under pressure in our hot press.
Standard Nexus® Tables and Breadboards - Sizes Available
Thorlabs' Nexus line of optical tables and breadboards is the result of our vision to supply a single, high-end-grade line of optical tables for photonics, imaging, and microscopy applications. Our Nexus tables and breadboards incorporate enhanced damping, a precision-machined matte top and bottom finish, and holes to the edge of the tabletop. Each product is individually tested and includes a unique test data certificate.
Our tables and breadboards are available in many different sizes (see the tables below). Many of these sizes are stocked in our warehouses for same-day shipment, as indicated by green icons in the tables below. Other sizes are available as build-to-order products that can be shipped within 4 - 6 weeks of ordering and are indicated by blue icons below. We also provide a custom table and breadboard service. Common custom sizes are listed by yellow icons in the tables below. Use our Custom Tables and Breadboards Request Form to request a quote on these products.
Many table and breadboard sizes are available in two thicknesses, with or without sealed holes. Nonmagnetic steel tables and breadboards, plus table and leg kits, and breadboards with no holes are also available. Click on the green and blue icons below to see the stock and make-to-order tables available in each size.

Nexus Optical Tables
Metric
Width

1 m
1.2 m
1.5 m
2 m

T1020C: 210 mm Thick
T1020P: 210 mm Thick, Sealed Holes
T1020D: 310 mm Thick
T1020CK: 210 mm Thick, Kit with 700 mm Active Legs
T1020Q: 310 mm Thick, Sealed Holes

T1020CH: 210 mm Thick, Two Through Ports

T1220C: 210 mm Thick
T1220P: 210 mm Thick, Sealed Holes
T1220CK: 210 mm Thick, Kit with 700 mm Active Legs
T1220D: 310 mm Thick
T1220CH: 210 mm Thick, Two Through Ports

2.5 m

T1225C: 210 mm Thick
T1225P: 210 mm Thick, Sealed Holes
T1225D: 310 mm Thick
T1225Q: 310 mm Thick, Sealed Holes
T1225QK: 310 mm Thick, Sealed Holes, Kit with 600 mm Active Legs

3 m
4 m
Imperial
Width

3'
4'
4.8'
6'

T36HH: 8.3" Thick, Two Through Holes

8'

T48H: 8.3" Thick
T48V: 8.3" Thick, Sealed Holes
T48J: 12.2" Thick
T48W: 12.2" Thick, Sealed Holes
T48WK: 12.2" Thick, Sealed Holes, Kit with 600 mm Active Legs

10'
14'
Legend
| Icon | Availability | Typical Lead Timea |
| --- | --- | --- |
| | Stocked Item | Same Day |
| | Build to Order | 4 - 6 Weeks |
| | Custom Build | 6 - 8 Weeks |
Exact lead times may vary across our product line. Check each individual item for exact lead times.
Nexus Breadboards
Metric
Width

| | 300 mm | 450 mm | 600 mm | 750 mm | 900 mm | 1200 mm |
| --- | --- | --- | --- | --- | --- | --- |
| 300 mm | B3030L: 60 mm Thick, Sealed Holes | - | - | - | - | - |
| 450 mm | | | - | - | - | - |
| 600 mm | | | | - | - | - |
| 750 mm | | | | | - | - |
| 900 mm | | | | | | - |
| 1200 mm | | | | | | |
| 1500 mm | | | | | | |
| 1800 mm | | | | | | |
Imperial
Width

| | 12" | 18" | 24" | 30" | 36" | 48" |
| --- | --- | --- | --- | --- | --- | --- |
| 12" | B1212T: 2.4" Thick, Sealed Holes | - | - | - | - | - |
| 18" | | | - | - | - | - |
| 24" | | | | - | - | - |
| 30" | | | | B3030T: 2.4" Thick, Sealed Holes | - | - |
| 36" | B1236T: 2.4" Thick, Sealed Holes | | B2436U: 4.3" Thick, Sealed Holes | | | - |
| 48" | | | | | B3648FN: 2.4" Thick, 304L Grade Non-Magnetic Steel | |
| 60" | | | | B3060U: 4.3" Thick, Sealed Holes | | |
| 72" | | | | | B3672U: 4.3" Thick, Sealed Holes | B4872U: 4.3" Thick, Sealed Holes |